Indian Air Force offers opportunities for MARRIED MALE INDIAN/NEPALESE CITIZENS to join as Outstanding Sportsmen. The Selection Trials for Recruitment of Outstanding Sportsmen in Group 'Y' (Non-Technical Trades) will be held at New Willingdon Camp, Air Force Station New Delhi, Lok Kalyan Marg, New Delhi – 110003, from 18 November 2019 to 23 November 2019 at 0700 hrs (07:00 AM) and Sports Specific trials in Delhi and NCR in following Sports Disciplines. (a) Athletics (b) Basketball (c) Boxing (d) Cricket (e) Cycle Polo (f) Cycling (g) Football (h) Golf (j) Gymnastics (k) Hockey (l) Kabaddi (m) Lawn Tennis (n) Shooting (o) Squash (p) Swimming (Swimming & Diving) (q) Volleyball (r) Water Polo (s) Weight Lifting (t) Wrestling.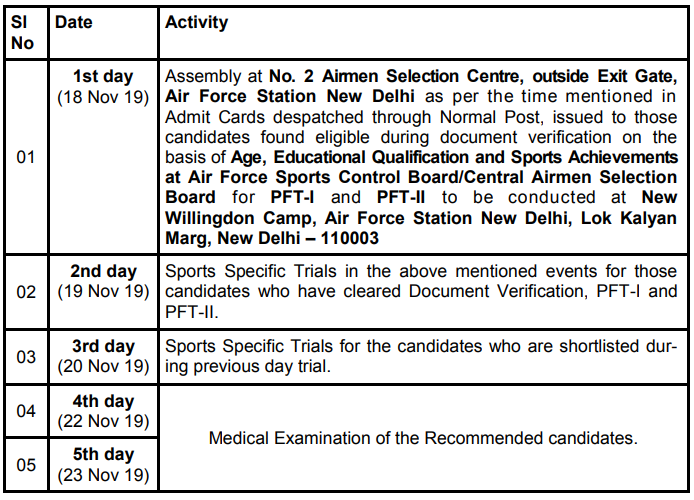 ELIGIBILITY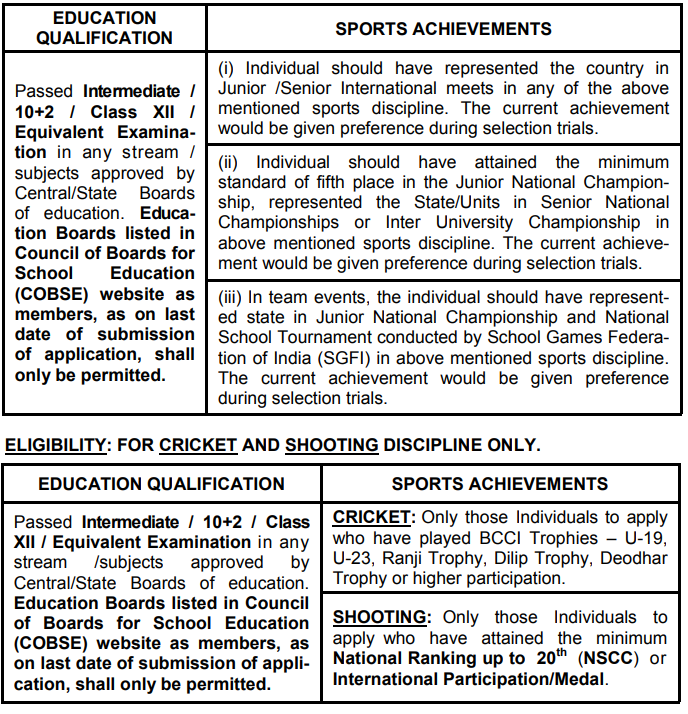 SELECTION PROCEDURE
Verification of Eligibility: Original Educational Certificates (10th passing Certificate and 12 th passing Certificate & Marks Sheets) and other required applicable original documents like Discharge Certificate (if discharged from Army/Navy/Government organisation), Consent Form (signed by parents if candidate below 18 years of age) and passport size colour photographs shall be required and scrutinized/verified at the Trials venue prior to commencement of Physical Fitness Test to ascertain the eligibility prima-facie. Detailed verification will be carried out later in respect of candidates who pass Physical Fitness Test and subsequently Sports Specific Selection Trials. Candidature of those who do not meet the laid down educational criteria shall be rejected during Initial verification of original certificates & mark sheets prior to conduct of Physical Fitness Test and also during detailed verification on clearing the Physical Fitness Test as well as Sports Specific Selection Trials. Note: The original Passing Certificates / Marks Sheets will not be retained by the Selection Centre. The same will be returned to the candidates on completion of detailed verification.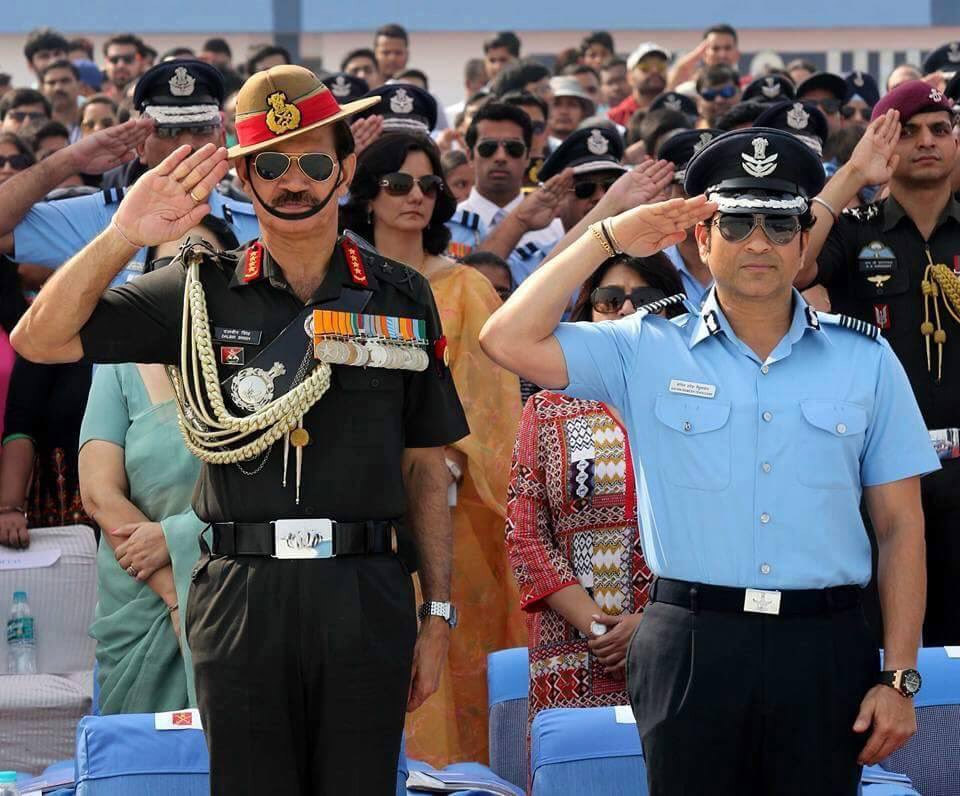 Selection Trials shall be conducted in the following phases: (a) Physical Fitness Test (PFT). (i) PFT I – PFT I consists of a 1.6 Km run to be completed within 6 minutes 30 seconds for the candidates up to 25 years of age. Candidates are advised to bring their sports kit / playing kit / sports shoes and shorts. (ii) PFT II – Candidates who qualify PFT I test will undergo PFT II that comprises of the following:

Sports Skill Trials : (I) Only PFT pass candidates would be called for sports skill trials. (ii) Candidates who qualify in PFT and selection trials for the game applied for will be called for medical fitness test conducted by the Air Force Medical team as per IAF medical standards. (iii) Those who are declared medically fit by the medical board would be enrolled in IAF in Gp 'Y' trade as an outstanding sportsman.