Hello friends, I'm Yogendra Singh Rathore and Will be joining Indian army through SSC tech September course. It's been a long journey to reach here as I appeared in my first attempt at 14 SSB  Allahabad for NDA 134 in Feb 2015 and got conference out.  As being a Sainik School cadet this was most disheartening because a Sainik School cadet dreams of it from the sixth standard when most kids don't even know the full form of SSB. But this was not ending,  my this failure was the most crucial part of my success. I again appeared in my next and last NDA attempt as I got 3 attempts and wasn't able to clear my written in the first one. This time again I cleared my written and continued my SSB preparations. One thing I learned from my previous SSB attempt is that it's all about self-introspection as how well one knows about oneself. So I wrote about all my achievements, failures, about friends,  family and my environment in a diary as both interview and psych must be related to one's environment and that's why 2 PIQ forms are given to us after getting screened in. And for GTO as GD and lecturette, I regularly followed SSBCrack for all updates on current affairs and other information,  moreover, I also took guidance from col. Dagar's KC academy before appearing in SSB.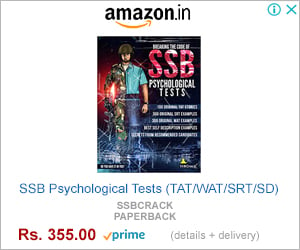 Again I reported at 19SSB Allahabad but this time with best of my preparations. There around 85 reported and 34 got screen in and finally, 6 were recommended and I was chest no. 11 and this time I had made it. Then it came medicals and unfortunately I got medically unfit in my last attempt of NDA. It was again very disheartening because for a Sainik School cadet NDA is everything, though it was a successful failure for me. Then I continued my engineering degree, meanwhile also focused on my SSB preps and waited for my next attempts through graduation entries and first appeared in the direct entries through TGC and SSC tech but got S/O both times. This phase of life was really testing my patience and determination as after getting recommended once,  it was very sad to get screened out as I had not expected it. But being a dedicated aspirant I prepared more as the level of graduation entry SSB is difficult than NDA. So after getting s/o twice,  I appeared for my  AFCAT entry for January 2019 course with 184 others at 4AFSB.
There 66 were screen in and finally, 3 were recommended and hopefully I had been recommended again after 15 minutes of a wait before the conference and several questions inside the conference hall by  IO about my academic and sports achievements. This recommendation was a confidence booster for me, although I got merit out in this attempt, as in AFCAT entry getting merit in is always uncertain. Again I appeared for Jan 2020 course at 4AFSB and out 172 reported 2 were recommended and I was recommended for the third time. Then in June this year, I appeared for my SSC tech entry for which I was not even willing to fill up the form as in the direct entries it's very difficult to get screen in. But listening to my friend's advice I filled the form and appeared at 17 SSB Bangalore. There it was a crowd of 324 candidates and out of these 18 were such who had been previously recommended. So it was a very tough competition for clearing stage one, somewhat similar to getting recommended ?, this time, fortunately, got screened in as total 40 candidates were taken for stage 2, this time again everything was similar and I performed well with the experience of my 3 previous recommendations. Now all post recommendation formalities are done and I will be joining OTA Chennai on 28th September through SSC tech 53 and my afcat merit awaited.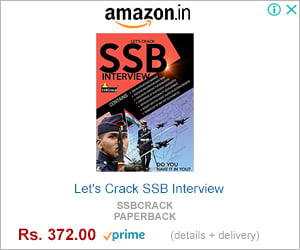 For me, this success credit goes to my parents who have sacrificed their comforts for making my life, my friends and most importantly my Alma mater i.e. Sainik School Chittorgarh for providing me such a conducive environment for the overall development of my personality, which is very must for becoming a defence forces officer.
So finally I would say SSB is all about confidence and it is proportional to the preparations One has made. Moreover, it's not a one day or one-month thing, it's result of our cumulative efforts as what one has been doing in his life? How well one has made decisions in one's life keeping in mind his abilities and future goals?