"God helps those who help themselves". Hello everyone, my name is KARANVEER SINGH PUNDIR, I got recommended for NDA 145th course from 1AFSB DEHRADUN on 30th NOV 2020 and for NDA 146th course from 1AFSB DEHRADUN on 6th Feb 2021.
Coming from fauji background, I've always seen my dad adorning the uniform with utmost pride which increased my inclination and motivation to join the Armed forces.
I completed my class 12th from APS KANPUR. I filled the form for NDA (1)2020 which was supposed to be conducted on 19th April 2020 but because of prolonged lockdown, it got postponed to 6th September 2020, which pretty much worked in my favor as I got a lot of time to reduce my bodyweight from 103kgs to 75kgs. I started running 10-12kms a day apart from doing other fat burning exercises and a strict diet control which eventually helped me achieve my goal of getting a healthy BMI.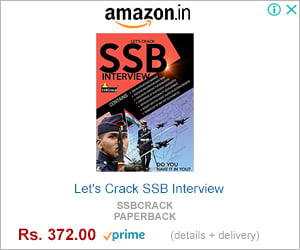 One mantra which I would like to give to fellow aspirants out there is give as many mock tests as you can as it helps in increasing your speed as well as accuracy.
For Maths, I did NCERT thoroughly and practiced PYQs, and GAT, I studied from LUCENTS.
First SSB in which I appeared was for TES44 in BHOPAL where I got conference out on 6th NOV 2020, the moment I stepped out of the room where the results were announced, the first thing I did was book the first slot for my NDA SSB, which was 26th NOV 2020.
Then arrives the D Day, reported at 6:30 am at 1AFSB DEHRADUN.
After breakfast, OIR Test was conducted wherein two sets of 50 question each were given to us, I attempted all the questions, it went well. Thereafter we were taken for PPDT. I could not write my story completely in the stipulated time but made sure that I narrated it well without fumbling, maintaining a good body posture. I took part in the narration and got nominated to narrate the common story.
After some time, our screening results were announced, 59 of us got screened in. I was chest no. 49.
First day we had our psych test wherein I wrote short and crisp TAT Stories, attempted 60 WAT, 50 SRT and SDT.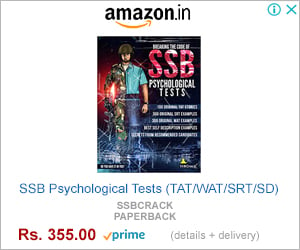 Next day I had my interview scheduled, which mostly revolved around my personal life and a hell lot of questions about the service I was going to join that is IAF, about its different fleet (fighters, transport, helicopters), its specifications etc. which I was able to answer well.
Third day we had our GTO, which is all about teamwork, presence of mind, cooperation, leadership, planning, executing, achieving and learning. It went well.
Finally, it was the day which all 59 of us had been waiting for eagerly, CONFERENCE.
After all the conference, when our DSO came with a sheet of paper in his hand and said that, "OK Gentlemen, Now I'll be calling out the chest number of the recommended candidates" it was the time when butterflies were doing vertical Charlie and barrel rolls in our stomach. The moment he announced chest no. 49. I knew it I've done it; I have done it. That moment was something that cannot be described in words. Just experienced, MY FIRST RECOMMENDATION.