The Officers Training Academy is a training establishment of the Indian Army that trains officers for the Short Service Commission. The 10-month course at the OTA prepares graduates for all branches of the Army, except for the Army Medical Corps. In 1962 two Officers Training Academy were set up to fulfil the need of Indian army at Pune & Chennai. The establishment process starts in September 1962 & the institute at Chennai was inaugurated on 15 January 1963, with Brigadier Ram Singh. He was the first commandant of this school too. The Institute got permanent status in the year of 1985.
The Institute was renamed on January 1, 1988, to Officers Training Academy earlier it was known as Officers Training Institute. In the year 1992 lady cadet training facility was included in the institute & around 1200 such cadets were trained so far. The total strength is 750. The motto of the academy is "Serve with Honour". The training at the Academy covers a wide range of physical and mental activities like physical training, weapon training, map reading, drill, tactics, intellectual development and leadership training.
SSB Interview Preparation Material [ 100% Recommended]
Once a Cadet has undergone training at the Academy he or she is transformed into a physically tough, highly motivated and professionally competent person. Unlike in a conventional university, each subject begins with a theoretical introduction followed by practical demonstration and exercises for better assimilation of the trainees. By the end of the training, the successful trainees are proficient in handling all infantry weapons, can endure the rigours of toughest conditions and become leaders who can successfully lead their subunits in battle. The curriculum also lays emphasis on character building and inculcates a sense of honour the most important qualities for being successful as a combat leader.
A continuous, quantified, structured and systemic training is imparted and GCs are assessed in the major discipline such as officer qualities, service subjects, physical training, drill, academics. They also undertake mutual assessment. Cadets are organised in two battalions and seven companies (5+2) and they are Meiktila, Naushera, Kohima, Jessami, Basantar, Zojila and Phillora. While the rest of the companies are for officer cadets (males) but Zojila & Phillora companies are for lady cadets.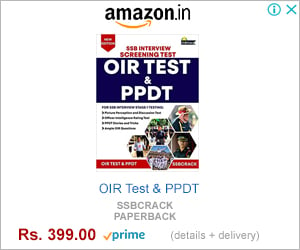 The Ranjit Singh Battalion is one of the two training battalions of OTA. The Battalion has four companies viz Jessami, Kohima, Basantar (Gentlemen Cadets) and Phillora (Lady Cadets). Shivaji Battalion is the second training battalion of OTA. Battalion comprises of three companies namely Naushera, Meiktila (Gentlemen Cadet Companies) and Zojila (Lady Cadet Company). All the companies are named after historic locations where famous battles have been fought in the past.
The Life Of A Gentlemen And Lady Cadet
A trainee on admission to the OTA is referred to as a Gentleman/Lady Cadet. One reason for this is that the academy expects its graduates to uphold the highest moral and ethical values. The GCs and LCs hail from diverse backgrounds with multifarious habits and grooming and Academy plays a vital role in moulding those differences and helps them, anchor, into a common bonding. No GC/ LC gets preferential treatment, all are allowed to shape up together; together they break bread, together they play and together they receive the same kind of training.
This bonding helps them to develop values such as camaraderie, esprit-de-corps and oneness that go a long way to give a separate identity to the corps of officers in the Army. From gruelling route-marches to photography, painting, seminars, term-papers, tours and sports, the training is an action-filled scenario nurturing their mental and physical potential. Each and every GC/LC is allowed equal space for growth within the given time frame. The pace of training at the Academy is fast and intense.
Therefore, it is no wonder that it becomes a test of one's mettle and capabilities, and in psychological terms a foretaste of what the trainees would face in the battlefield where there is no room or no scope of explanation and rationalization for failures. The completion of training is, therefore, a sort of self-assessment which awakens and activates one's self-esteem, sense of honour and dignity. A GC/LC learns plenty of values of life during his short stay in the Academy.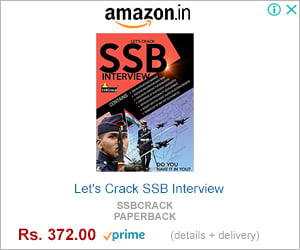 A day in OTA for a cadet begins at early morning 0530 hrs, when s/he has to attend the morning muster parade for ten minutes, followed by Physical and drill training for forty mins each that goes on till 0700 hrs. 0700-0800 is reserved for the breakfast break, provided you are not caught at wrong foot by Senior Cadet or Instructors.
From 0800 hrs to 1300hrs, the GCs and LCs attend their classes, academics and swimming. This is then followed by a lunch break from and some regular affairs or one might encounter some seniors for a further Ragda. 1500 hrs to 1700 hrs is kept for the evening games. From 1700 hrs to 1930 hrs, the GCs and LCs are at seniors' disposal where anything can happen from study to physical, usually the latter. The time of 1930 hrs to 2130 hrs is for Dinner. Again, 2130 hrs to 2200 hrs is again kept for unofficial physicals by the seniors. Lights off are observed from 2200 hrs onwards.
Presently OTA Chennai presently runs three kinds of training:
• SSC(Non-Tech)
• SSC(Tech)
• WSES(O)
SSC (Non Tech) & SSC (Tech)
In this course, the GC and LC are trained in a short span of time of about eleven months. The aim of the SSC course is to train and mould the gentlemen cadets to shoulder the responsibilities of officers of the Indian Army and to imbibe in them the true intellectual, physical and moral attributes essential for their professional growth and career development.
WSES (O)
Women recruits are usually taken into the support services, with a large number serving as medical officers and nurses. The WSES for officers offers non-technical, technical and specialist entry for unmarried females or issueless widow or divorcee candidates. The aim of the WSES (O) Course is to train Lady Cadets for commissioning as Women Special Entry Scheme (Officers) in designated arms and services in the Army. Training lasts 49 weeks.
There are several interesting hobby clubs. Indoor and outdoor, conducted twice a week under the guidance of officers. The clubs are always vibrant with varied activities throughout the term. The GC and LC office bearers manage the activities of the club and the Officer in Charge provides guidance to make the most of available time and resources.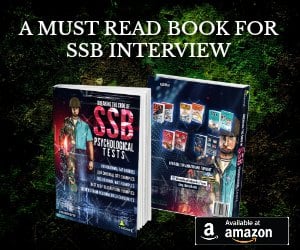 You can prepare for defence entrance exams for officers' as well as soldiers' entry such as NDA, AFCAT, INET, CDS and ACC by taking Written Online courses as they will not only give you access to full-length quality lectures but will also provide the facility to take standardized mock tests for better study and strategic growth in the exam. You can take multiple quizzes after each lesson to ensure the full understanding of the subject along with creating your customized lesson plans. You can check out the course content along with other important specifics at SSBCrackExams.
You can also access them through the SSBCrackExams App available in the google play store. Jai Hind
Also Read: