All AFCAT aspirants, who have given their best and are expecting their SSB interview (AFSB Interview) from the AFCAT 2023 exam, should start preparations for their SSB as soon as possible, as the exam results will be announced soon.
The next will be the date and center selection, which relies on the preference of the candidate. Moreover, sometimes it is not possible to prepare for exams and SSB because either the candidate is fresher or busy with his studies or job. There are some best coaching academies that give the best written and SSB coaching to AFCAT candidates, giving them the best direction to perform well in exams and thrusting their performance in SSB.
Best AFCAT Online Coaching 2023:
SSBCrackExams: Indian Air Force AFCAT Exam Coaching 2023 online course is an integrated course, designed exclusively by our defence expert faculty for the Air Force Academy Hyderabad aspirants appearing in the upcoming 2023 – 2024 AFCAT examinations, keeping in mind all the requirements & the curriculum of the AFCAT exam itself.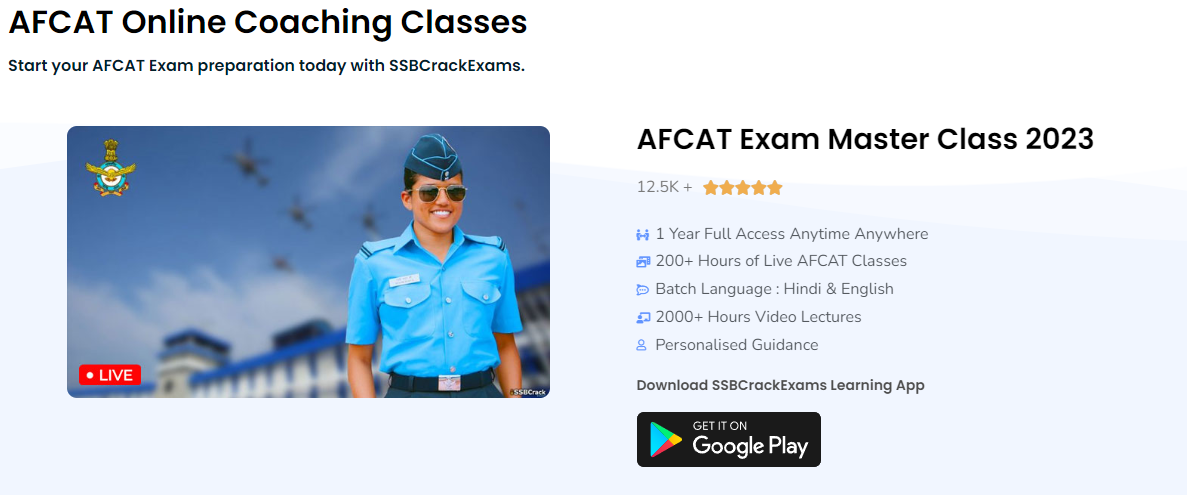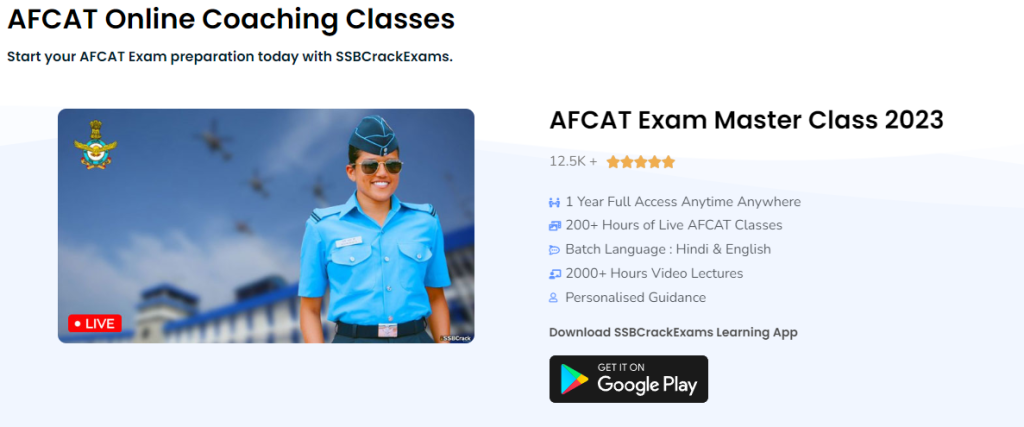 What Will I Learn In AFCAT Online Course?
Watch 1500+ detailed topicwise video lectures for AFCAT Exam Numerical Ability, Reasoning & Military Aptitude, English and General Awareness
Read 1500+ detailed topicwise lesson plans which include MINDMAPS, Shortcuts, Tips & Tricks, Detailed Formulas & Theories
Learn to solve 1500+ AFCAT Exam Questions from Previous Years and 1500+ AFCAT Exam Sample Q&A
Take 5000+ quiz topicwise, with SMART analytics to improve your score in AFCAT exam
Take 500+ Q&A in 5 MOCK Tests, stritcly designed as per latest Exam syllabus and difficulty level of the AFCAT Exam
Take 1000+ Q&A in 10 AFCAT TEST SERIES that gives you realtime experience of AFCAT Exam
Become proficient with AFCAT Numerical Ability/Reasoning & Military Aptitude/English/General Sciences/GK/Current Affairs topics
Crack AFCAT exam with greater ease, faster speed and with more accuracy
Develop new ways to think and improve overall IQ & intelligence level
Improve your AFCAT score by 90%

Olive Green – Olive Green academy is situated in Chandigarh and has got best faculty for SSB and AFSB preparation. It grooms the candidates in a good and favorable environment. The institute provides coaching for written examination as well as for SSB. The candidate gets environment similar to that of actual SSB.
Minerva – The academy provides 6 weeks coaching to candidates for qualifying AFCAT written exam and 10 days SSB coaching, which begins from 1st, 11th and 21st of every month. The academy has an excellent record from former general J.J. Singh to the unforgettable Captain Vikram Batra. Located in Mohali, Punjab, the academy is the oldest SSB coaching center and continues the legacy.
Balnoi – Balnoi academy is known for being one of the best SSB coaching centers and has given some of the best officers to the Armed Forces. The director of this academy, Major Kalsi has a long history of achievements. The institute gives AFCAT written (40 days course) and SSB coaching (2 week course) and the faith over the institute residence from a long time. The Academy has its head branch in Delhi and a branch in Jaipur also.
The Cavalier – The academy has its branches in Delhi and are known for their good output in this field. The AFCAT written coaching has schedules on 3rd and 18th of every month and the SSB coaching given there is for 15 days. The academy also has a good history in recommendation and exam performances.
NCC Academy – It gives 10 days grooming to the candidates for SSB and 1 month coaching for written examination. The academy has its centers at Delhi and Chandigarh. It is among the best institutes for AFCAT preparations and has given output in the form of recommendation of many candidates. The academy is emerging as a new hub for Armed Forces aspirants and adjusting its name in the top SSB instructions in India.
Conclusion – All these above coaching centers structures the candidates best for SSB. But still personal dedicated efforts are all that are required for the final recommendation. Candidates must not cramp the theory of the coaching centers. Stay unique and be your-self in SSB. Just take the hints and get the pattern of SSB that you are going to face there. Remove your hesitation and become free in talking and making moves physically. Interact with other aspirants and try to get more practical knowledge as much as you can.
Read More