In this article, we will look forward to the best AFCAT Exam Coaching Academies. AFCAT, the exam that opens the door for aspirants, who delicately want to join the organization, filled with passion, adventure and glory. Many aspirants work hard to give their best in the exam, but still lag behind due to certain reasons.
Well, sometimes they need a thrust to get prepared and help them in getting over the competition. The exam is framed with average difficulty, but need smart efforts to crack the exam. Taking coaching can provide basic support to the aspirants, which help them in getting over the expected cut-off. Some of the best coaching institutes for AFCAT coaching are mentioned below with a short summary about them.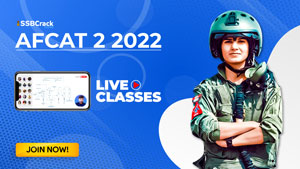 SSBCrackExams: SSBCrackExams AFCAT Course program is for defence aspirants who wish to join India's tri services i.e. Army, Navy and Air Force as an officer. It is a comprehensive year-long online program which covers everything from live classes, practice questions, tests to personal mentoring. The program includes full syllabus coverage for AFCAT Exam and much more.
Balnoi – Balnoi academy has a course of 40 days for the AFCAT aspirants and also provides 3 months weekend coaching to the candidates and also provides hotel facility to the aspirants. The academy has a strong record in defence exam preparations.
Cavalier India – Cavalier India provides courses of different durations in all its branches. It has a deep reach in India with 7 branches (Bangalore, Pune, Lucknow, Secundrabad, Allahabad, Chandigarh and Kochi). Further deep details are available on the concerned website.
NCA – NCA academy is known for providing coaching for AFCAT in English language only (medium of conversation) and guaranteeing that the AFCAT paper will have all questions from their notes. The pattern of preparation is also good and has shown many successful results.
Olive-green – The peaceful city Chandigarh has got Olive-Green Institute that gives coaching to AFCAT aspirants. It is also known for its SSB coaching. Most of the candidates of northern area prefer it due to its growing performance and lustring records.
The Cavalier – All aspirants belonging to Delhi can opt this academy. The AFCAT written course begins on every 3rd and 18th of the month and provides good faculty for exam preparations. It passes many aspirants in every AFCAT exam and has a good record in this field.
Minerva Academy – It gives 6 weeks comprehensive course and 4 weeks crash course to AFCAT aspirants and covers the entire syllabus. The academy has a good history in SSB and Written exam courses and proved to be trustful to the candidates.
Tara Institute – The academy has courses for many competitive exams and is also known for its AFCAT faculty. The institute is situated in Delhi and is gaining focus of many Armed Forces aspirants.
Colonel Nirbans Defence Academy – Ahmadabad has also got a star at the same altitude. Col Nirbans academy gives a 4 week written exam coaching for AFCAT at reasonable price and is adjusting its name in the list of top defence academies.
Aimnachieve – The institute has its centre in Delhi and provides 3-4 months coaching to AFCAT aspirants, covering all subjects and corners of the exam with each batch consisting 15-20 students to manage the quality of knowledge delivery. It also includes other defence exams preparation like NDA, CDS etc.
Akon Academy – The institute is situated in Chandigarh and provides 45days, 6 months 1 year and week end exam batches to the aspirants with a limit of 30 students in each class. The institute also provides online test series to the students that helps them to excel their preparation.
Conclusion – All the above academies and institutions will help the aspirants to get the directions for competing in AFCAT exam and opening their way to the Indian Air Force. The candidates are advised to choose the academy as per their convenience and preferences. The upcoming AFCAT 1 2017 is the next target of the aspirants and must be approached with smart and specified efforts.
Read More