Hello friends and fellow armed forces aspirants. My name is Probuddha Dutta. I am writing this on the day after the merit list of CDS 1 – 2016 has been published by UPSC, and am still in a shock over my rank of AIR 12. But I guess one of the cardinal qualities that SSB looks for in a candidate is humility. So i shall relate my experience without further ado.
After making the necessary preparations, I reported to 11 SSB Allahabad on 26 October, 2016 as a rookie or a "fresher". I had faint ideas about the selection process from sites like "ssbcrack.com" and my previous NCC experience, but to be frank with you – NOTHING – can prepare you totally for the selection process. The first day began with out batch of 38 candidates having their chest numbers allotted and documents verified. Thereafter the next day we had the screening. It consisted of the OIR test – two test booklets containing questions of general IQ testing that anyone with normal intelligence can easily do. The trick here is not to score as high as possible, but to attempt as many as possible as I learnt. Next was the PPDT. We were shown a hazy image on a screen and told to write down a story as we perceive, characters, age, mood, sex etc. Friends, please do not work your hands off writing with super speed, write as much as you can but focus on imbibing as much of your story into your mind for the Group Discussion. No one asks you to show what you have written. Then we were divided into groups for the Group Discussion. The 3 officers seated in front of us asked us to narrate our stories briefly without reading from the paper in our hands (hence u need to remember what you have written). Then we were asked to discuss among ourselves to arrive at a common story. It was chaos, but i managed to sneak in 2-3 points of my own. NEVER LOOK AT THE OFFICERS TESTING YOU DURING THE GD.
The chest numbers were changed and I was allotted 4 (Lucky 4). The next day was Psych-Day. Friends, bring 2 or 3 good quality pens for today as you will have to write like your life depends on it. Psych consists of a battery of tests – TAT, WAT, SRT, SDT. TAT makes u perceive stories in successive slides. The slides are clearer than in PPDT and not so much hazy. WAT makes you write spontaneous sentences in response to certain words under a time limit for originality. BE ORIGINAL. Don't write neutral sentences like "India won the war against Pakistan" as a response to "war". Everyone knows that and its not showing your psych. Better would be "War must be avoided to prevent loss of human life". SRT – Situation Reaction Test, tests your response to a certain situation. There were 60 questions and i did around 45. Be logical and don't give Superman answers to real life situations. SDT is a set of questions like "Your opinion about yourself, your friends' opinion about you, your parents opinion about you etc. Be real in these, NO ONE IS PERFECT. Your answers should reflect that. Accept your minor flaws but focus on your positive attributes. REMEMBER YOUR ANSWERS AS THEY MIGHT BE TOUCHED UPON IN YOUR INTERVIEW/CONFERENCE.
That evening I had my interview with the Board President. The president asked me two rapid fire sets about myself, my family, my marks from 10th onwards, my hobbies etc. All of which i truthfully answered with a slight smile and hands fixed and resting. Friends, the thing to keep in mind here is that the interviewer IS NOT YOUR FRIEND. He is senior officer who has to listen to thousands of such young Indian men whine about their personal problems. So be courteous and brief in your responses. If a question can be answered by a simple "YES" don't start giving a past/present/future to it. You could end up digging you own grave in that manner.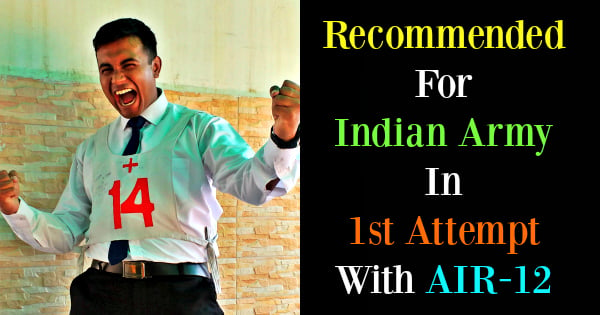 The next two days we had GTO 1 and GTO 2. Day began with two GD's. One in which we, the group chose the topic and in the second one, the topic was given to us. So the GD was relaxed and in a civilized manner – probably because we were all freshers. I suspect it becomes a fish market in the repeater batch so take note of the changing group dynamics and adapt accordingly. Point to be kept in mind here is that don't be aggressive or silent – follow a middle path by giving some meaningful points and let others speak. This was followed by the Group Planning Exercise. We were shown a model of a village and some students going to a sports meet resting at a boat house when nearby village is going to be robbed and few other problems came up. Here you have to explore all options available to you. Trust me, it may seem confusing first but spend one minute looking at the model and you will find plenty of options. This was followed by the PGT in which we as a group had to negotiate certain obstacles with a plank, a pole and a rope while carrying a load. My performance was bad here as I had never done anything like this before but i contributed by helping wherever I could. Next was the HGT which was the same task, but with half the previous group. The snake race was something that I thoroughly enjoyed. Even though I was not in good physical shape, I went back thrice with 100% JOSH to do the penalties given to us by the testing officer for touching the red line on the obstacles. Thereafter was the Lecturette in which I had to select a topic to speak on for a few minutes. I chose the topic AADHAR, since I was well versed with it. I touched on points of the AADHAR BILL, the AADHAR project itself, the men behind it and the future of the project, its data-security issues and targeted services delivery. The INDIVIDUAL OBSTACLES was disappointing for me as I did only 6. But I did them with full zeal. I managed to do the ones worth 10,9 and 8 points and a few more. In the command task, my performance was better as I had been observing the others in the PGT and HGT and could give a few of my own ideas. The FGT again combined our groups and this one I really participated as a leader as now I had learnt quite a bit about how to do all this "balli-fatta" stuff.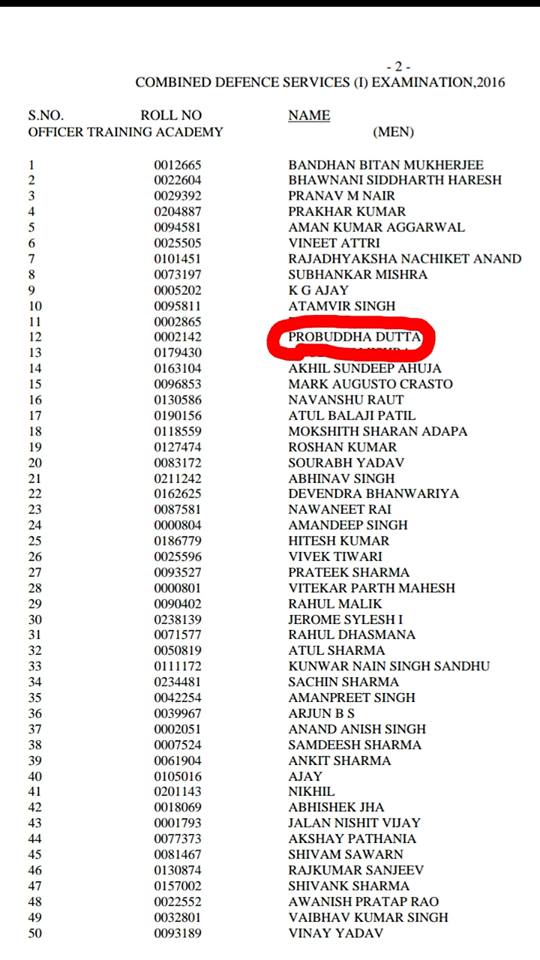 Finally, the day of Board Conference came and we were all waiting with bated breath. I smartly walked into the conference hall and greeted the Board President seated in front. He asked me a few general questions about my stay and things I did in Allahabad (Here it is important that you spend your free afternoons visiting Allahabad city or playing sports or just plain doing something constructive that you can tell to the officer). There was a moment where he asked me "Where do you see yourself 6 years from now?". My response was "Major in 4 Gorkha Rifles sir". Be confident friends, not over-confident. Finally when my chest number was announced as being recommended, I was elated and thanked my God's.
Now my medicals are over and the merit list is out which places me at AIR 12. I hope this story of mine helped you a little and for any queries and suggestions friends, feel free to contact me by mail – duttaprobuddha@gmail.com or drop a message on my facebook ID – https://www.facebook.com/probuddha.dutta.1 . JAI HIND !!
To crack SSB and AFSB Interview get "Let's Crack SSB Interview" Book from Amazon. Trusted by thousands of defence aspirants
Also Download Helpful eBooks: