The first indigenous Airborne Early Warning and Control System (AEW&C) was inducted in the Indian Air Force (IAF), on 14th February during Aero India 2017 at Yelahanka Airbase in Bengaluru. Last month, the AEW&C took part in the RD parade making every Indian proud.
The induction comes more than six years behind the schedule after clearing all legal hurdles.
About Indigenous AEW&CS: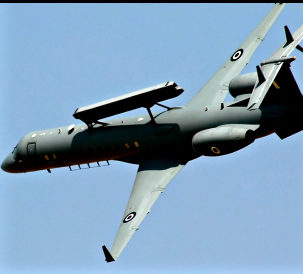 The Airborne Early Warning & Control System (AEW&C) is an 'Eye in the Sky' or 'Netra', as it is nicknamed, of Indian Air Force.
AEW&C is another indigenous aircraft manufactured to check the air activities in critical areas nearing the Indian borders, specifically along Pakistan and China borders.
It is mounted on a Brazilian Embraer-145 jet and will be based at Bathinda in Punjab.
It is a force multiplier, developed by DRDO for IAF with Centre for Air Borne Systems (CABS) as the nodal agency. It helps in Air Defence operations and is capable of communicating using VHF, UHF, C-Band and SATCOM links for Network Centric Operations.
Induction of AEW&C into services will make the country self-reliant and position India in top five countries having this capability.
The United States, Russia and Israel are the other countries which have developed the technology for the system.
This system has been developed and evaluated through collaborative efforts between DRDO and the IAF.
The AEW&C system has undergone all weather and environmental trials and has been accepted by the IAF for induction.
Currently, the IAF operates three Israeli Phalcon Airborne Warning And Control System (AWACS) mounted on Russian IL-76 heavy-lift planes and there are plans to buy two more.