IMA is a dream of every Indian Army aspirant. They fanaticize about the passing day parade and the moment they lift the stars on their shoulders in IMA. But, nevertheless there are aspirants who are crazy to join Army but, they are in dilemma about the commission. They want to serve the nation and at the same time want to excel in their personal endeavor too. This article is mainly for 'about to become cadets' like those.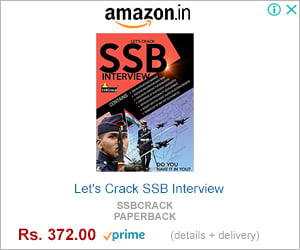 Ladies and Gentlemen let me explain you shortly about commissions available (which you might know). There are two commissions of Indian Army: Permanent and short service commission. If you become an officer after passing out from IMA, you get a permanent commission and if you are trained at OTA, Chennai, you get a short service commission. Permanent as the name suggests- you are entitled to be an officer permanently (there are some ways of getting voluntary retirement like any Central government service). Short service commission is for 10 years extendable to 14 years. After 14 years, the officer is given a choice to permanently get shifted in the Indian Army or he/she can opt out and lead a civil life filled with respect and honor.
What is OTA? OTA or Officers training academy is a military academy similar to IMA and NDA. It was established on 15 Jan, 1963 in Chennai. The 49 weeks course at OTA prepares graduates of all branches for Indian Army except Army Medical Corps. Its training period is less than the training period of IMA; hence it is slightly more rigorous than that of IMA (which is not at all a big deal for a determined Indian Army aspirant). OTA, Gaya was also established in 2011 which trains 350 cadets currently. Female cadets are also trained at OTA, Chennai. How to join OTA? OTA can be joined as a technical entry and as well as a non-technical entry. For joining OTA through a Non-technical entry, the candidate has to qualify CDS (combined defense services) exam followed by SSB interviews and medical. There is a NCC direct entry also in which you are directly called for SSB interviews. For joining OTA through technical entry and if you are a law graduate, please refer to this link – joinindianarmy.nic.in What are the advantages of joining OTA? A cadet trained in OTA will be empowered with analytical thinking, planning skills, administrative and organization abilities, broad perspective and widened horizon of thinking which he/she can implement in the personal endeavors after opting out from the Army. There are substantive promotions also:
To the rank of Captain – After 2 years of commissioned service
To the rank of Major – After 6 years of commissioned service
To the rank of Lieutenant Colonel – After 13 years of commissioned service
After opting out from the Army also, you will have the opportunity to carry out your personal ventures with the status, respect and personality of an officer.
Also Read