In this post we are providing the solution of word association test with more than 200 words from WAT (psychological test). These are the best WAT responses and answers which can be used by candidates in SSB. Candidates can also download word association test pdf file from the link given below. These are the most common word association test examples which you might face in SSB interview for Army, Navy and Air Force.
Download WAT Solved eBooks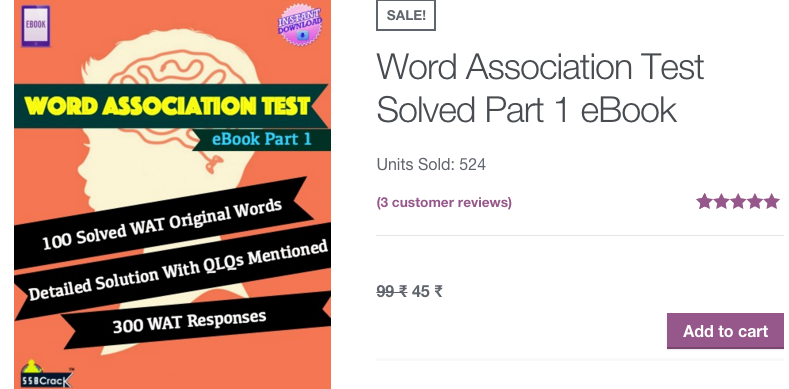 Word Association Test Examples
Atom: India uses her atomic energy for peace purpose.
Assist: A good leader assists his seniors with due respect.

India assisted UNO whenever asked.

Agree: Agreement is the result of mutual understanding.

Defence agreement with USA shows India"s growing status.

Affection: Prevails in close-knit family.

Love and affection goes hand in hand.

Accept: Strong people accept challenge willingly.
Attack: On right time with good strategy wins battle.
Afraid: Brave people are never afraid of adversity.
Alone: When alone, books give good company.

Youth alone brings changes in society

Admire: Admiring others for good deeds bring them closer to us.

India"s progress in space science/BPO is admirable.

Active: Sports keep body active.

Inspiration activates people to do well.
Youth takes active part in nation building.

Avoid: Proper planning avoids suffering.
Attempt: Serious attempts ensure good results.

Determined people attempt till the goal is achieved.

Army: The backbone of a nation"s security.
Accomplish: Capt. Batra accomplished hismission bravely.

Perseverance accomplishes success.

Appeal: Human right groups appeal against injustice.

Indians have right to appeal directly in Supreme Court.

Abuse: US army committed human abuse in Iraq.
Annoy: Mature people keep everyone happy.

Award: Hard work is an award itself.
Accident: Implementation of traffic rules avoids accidents.

Konkan Railway uses anti collision device to a void accidents.

Against: Government is working against Polio and Hepatitis B.

Government works against the odds to make nation develop.

Average: Average People rise to glory with continuous efforts.
Ask: India forces always help UNO whenever asked for.
Approach: Positive approach always givespositive results.
Aloof: Company of friends removes aloofness.
Aid: The whole world provided aid to Tsumani victims.
Argument: Reasonable argument promotesgood ideas.
Architect: Architecture is the game of Imagination.
Ambassador: Pt. Nehru was an ambassador ofpeace.

Mother Teres a was a ambassador of charity.

Again: Practicing again and again improves performance.
All: All citizens are responsible formation.
Aware: Awareness minimizes the cases of AIDS/Polio.
Adult: Education helps to remove orthodoxy from society.
Boredom: Removed by engagin experience.

Remove by reading/talking to friends.

Bachelor: Is the state of gaining experience.
Ballot: Plays important role in democracy.
Barrier: Large population is a barrier in development.
Beauty: Nature is bestowed with beauty.

Nature beauty refreshes mind andbody.

Bride: Taking and giving bribe is moral crime.
Books: Power house of knowledge.
Behave: Good behaviors shows maturity.

Good behaviors reflect good upbringing.

Break: Continuous efforts help to break records.
Blood: Saves life.

O+ is universal donor.
Patriots nurture national interest with their blood.

Begin: A good beginning entails a good end.
Beggar: Social workers work for beggars upliftment.

Relations are based on loyalty.

Bed: After hard work; be gives relief.
Bad: Life if full of good things
Brave: Brave men build society.
Borrow: USA is borrowing good brains from India.

Pak borrowed missiles from China/North Korea.

Beat: Indian Scientists beat the world in IT.
Burden: Cheerfulness eases the burden.

Good citizens burden their responsibility willingly.

Bilateral: India is improving bilateral relations with Pak/China.
Blame: US blamed Saddam to have WMDs.

Weak always blames others.

Bomb : Vast population acts as a bom.

Bombing on Hiroshima/Nagasaki was inhuman act.

Calamity: Tsumani was great calamity.

Effectively disaster management minimizes the harm in a calamity.

Calm: Calm and cool people win other"s heart.

Calm and cool mind brings better results.

Careful : Careful preparation keeps errors away.
Compel : Compelling reasons win a lot of supports.
Captain : Motivates his men/leads by example.
Capable : Continuous efforts increase capability.
Congratulation : Congratulating others on their sucess motivates them to do well again.
Company : Of friends gives pleasure.

Of good people gives good habits.

Cheat : Cheating does not give long-lasting results.

Cheaters need strict punishment.

Clean : Systems serve better.
Cult : India is a home of different cults and creeds.
Culprit : Is brought to justice by law.
Cruel : Cruelty of Hitller led to the Second World War.

Cruelty of Saddam was the cause of his fall.

Cry : To Check growing population is the crying need of the hour.
Cup : Life is a cup of joy.
Child : Priceless asset of parents.

Future torch bearer of country"s progress.
UNICEF runs may schemes for uplifement of children.

Care : Caring and sharing makes therelations strong.
Casual : Attitude harms the success.
Change : Determined people change the fate.

Gandhiji fought for a change in the system.

Conduct : Conducting environmental campaigns increases awareness.
Class : Food for work scheme helps lower class of society.

Class differences are slowly but surely fading.

Convince : Confident people convince others easily.
Criticize : Positive criticism improves performance.

Healthy criticism improves performance.

Decide : India and China have decided to improve their relations.
Develop : Youth plays crucial role in the development of country.
Discourage : Coach encourages team to win the match.
Duty : Duty and responsibility goes hand in hand.

Duty implies responsibilities.
To perform duty is always joyful.

Delay : Doing work without delay shows sincerity.
Dictator : Democracy is the answer to dictatorship.
Drink : Clean drinking water is essential for public health.

Interlinking of revers will provide enough drinking water.

Differ : India is a home of different yet unified cultures.
Death : The brave soldier died a martyr"s death.

Death of a martyr inspires young blood.

Deteriorate : Illiteracy deteriorates a country"s progress.

ASI checks the deterioration of historical monuments.

Disagree : disagreement is removed by pragmatic approach.
Doubt : Knowledge removes all doubt
Desire : Indian youth desires for a developed nation.
Diversity : Crop diversification is beneficial for good cultivate
Determined : India is Determined people achieve their goals definitely.
Dialogue : Is the only solution of problems like Kashmir.
Difficult : Strong people face difficulties bravely.
Demand : Talented people are always demanded.

Indian brain is demand in the world.

Earn : Honesty earns respect.

Gandhiji earned respect from countrymen and others as well.

Escape : Braves don"t escape from difficulties.
Elder : Is the best inspiration.
Examination : Test the level of preparation

Good leader examines problem from all angles.

Enjoy : Friend"s company is enjoyable.

Friends enjoy each other"s company.

Encourage: Encouragement motivates people, Improve performance.
Efficiency : Encouragement motivates people, Improve performance.
Enemy : Lively people have lots of friends.

Troops fights with enemy will full enthusiasm.

Excuse : Strong people never give lame excuse.
Fight : Indian army fight with exemplary courage.
Fear : Courage removes it.

Enemy is fearful of Indian troops.

Future : Future of Indian space research is very bright.

Upcoming generation is the future of country.

Failure: Gives chance to mend the shortcomings.
Fair: Is the confidence of multi-cultures.

Book fairs draw people from diverse fields.

Fellow: Trust and understanding is the bond among the fellows.
Follow: Good leaders command healthy following.
Friend : Friends help/trusts/understands each other.
Future : Is good for go-getters.
Family : Always stand together.

Indians stand together like a family.

Flower : Relaxes and freshens from inside.
Favourite : Dr. Abdul Kalam is favourite of all Indians.
Film : Documentary films educate masses.

Is the showcase of creative message.

Guard: Defence forces guard the border who full devotion.
Girl: Deserves equal opportunities for development for society.
Gallant: Gallant mountaineers scaled the peak successfully.
Happy: Meeting friends gives happiness
Having a goal is a state of happiness.
Honest: Good citizens show honesty

Towards their responsibilities.

Holiday: Helps to keep mind relaxed.
Hesitation: Practice removes hesitation.
Home: Learning starts from home.
Habit: Good habits lead a long way in life.

Good habits are inculcated by practice.

Headmaster: Takes his institution to great heights.

Is the role model for students.

Hardwork: Always pays in life.

Persistent hardwork in right direction brings positive result.
India always gives a helping hand to its neighbors.

Hand: India joined hand with others to fight terrorism.

India always gives a helping hand to its neighbors.

Illiterate: Literacy bring prosperity in society.

Literacy gives a helping hand to its neighbors.

Impossible: Persistence made it possible to reach the moon.

Consistent effort make everything possible.

Insult: He respects his elders.

Gandhiji converted it into motivation, get success.

Jump: India jumped to great heights in IT field.
Joke: Creates Light-moments in life.
Jungle: Is the home to diverse flora and fauna.

Is a natural treasure for living being .

Joy: Life is full of joy.
Jealous: Love overcomes jealousy.

Caring and sharing removes jealousy.

Lose: Strong people bounced back from their loss.
Love: Binds people.

Brings unity.
Is the sweetest and strongest bond.

Leader: Always shows right path to his men.

Good Leaders lead their men effectively.

Lonely: Company of friends overcomes effectively.
Luck: Luck favours those who take initiatives.

Great efforts bring good luck automatically.

Loyal: Loyalty towards duty/work shows strong character.

Loyalty makes relations stronger.

Language: Makes communication possible.

Language of love is know by all.

Logic: Logical ideas are welcomed by all.
Mad: Fanaticism is a madness of making.
Make: Timely decisions help in making the career.
Meet: Meeting regularly creates better understanding.
Mend: Mending fences improves relations with neighbors..
Mother: Is an embodiment of faith and sacrifice.
Movement: High morale gives momentum to the goal.
Necessity: Motivates a man to work hard.
Newspaper: Improve the knowledge.
Notice: Great deeds are notice by everyone.
Obey: Proper command and control brings obedience to orders.

Firm and just orders are always obeyed.

Opportunities: Wiseman always makes proper use of opportunities.
Overcome: One can overcome the hurdles with determination.

Self-confidence helps in overcoming difficulties early.

Quick: Army Officers take quick and correct decision.
Read: Reading enhances knowledge.
Recognition: Great deeds are always recognized.
Respect: Good deed are always respected.
Responsible: Rank and responsibility go together.
Rest: Rest is essential afer handwork.
Revolution: Brings a change.
Rights: Rights and duties are co-related.
Risk: Higher the risk, higher the aims.
Rule: Enforcement of rules and regulations brings discipline.
Shy: Shyness can be avoided by free interaction with others.
Sister: Elder sister is a good friend and an advisor
Sportsman: Sportsman spirit helps in winning the match.
Stamina: Regular exercise increases stamina.

Sports help in building stamina.

Struggle: Struggle makes life thrilling experience.
System: Systematic approach makes work easier.
Teacher: Guides and helps in drawing best in a child
Team: Team"s victory depends on each ones efforts.
Temper: Short tempered people create more enemies than friends.
Thank: Thanking people cost nothing.
Tired: Short break after handwork avoids tiredness.
Travel: Traveling improves knowledge.
Understand: Friendship in based on mutual understanding.
Uniform: Gives pride and unity.
Union: Mutual understanding brings unity in a team.
Victory: Sincere efforts leads to victory.
War: War is not the solution to human problems.
Worry: Hurry and worry brings diseases only.
Young: Young performers are goal oriented.
Youth: Youth alone can built society.
Zeal: He plays with Zeal & Josh.
What are the WAT words you have faced in SSB interview? Write your responses in the comment box below.