It is a ubiquitous fact that the armed forces adopt a three-pronged approach to the selection of officers. The personal interview is one of those approaches. The interview pattern followed in the SSBs has a fixed order more or less. There are certain fixed questions that are asked of the candidates. Therefore today we will broach the subject of certain important elements/aspects that one must know before going for the interview.
Must Know Questions Of Personal Interview
PERSONAL PARTICULARS OF THE CANDIDATE
Family Background: About your dad, mom and siblings. The work which they do, monthly income.
Place of Residence: Your hometown, your workplace, and the things you like about them etc.
Educational Qualification: Your marks in 10th, 12th and graduation. Reasons for certain educational choices, favourite subjects, details of examinations passed, current profession etc.
Interest in extracurricular and sports activity: About the things mentioned in your PIQ form.
Other general interests: Hobbies, leisurely activities etc.
Interest in reading books, newspapers etc.
Best friend, the people with whom you hang out, your habits, your monthly expenditure.
REASONS FOR SELECTING ARMED FORCES AS A CAREER
Why do you want to join the armed forces? Since how long you have been preparing for it?
What have you done to get selected?
In case you are not recommended, what will you do?
What is your backup plan?
CURRENT AFFAIRS AND GENERAL KNOWLEDGE
Now this is a vast field, any type of questions can be asked. However, it is observed that the current hot trending topics are asked more often than not. International Issues are frequently asked. Apart from this he may ask about the plans and visions of the ruling government etc.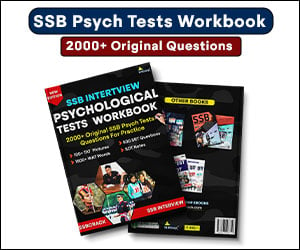 TECHNICAL KNOWLEDGE
Now, irrespective of you being a technical graduate or not. There would be some basic technical questions asked to the candidates, for example, the Bernoulli's Principle, Types of weaponry and machinery in the forces, modernization plans, your suggestions for the forces etc.
CHECKING CERTAIN TRAITS
The interviewing officers may ask certain situational questions to check certain traits of the candidates. He might give you complex situations, emotional conundrums to check your mental balance and overall well being.
Well, these were certain indispensable questions asked during the personal interview. However, it is the candidate who is at the helm during the interview. Your responses will trigger counter and supplementary questions from the interviewing officer. Therefore, the best way to go about the interview is to be honest. If you have prepared honestly and diligently enough, no type of question will make you feel dithery. Therefore, go with a positive outlook without bothering about the outcome.
JAI HIND