HAL Tejas: First India Made Light Combat Aircraft. Indian Air Force has been playing a crucial role in national defense and strengthening security. IAF had conducted many exercises and also gave best support in operation whether it be Op. Megh Rahat of Jammu and Kashmir flood, Op. Maitri for Nepal earthquake or it be Operation Lehar in Andhra Pradesh for Hudhud affected people. Indian Air Force is performing best of it in empowering its fleet and also getting government's help in getting new and enhanced technology for future use. India's MiG-21 and MiG-21 Bison are the aging jets that need to be replaced with new ones. Currently Indian Air Force have 34 squadron rather it needs 44 to combat with full strength. India's emerging indigenization and desire to escalate the development rate lead to the birth of a new fighter –TEJAS LCA (Light Combat Aircraft).
Tejas is a light weight, smallest, supersonic, multirole aircraft. Currently Tejas is 65% indigenous and developers are thinking to increase it to 75%, as per the sources. DRDO is developing a new engine for LCA named Kaveri. It is undergoing trails in Russia and will be brought back to India after final testing. Indian government gave nod for its production in 2009 and its 1st flight of two prototypes was done in the same year. Hot weather trails were taken in 2010 for testing its performance at a temperature of 45degrees.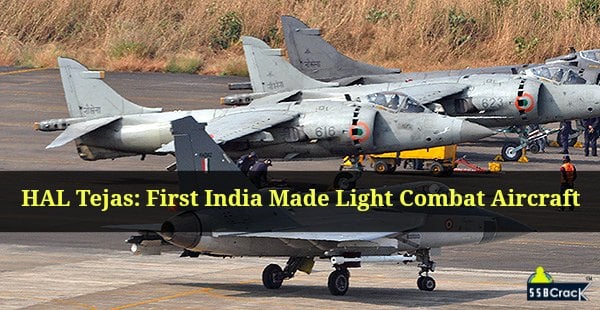 It took DRDO several years and talented minds to design and develop this aircraft. DRDO is developing Tejas in 4 types
LCA for Airforce
LCA Trainer for Airforce
LCA for Navy
LCA Trainer for Navy
What's Special About Tejas:
Well Tejas is the 2nd aircraft made by Hindustan Aeronautics Limited (HAL). It is a multi-role combat aircraft which is of 4+ generation. The main purpose of its production seems to be its replacement with MiG-21 and MiG-21 Bison, which are well known as flying coffins. The complete digital fly by wire system which improves its handling and gives it a star on ratings. The highest tested speed of LCA is 1.6 Mach but theoretically it has a speed of 1.8 Mach.The aircraft can be armed with air-to-air, air-to-ground and anti-ship missiles, precision-guided munitions,
The aircraft can be armed with air-to-air, air-to-ground and anti-ship missiles, precision-guided munitions, rockets and bombs. It has 23mm twin barreled gun that can fire 50 rounds per second.
The highly maneuverable feature of LCA is a bit tough to compare with others, but high specifications needs more attention. Single seat and single engine are the feature to bother about.
DRDO is on the move to develop Tejas Mark-II, which is expected to be a 5th generation jet with stealth capability and will have more feature then Mark-I. The outer surface will be made of radar absorbing material that will absorb the waves and avert their reflection back to the radar. The expected flight trails of Mark-II is scheduled in 2017. Tejas Mark-II will symbolize Indian Air Force's muscles and will compete with other nation's jets. Currently only USA is operating 5th generation jet F22 which is becoming a burden on their budget. That's why they stopped its production in 2012.
Well, India had proved its talent and power many times. Some exceptionally jobs done by Indian minds have made India proud on international stages. Tejas also seems to bring India to the limelight.