Indian army has published the TGC 122 notification along with the SSC- Tech 46 Men. This time Indian army has combined both TGC 122 and SSC Tech 46 together and they will be conducted under same SSB interview, which means there will be no SSB interview conducted separately. After this change candidates are worry regarding the TGC 122 cut off and SSC Tech 46 cut-off marks, as there were different cut off marks for both entries earlier, but with this change, we assume that the cut off marks for both TGC 122 and SSC Tech 46 Men will be the same. Also, cut off marks for TGC and SSC Tech 46 will vary as per your engineering branch and will not be same for all engineering branches.
TGC 122 Cut Off Marks
The candidates shall be shortlisted engineering stream/discipline wise based on the TGC 122 cut off percentage for the respective stream/discipline. The shortlisted candidates shall appear for a common SSB at their allotted Selection Centres. A common merit list will be prepared engineering stream/discipline wise for both the entries. Allotment of entry shall be based on merit and preference exercised. Candidates not getting their first choice will automatically be considered for their second choice. Candidates not giving any second choice will be considered for the only choice, if in merit, and will not have any claim on any other entry. The choice given at the stage of initial application will be final and no change whatsoever will be entertained at a later stage. Choice of an entry where no vacancies are indicated for a particular engineering stream will be considered as an invalid choice.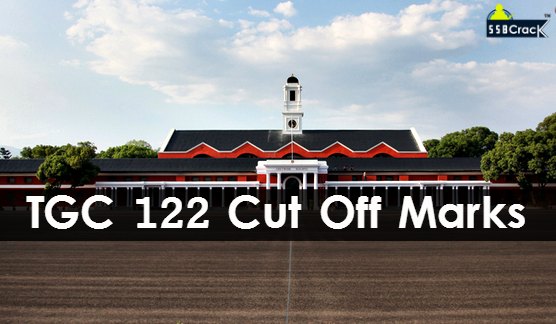 TGC 122 Cut Off Marks (Expected)
Engineering Streams
No. of Vcancies
TGC SSC-The Cut Off Marks [Expected]
TGC-122
SSC(T)-46
Civil
22
25
68%
Mechanical
10
15
68%
Electrical/ Electrical & Electronics
05
15
70%
Automobile / Workshop Technology
–
02
72%
Aeronautical/ Aviation/ Aerospace/ Ballistics/ Avionics
01
02
70%
Computer Science & Engineering/ Computer Technology/ Info Tech/ M.Sc (Computer Science)
05
10
76%
Electronics & Telecommunication/ Telecommunication/ Electronics & Communication/ Satellite Communication
08
15
70%
Electronics / Opto Electronics/ Fibre Optics / Micro Electronics & Microwave
05
16
70%
Electronics & Instrumentation/ Instrumentation
02
03
70%
Architecture/ Building construction Technology
02
03
70%
Food Tech/ Bio Tech/Bio-Medical Engineering
–
02
75%
Chemical Engineering
–
02
68%
Total
60
100
Note: These are expected cut off marks for TGC and SSC- Tech as per the trend, Indian army will declare the final cut off marks after the TGC 122 and SSC Tech online form submission. For correct eligibility details, read the TGC 122 Notification carefully.