UPSC will be publishing the written test result of NDA 2 2015 on their official website, candidates who have cleared the NDA 2 2015 written exam is now ready to take the next challenge and that is NDA 2 2015 ssb interview. Indian army, navy, and air force are soon going to publish the NDA 2 2015 ssb interview date ( NDA 136 SSB date). To check the ssb interview date of NDA 2 2015, candidates can check this page regularly or can visit the official website of army, navy and air force.
NDA 2 2015 SSB Interview Dates
Services Selection Board (SSB) Interview date, time, and venue is intimated through the call letter. SSB interview for candidates who have been declared qualified in the UPSC NDA 2 Result 2015 of written exam will be held in 27 Sep, 2015.
Selected candidates must appear before the Board for Intelligence and Personality Test where,
Candidates for Army and Navy wings of NDA and 10+2 Cadet Entry Scheme of INA will be assessed on Officers Potentiality.
Candidates for Air Force will be assessed in Pilot Aptitude Test and for Officers Potentiality.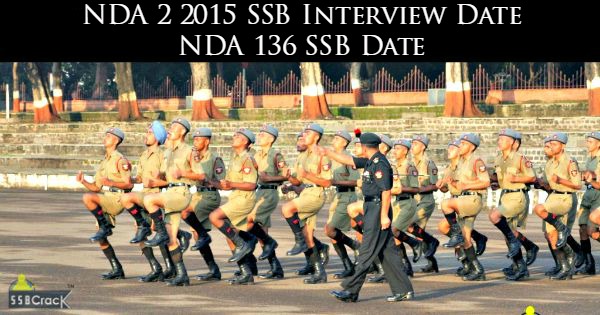 NDA 136 Centre Allotment [Army, Navy, Airforce]
NDA 136 SSB Interview Army
NDA 136 SSB Interview Air Force
NDA 136 Absentee Batch Airforce: Absentee Batch (NDA) will be from 27 Mar 16 to 01 Apr 16 for candidates not reported as initial callup letter from respective AFSBs. Candidates if interested for above SSB dates to contact respective AFSBs
NDA 136 SSB Interview Navy
**Dates will be updated soon