The self-description (SD) test also called as the self-story writing or self-appraisal is another effective and substantial tool in the hands of the psychologist to acquire confirmation of the findings already recorded about the candidate's personality traits through WAT, TAT, and SRT. Every individual has his strong and weak points, good qualities, virtues and tolerable traits, shortcomings, and vices. Most of these traits are reflected in one's normal behaviour and therefore, exposed to others. But there are times when we try to conceal or suppress some qualities from the public eye. However, these are certainly known to ourselves. The SSBs give candidates a fair chance to assess themselves and write down their strong and weak points, merits and demerits. Besides the normal technique of writing one's own assessment and evaluation of oneself, the SSBs have adopted a unique method of assessment for this test. They ask the candidates to write the opinions of themselves given by parents, teachers, friends/colleagues, and self.
Therefore, a self-description includes writing a paragraph on the following aspects:
Parent's Opinion
Teacher's/Employer's Opinion
Friend's/Colleague's Opinion
Self Opinion
Aims/Inspiration/New Qualities I would like to acquire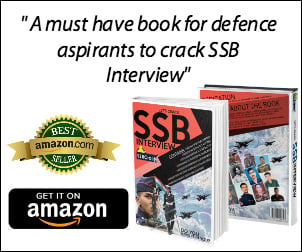 Tips to crack Self Description Test
Your description should be an emphasis on such points that reveal and reflect traits of your personality. Do not fake it.
Gather actual and true opinions from the people listed above, i.e. your parents, teachers/employers, friends/colleagues. Talk to them and ask what they think about you, their perspective and impression about you.
In parent's opinion, you can note and record the reactions of your parents at different occasions and their good and bad viewpoints about you. Write their suggestions and bits of advice to you.
You should be alert about your self-description and must never furnish it with contradictory statements with the information you have provided to the board in the questionnaire.
Write valid and genuine points only because your Interviewing Officer (IO) reads your complete self-description before the interview, he has already estimated of your insight and so, he may fire any kind of question in order to check those qualities mentioned in SD.
It's natural that all human beings have good and bad parts of personality, so write your virtues and vices as well. But do not write strong negative points about yourself. Know the difference between weakness and negative qualities. Be positive. Write about how did/will you get rid of those vices and improve your personality.
Do not write alarming habits about yourself (For example- I booze/smoke daily; I don't connect socially well with people; I am short tempered). Mention only those points that can be eliminated with ease or some amount of hard work.
For positive points, write about your achievements and good deeds and actions. Those good deeds must reflect your qualities, you don't have to boast about them. They can be very simple day to day activities (For example- Hard work at studies, work, sports, competition; helping out family and friends or stranger; responsible and sincere towards one's duties; etc).
Some common negative points that you can write about- Weak communication skills, Lack of knowledge about current affairs, stage fright, Less participation in extra curricular activities, Weak in english language, etc.
Your positive and strong points must reflect- Leadership, confidence, social adjustability, punctuality, willingness to help, positive attitude, good at academics or sports, etc.
Be honest and real while giving your self-description. You don't have to be an extraordinary or excellent being. Even if you are an ordinary candidate with an average level of skills, don't lie about it. Be honest about what you write. Bluffing and lying can cost your valuable chance of recommendation. Be real and simple, making an officer out of you is the military's duty.
Do not waste time in describing your place of birth, home, school, etc. at length. The focus should be on emphasising such factors that demonstrate your personality traits.
Prepare in advance and get sufficient practice by writing it again and again. You should be ready for it and watch that time limit does not exceed. Try finishing it within 10-12 minutes.
Maintain a good and legible handwriting. Work on your speed of writing too.
Remember this one, "DO NOT OVER-ESTIMATE OR UNDERESTIMATE YOUR PERSONALITY".
To prepare better for the SSB Psychological Tests, get the book "Breaking The Code of SSB Psychological Tests"