AFCAT 2 2018 notification, exam date, application form, eligibility, age limits, vacancies and recruitment notice is published by Indian Air Force. Candidates can apply for AFCAT 2 2018 online application from 16 June 2018 till 15 July 2018 through official website careerindianairforce.cdac.in or afcat.cdac.in. Air Force Common Admission Test which is also known as AFCAT is conducted online by the Indian Air Force with the help of CDAC, AFCAT is the exam through which IAF recruits potential candidates to become officers in the Indian Air Force to join Flying, GDOC and Technical branches of the Indian Air Force. AFCAT is conducted two times every year and since AFCAT 2018 it is being conducted online with the help of CDAC. Candidates who are interested to apply for AFCAT 2 2018 can the more details on Age Limit, Application Form, Exam Date, Vacancies, Notification etc.
AFCAT 2 2018 Exam Dates
| | |
| --- | --- |
| AFCAT 2 2018 Important Events | AFCAT 2 2018 Important Dates |
| Notification Date | 16th June 2018 |
| Notification Last Date | 15th July 2018 |
| Admit Card Date | August 2018 |
| Exam Date | August 2018 |
| Result Date | Sep-Oct 2018 |
| AFSB Interview Dates | Oct- Nov 2018 |
| AFCAT Final Result | June 2019 |
AFCAT 2 2018 Notification: Online applications are invited for the courses commencing in Jul 2019 for grant of Short Service Commission (SSC) in Flying Branch and Permanent Commission (PC) / Short Service Commission (SSC) in Ground Duty (Technical and Non-Technical) Branches. Online applications are also invited for NCC Special Entry Scheme (For grant of PC/SSC in Flying Branch) and Meteorology Branch.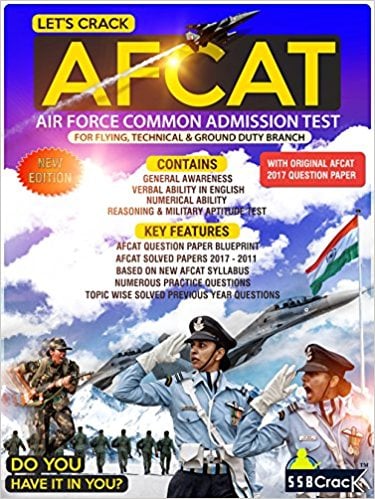 AFCAT 2 2018 Branches, Course Number and Vacancies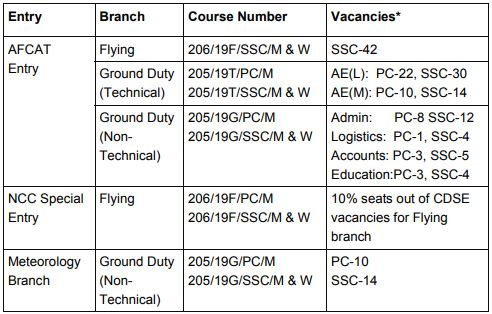 Disclaimer: The vacancies indicated are tentative and subject to change without notice. Actual intake would depend on organisational requirements, various cadre control mechanisms, availability of training slots and actual number of vacancies accruing in July 2019. No representation in this regard will be entertained.
AFCAT 2 2018 Type of Commission
PC for Male. Candidates joining as PC officers would continue to serve till the age of superannuation as per their branch and rank.
SSC for Male & Women.

The engagement period for Flying Branch SSC officers is fourteen years from the date of Commissioning (Non extendable).
The initial tenure for SSC officers in Ground Duty (Tech and Non-Tech) branches would be for a period of ten years. An extension of four years may be granted subject to service requirements, availability of vacancies, willingness, suitability and merit.

AFCAT Study Material
AFCAT 2 2018 Age
Flying Branch. 20 to 24 years as on 01 Jul 2019 i.e. born between 02 July 1995 to 01 July 1999 (both dates inclusive). Upper age limit for candidates holding valid and current Commercial Pilot Licence issued by DGCA (India) is relaxable upto 26 years i.e. born between 02 July 1993 to 01 July 1999 (both dates inclusive).
Ground Duty (Technical/Non-Technical) Branches). 20 to 26 years as on 01 July 2019 i.e. born between 02 July 1993 to 01 July 1999 (both dates inclusive).3
AFCAT 2 2018 Notification: Detailed notification is available on website https:// careerindianairforce.cdac.in or https://afcat.cdac.in . Candidates are to ensure that they have read and understood the details available in the notification before registering.
AFCAT 2 2018 Physical /Medical Standards, Educational Qualifications and Selection Procedure: Details on physical/medical standards, educational qualifications and selection procedure are available in detailed notification on the website.
AFCAT 2 2018 Training: Training will commence in the first week of July 2019 for all courses at Air Force Academy Dundigal (Hyderabad). The duration of training for Flying and Ground Duty (Technical) Branches is 74 weeks and that of Ground Duty (Non-Technical) Branches is 52 weeks at Air Force Training Establishments. PAN Card and account in SBI/ Nationalised Bank is mandatory at the time of joining Air Force Academy. Aadhaar Card is mandatory for registration.
Eligible candidates are to register online through separate tabs available for AFCAT Entry/NCC Special Entry/MET Entry. Candidates eligible for one/more entries are to register separately in each entry.
Online testing will be conducted for AFCAT entry at various centers. Candidates registering for AFCAT entry will have to pay an amount of Rs. 250/- as examination fee. However, candidates registering for Meteorology entry and NCC Special entry are not required to pay. Details of conduct, examination centers and mode of payment are available in the notification.
Candidates are required to maintain their unique registered E-Mail ID and mobile phone number active throughout the selection process.
Please note that information filled up by the candidates in online application form will be considered final and no amendments will be allowed subsequently. Candidates should exercise due care while entering their date of birth.
You are advised to be physically fit when you report for SSB in order to be able to undergo the tests at AFSB. You should aim to achieve an ability to run 01 mile (1.6 kms) in 10 mins, do 10 pushups and 03 chin ups. Prospective candidates are also advised to keep themselves in good physical condition to adapt to physical training at AFA which encompasses running, swimming, rope climbing and other forms of physical training/ conditioning in which they would undergo mandatory tests during training.
For queries related to Conduct of online examination, registration process and admit cards contact 020-25503105 or 020-25503106 or E-Mail afcatcell@cdac.in. For queries regarding eligibility, allotment of AFSB centres, date of AFSB interview, merit list and Joining Instructions contact 011- 23010231 Extn 7610 or Toll free number 1800-11-2448.
Read AFCAT 2 2018 Notification
AFCAT Study Material