India and Pakistan have decided to ensure closer coordination between their coast guards in liberalizing procedures for release of each other's fishermen as well as undertaking search and rescue missions and tackling oil spill disasters or pollution on the high seas.
Indian Coast Guard and Pakistan Maritime Security Agency held official meeting in New Delhi and addressed issues pertaining to boundary violations by fishermen from both sides and enhancing cooperation in area of maritime search and rescue and combating pollution at sea. It was chaired by Indian Coast Guard (ICG) Director General Rajendra Singh and Pakistan Maritime Security Agency (PMSA) chief Rear Admiral Zaka Ur Rehman.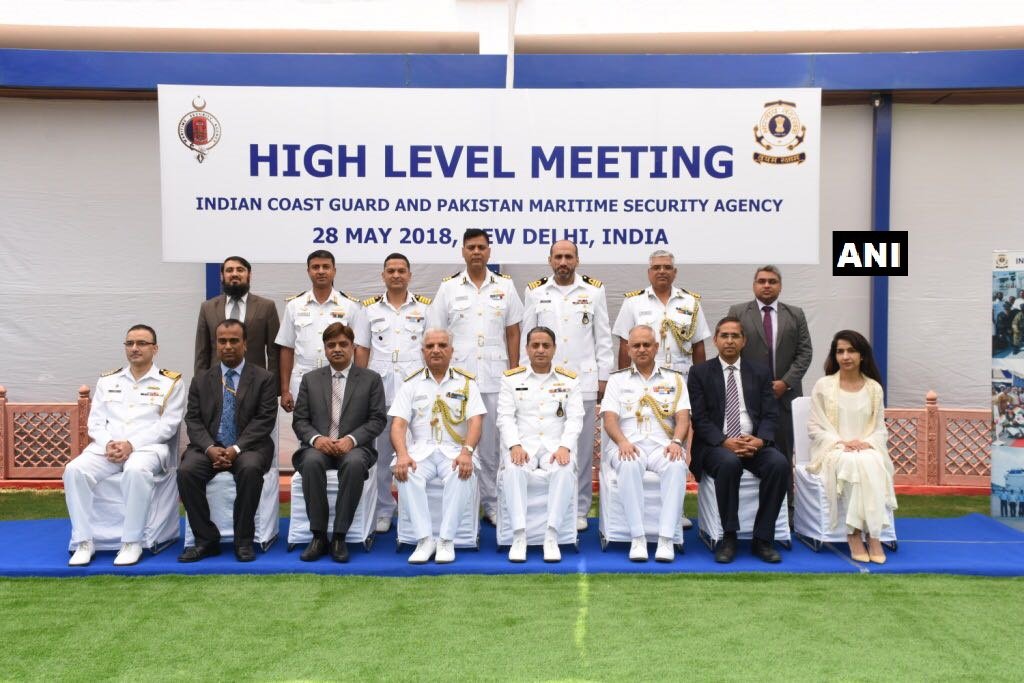 MoU For Cooperation
Indian Coast Guard and Pakistan Maritime Security Agency (PMSA) had signed Memorandum of Understanding (MoU) in October 2005 for envisaging cooperation between ICG and PMSA. The MoU was extended for five years in 2016.
The MoU envisages cooperation through exchange of information on Exclusive Economic Zone (EEZ) violations, marine pollution, apprehended vessels, natural disasters and calamities, combating smuggling, illicit trafficking of narcotic drugs and piracy and coordination in search and rescue and return sea passage.
It also established communication link between coast guards of both counteries which is operational. Under provisions of MoU, directors general of PMSA and ICG meet periodically. This annual meeting is significant link between coast guards of two neighbouring countries for addressing issues pertaining to maritime security
Last Meeting Boytcotted
This annual meeting, which is a significant link between the two coastal maritime agencies, was not held last year after Indian Special Forces conducted "surgical strikes" against terror launch pads in Pakistan-occupied-Kashmir in September 2016 and a Pakistani military court awarded the death sentence former Indian Navy officer Kulbhushan Jadhav in April 2017 on the charges of spying. India has moved to the International Court of Justice against this ruling.
The last meeting between the PMSA and the Indian Coast Guard took place in Islamabad in July 2016.
Conclusion
Appreciating the need for collaboration for preservation and protection of marine environment, both sides agreed to explore opportunities for cooperation in the field of oil spill response at sea in line with the MoU signed recently by India with the South Asian Cooperative Environment Programme.
The two sides will now stay in regular contact and expeditiously exchange information on maritime boundary violations and nabbing of each other's fishing boats through the existing hotline between the ICG and PMSA headquarters, instead of merely talking once a week on Wednesdays. The Indian side stressed this issue needs to be addressed on humanitarian grounds.