In this weekly digest, we cover all the hot topics that happened in the Indian defence from 15 – 21 July 2018.
Brahmos Test Fired Under Extreme Weather Condition
BrahMos was successfully test-fired as part of service life extension programme for Indian Army under extreme weather condition.
The precision strike missile followed the designated trajectory and the key components functioned perfectly. BrahMos has proved again all-weather capability flying in sea-state 7 with waves as high as 9 meters. DRDO's range capability to operate in the most severe weather condition has also been validated at ITR Balasore.
Nigerian Naval Staff Visited India from 16 to 19 July 2018
Vice Admiral Ibok-Ete Ekwe Ibas, Chief of the Naval Staff, Nigerian Navy is visited India from 16 to 19 July 2018 along with a 4 member Nigerian Navy delegation.
During his visit, the Chief of the Naval Staff of the Nigerian Navy held bilateral discussions with Admiral Sunil Lanba, Chief of the Naval Staff and other senior officials of the Indian Navy. The Nigerian Navy Chief is also met with the Chief of the Air Staff and the Chief of the Army Staff.
After New Delhi, the Admiral proceeded to Mumbai, Kochi and Goa where he held discussions with the Commanders-in-Chief of Western and Southern Naval Commands and Flag Officer Goa Area respectively.
Republic of Singapore Naval Delegation Visits INS Teg at Djibouti
A delegation led by Rear Admiral Saw Shi Tat, Republic of Singapore Navy, visited INS Teg which is presently berthed at Djibouti harbour.
The Indian Ambassador to Ethiopia, Mr Anurag Srivastav, and Mr Nalin Kothari, Consulate General, Djibouti also visited the ship at Djibouti harbor. The Ambassador walked around the ship and was given a presentation on Indian Naval activities and operations in Gulf of Aden. Subsequently, the ship's team had an interaction with the Ambassador on the growing strategic importance of Djibouti and the growing interest of other navies in the region.
IAF Warriors Summit Mt Kun
IAF Mountaineering Expedition to Mt Kun (7077 m) was flagged off on 27 Jun 2018 with 17 Air-Warriors in this expedition. They successfully reached the summit on 15 Jul 18. The team had 4 women Air-Warriors out 17 and was successfully led by Squadron Leader Lalita Mishra.
IAF Participates in "Pitch Black"
The Indian Air Force for the first time is participating with fighter aircraft in Exercise Pitch Black 2018 (PB-18), which is scheduled from 24 Jul 18 to 18 Aug 18 in Australia. Ex Pitch Black is a biennial multi-national large force employment warfare exercise hosted by the Royal Australian Air Force (RAAF).
The exercise will provide unique opportunity for exchange of knowledge and experience with these nations in a dynamic warfare environment.
Privatisation Promoted in Defence Production
The Government is promoting privatisation in Defence Production. Till June 2018, Department of Industrial Policy & Promotion (DIPP) has issued 379 licenses to 230 Indian Companies for manufacture of various licensable defence items. Apart from this, one manufacturing license has also been issued by Ministry of Home Affairs for Small Arms and ammunitions. Till June 2018, 70 license companies covering 114 licenses have reported commencement of production.
Army to resume trails of M777 howitzer
Indian Army is going to resume trials of US-made M777 ultralight howitzer in the Pokhran firing range, Rajasthan. During the trails local ammunition will be used and tentatively 100 to 150 rounds will be fired. The trials will begin after they were suspended in September 2017 following a barrel burst caused by faulty ammunition during firing.
India-US Held Bilateral Defence Meet
As part of Indo-US Bilateral Defence Cooperation, the 7th Defence Technology and Trade Initiative (DTTI) meeting was held between India and the US delegation on 18 July. The meetings are held twice a year, alternately in India and the USA with the aim to bring sustained leadership focus to the bilateral defence trade relationship and create opportunities for co-production and co-development of defence equipment.
A number of Joint Working Groups have been established under DTTI to progress mutually agreed projects for the benefit of the Armed Forces. Discussions on the formulation of a Standard Operating Procedure and the Industrial Security Annex to take forward projects under DTTI are proceeding as planned.
Bharat Electronics Ltd inks deal with Swedish Saab Group
Bharat Electronics Ltd (BEL) has signed memorandum of understanding (MoU) with Saab for jointly marketing L-B and 3D air surveillance radar (RAWL-03) which is co-developed by the companies. Saab is Swedish aerospace and defence firm that serves global market with world-leading products, services and solutions in military defence and civil security.
Indigenous Aircraft Carrier Project Reviewed by Defence Secretary
The Indigenous Aircraft Carrier (IAC) Project was reviewed by Shri Sanjay Mitra, IAS, the Defence Secretary at Cochin Shipyard Limited (CSL) on 19 Jul 18. He was accompanied by Vice Admiral Ajit Kumar.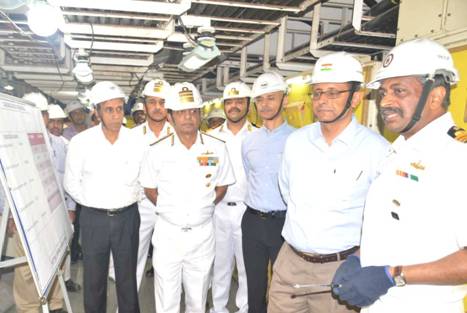 During the onboard visit, the Defence Secretary was given a first-hand briefing on the progress of IAC construction. highlighted the shipyard's focus on outfitting and trial activities as the project enters its final phase, and re-iterated the CSL's commitment to meet the timelines for delivery of the ship. The sea trials of the ship are expected to commence by early 2020.
IAF's maintenance command organized Annual Aerospace Safety Council Meeting
Maintenance Command of the IAF organized its Annual Aerospace Safety Council Meeting on 19 Jul 18 at 7 Base Repair Depot, Air Force Station Tughlakabad. The meeting was attended by 100 Officers and 50 Airmen.

The meeting focused on issues related to IAF Aerospace Safety during Maintenance and Operations undertaken at units under Maintenance Command in the year gone by and discussed new challenges, current trends and developments in the field of aerospace safety.
The occasion was also utilized to audit what had been achieved and the task that lay ahead in ensuring safe flying environment while achieving 100% mission success. The meeting holds significance as Maintenance Command provides support to platforms and systems across entire Indian Air Force, thereby making a noteworthy contribution to its operational potential and aerospace safety.
Junior Officers Leadership Seminar held at Visakhapatnam
With an endeavor to provide a forum to the junior officers to put forth their views on aspects ranging across professional, technical, training and personnel issues, a Junior Officers Leadership Seminar was conducted by Eastern Fleet at Samudrika Auditorium on 18 Jul and 19 Jul 18. Junior officers upto the rank of Lieutenant Commanders, Master Chief Petty Officers, Chief Petty Officers representing all important branches of the Navy and important senior officers attended the meet.