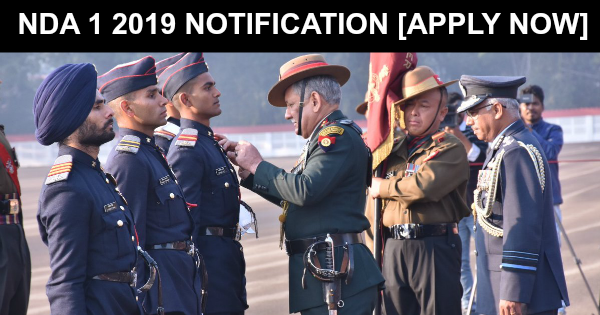 UPSC has published the notification of NDA 1 2019 national defence academy and naval academy (I) 2019. Aspirants who want to join the Indian army, navy and airforce after 10+2 can apply for NDA 1 2019 through UPSC online. SSBCrack has mentioned the important details like age limits, vacancies, education qualification, how to apply etc for NDA 1 2019. We suggest all the aspirants to read the NDA 1 2019 notification which is linked below before apply for the NDA exam online. The Online Applications can be filled up to 4th February 2019 till 6:00 PM. The online Applications can be withdrawn from 08.02.2019 to 14.02.2019 till 6:00 PM. The eligible candidates shall be issued an e-Admit Card three weeks before the commencement of the examination. The e-Admit Card will be made available on the UPSC website (upsconline.nic.in) for being downloaded by candidates. No Admit Card will be sent by post. All the applicants are required to provide valid & active e-mail id while filling up online application form as the Commission may use electronic mode for contacting them.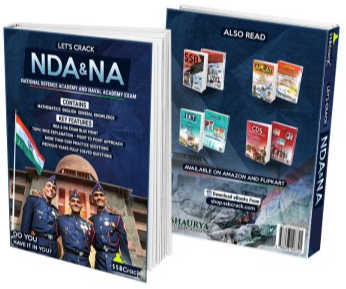 NDA 1 2019 Important Details
Online application date:09.01.2019 Last Date for Submission of Applications: 04.02.2019
Only unmarried male candidates born not earlier than 02nd July, 2000 and not later than 1st July, 2003 are eligible.
Education For Army Wing of National Defence Academy:—12th Class pass of the 10+2 pattern of School Education or equivalent examination conducted by a State Education Board or a University.
Education For Air Force and Naval Wings of National Defence Academy and for the 10+2 Cadet Entry Scheme at the Indian Naval Academy:—12th Class pass of the 10+2 pattern of School Education or equivalent with Physics and Mathematics conducted by a State Education Board or a University.
Candidates who are appearing in the 12th Class under the 10+2 pattern of School Education or equivalent examination can also apply for this examination.
Candidates should note that there will be penalty (Negative Marking) for wrong answers marked by a candidate in the Objective Type Question Papers.
For both writing and marking answers in the OMR sheet (Answer Sheet) candidates must use black ball pen only Pens with any other colour are prohibited.
The approximate number of vacancies to be filled on the results of this examination will be (i) National Defence Academy: 342 (208 for Army, 42 for Navy and 92 for Air Force) and (ii) Naval Academy: 50 (10+2 Cadet Entry Scheme)
Candidates (excepting SC/ST candidates/Sons of JCOs/NCOs/ORs specified in Note 2 below who are exempted from payment of fee) are required to pay a fee of Rs. 100/- (Rupees one hundred only) either by depositing the money in any Branch of SBI by cash, or by using net banking facility of State Bank of India or by using Visa/MasterCard/Rupay Credit/Debit Card.
Candidates are required to apply Online by using the website upsconline.nic.in Detailed instructions for filling up online applications are available on the above-mentioned website.
Candidates appearing for SSB interview for the first time for a particular type of Commission i.e. Permanent or Short Service, shall be entitled for AC III Tier to and fro railway fare or bus fare including reservation cum sleeper charges within the Indian limits. Candidates who apply again for the same type of Commission will not be entitled to travelling allowance on any subsequent occasion.
NDA Exam Pattern
The exam consists of 2 papers. The first paper has mathematics and the second paper has 2 sections of English and general abilities.
| | | | | |
| --- | --- | --- | --- | --- |
| S. No | Paper | Time | Questions | Marks |
| 1 | Maths | (10am  – 12 ½ pm) 2 ½ hours | 120 | 300 |
| 2 | General Ability (English+ GK) | (2pam  – 4 ½ pm) 2 ½ hours | 100+50 | 600 |
NDA CENTRES OF EXAMINATION: The Examination will be held at the following Centres : Agartala, Ahmedabad, Aizawl, Allahabad, Bengaluru, Bareilly, Bhopal, Chandigarh, Chennai, Cuttack, Dehradun, Delhi, Dharwad, Dispur, Gangtok, Hyderabad, Imphal, Itanagar, Jaipur, Jammu, Jorhat, Kochi, Kohima, Kolkata, Lucknow, Madurai, Mumbai, Nagpur, Panaji (Goa), Patna, Port Blair, Raipur, Ranchi, Sambalpur, Shillong, Shimla, Srinagar, Thiruvananthapuram, Tirupati, Udaipur and Vishakhapatnam.
NDA Selection Procedure
The Union Public Service Commission shall prepare a list of candidates who obtain the minimum qualifying marks in the written examination as fixed by the Commission at their discretion. Such candidates shall appear before a Services Selection Board for Intelligence and Personality Test where candidates for the Army/Navy wings of the NDA and 10+2 Cadet Entry Scheme of Indian Naval Academy will be assessed on Officers Potentiality and those for the Air Force in addition to the above will have to qualify Computerised Pilot Selection System (CPSS). Candidates with Air Force as one of the choice would also undergo CPSS if they qualify SSB and are willing.
Two-stage selection procedure based on Psychological Aptitude Test and Intelligence Test has been introduced at Selection Centres/Air Force Selection Boards/Naval Selection Boards. All the candidates will be put to stage-one test on first day of reporting at Selection Centres/Air Force Selection Boards/Naval Selection Boards. Only those candidates who qualify at stage one will be admitted to the second stage/remaining tests. Those candidates who qualify stage II will be required to submit the Original Certificates along with one photocopy each of : (i) Original Matriculation pass certificate or equivalent in support of date of birth, (ii) Original 10+2 pass certificate or equivalent in support of educational qualification.
Candidates who appear before the Services Selection Board and undergo the test there, will do so at their own risk and will not be entitled to claim any compensation or other relief from Government in respect of any injury which they may sustain in the course of or as a result of any of the tests given to them at the Services Selection Board whether due to the negligence of any person or otherwise. Parents or guardians of the candidates will be required to sign a certificate to this effect.
To be acceptable, candidates for the Army/Navy/Naval Academy and Air Force should secure the minimum qualifying marks separately in (i) Written examination as fixed by the Commission at their discretion and (ii) Officer Potentiality Test as fixed by the Services Selection Board at their discretion. Over and above candidates for the Air Force, and all the SSB qualified candidates as per their willingness, eligibility and preference for Air Force, should separately qualify the CPSS.
Subject to these conditions the qualified candidates will then be placed in a single combined list on the basis of total marks secured by them in the Written Examination and the Services Selection Board Tests. The final allocation/selection for admission to the Army, Navy, Air Force of the National Defence Academy and 10+2 Cadet Entry Scheme of Indian Naval Academy will be made up to the number of vacancies available subject to eligibility, medical fitness and merit-cum-preference of the candidates. The candidates who are eligible to be admitted to multiple Services/Courses will be considered for allocation/selection with reference to their order or preferences and in the event of their final allocation/ selection to one Service/Course, they will not be considered for admission to other remaining Services/Courses.
IMPORTANT – Download eBooks for SSB Interview Preparations

Defence Exams and Interview Books: