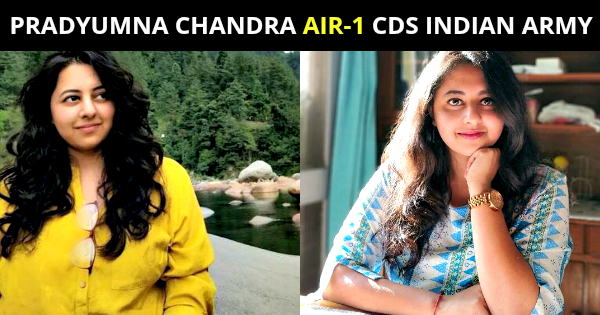 Here is my brief interaction with Pradyumna Chandra who has secured AIR-1 in CDS 1 2018, non-technical course of the Indian Army which is going to commence at OTA Chennai from April 2019. This interaction with Pradyumna Chandra will help the defence aspirants to understand the thoughts of a UPSC CDS topper and how to get along with your preparations. She has spoken about herself, her preparations and the mindset while going through CDS 1 2018 exam and the SSB interview. She has also discussed her future plans as she is not joining the academy.
Pankaj: Congratulations Pradyumna Chandra for getting AIR-1 in CDS 1 2018 OTA Women 23rd SSC Women (Non-Technical) Course. How does it feel?
Pradyumna Chandra: Let me begin by saying you are doing a commendable job in running this platform for defence aspirants. I was also one among them when trying to get an insight into the SSB procedure. Thank you!  coming to the question, It obviously feels great. That too a rank 1 in the very first attempt is a dream come true.
Pankaj: Tell me something about yourself and your family background?
Pradyumna Chandra: I am an engineering graduate from Bangalore. After which I decided to work in the IT industry for a couple of years before deciding to try out for government jobs – one of which was also army – CDS.
My father is an army officer himself but never forced any career choices on me and let me make my own choices. This is also a reason why I took up CDS so late [ a question which was asked during SSB multiple times].
Pankaj: What pushed you to apply for the CDS 1 2018 and face the SSB Interview?
Pradyumna Chandra:  Army is amongst the most prestigious careers today. And having seen it from close quarters myself I can say it gives a wholesome life. Thus, I wanted to give a shot at it and see where I stand. Thankfully, I was successful.
Pankaj: You have scored 104 out of 200 marks in CDS 1 2018 written exam, which is actually a very good score, would you like to talk about your written exam preparation?
Pradyumna Chandra: CDS written exam consists of 2 papers – English and GK. Comparatively English paper is simpler and easier to prepare for. I went through the past 5 years question papers as some questions are repeated.  Even if they aren't repeated – they are asked from the same topics.
A basic knowledge of History – India's freedom struggle; polity – federal structure & constitutional posts with current affairs knowledge ( newspaper only, or a good compilation ) is sufficient.
Also, since this is an exam for armed forces– a knowledge about defence infra – missiles, acquisition, military exercises comes in handy.
Pankaj: CDS GK question paper is something which most of the aspirants find very difficult, what are your suggestions while preparing for it and what are the important points one should keep in mind while attempting CDS GK question paper?
Pradyumna Chandra: There's no shortcut to success. Reading the prescribed textbooks is a must. Tips and tricks are handy but not a substitute for knowledge. Keep an open mind during the exam. Many a times answers can be deduced via simple elimination. Don't be afraid to take chances on your intuition. Simple elimination if used carefully can get you correct answers.
Pankaj: You have scored 96 out of 200 marks in the SSB Interview. Tell us something about your SSB Interview preparations?
Pradyumna Chandra: Honestly, I did not prepare much for SSB. However the following were useful for me during my ssb.
PPDT: I Did not try to cook up a story just to make it a positive one. Make it realistic. Be firm and clear when voicing opinions
Psyche Tests: I completed all TAT & WAT and story writing in time. Write with as much honesty as possible
Interview: be truthful. To be truthful you need to be aware of yourself and your surrounding. Do not try to portray something you are not.  IO's see hundreds of aspirants like us and it becomes very transparent from them when we lie.
Pankaj: Any memorable moment during the SSB interview which you will never forget?
Pradyumna Chandra: It may sound cliché but group field tasks were a great bonding exercise. Making new friends with whom I am in contact even today and will be for a long time.
Pankaj: Apart from OLQs what else do you think one should have to clear the SSB interview?
Pradyumna Chandra: Awareness  & presence of mind are very important. Eg  IO asked me which were the stations you went through to reach SSB centre.  They asked me news related to current affairs and my thoughts on ongoing debates in society. These are possible only when you have confidence. It comes only from hard work and focused preparation.
Pankaj: What is success according to you?
Pradyumna Chandra: Success is to achieve whatever goals you set for yourself and what you want from life. It may be money for some, or prestige & power for someone else. But, in the end, success is a content life.
Pankaj: As you told me earlier that you will not join the academy and have other plans, this might be the toughest decision for many but you say it with utmost clarity of thoughts. What do you think is stored for you in the future and what are the plans?
Pradyumna Chandra: Yes, I decided not to join the army. It is because I am preparing for other govt exams simultaneously. Having been so closely related to army my entire life I have grown to respect it but am not enamoured by it. Thus with an objective mind, I feel  I am not the perfect fit for the army. I do not know what is in store for me in future, but I'm working towards achieving my goal. During my interview , the officers there knew that army is not my first choice. They pressed me to choose one between preparing for govt services vs army.  I decided to be honest and told them I will choose other govt services. Yet they recommended me .
Pankaj: What is your message for the defence aspirants?
Pradyumna Chandra: Stay focused, stay strong and be sincere. And keep the josh high.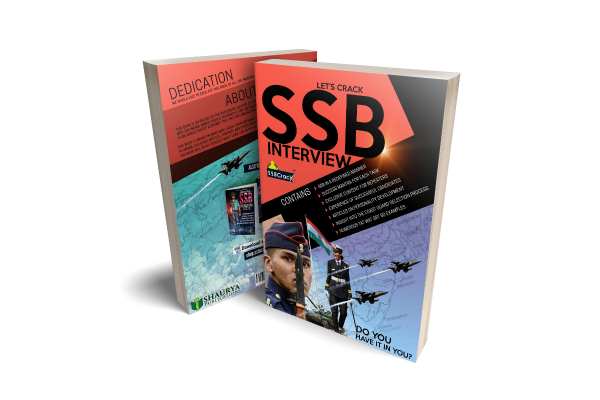 https://www.instagram.com/p/Btx1RVpgEKs/