Today we are in conversation with Maulshree and she has achieved AIR-3 in NCC 47 Women entry to join the OTA Chennai for Indian Army. Maulshree is from Jaipur and she did her schooling from St. Xavier's School, Jaipur. She did her graduation in Performing Arts (Theatre), English Literature and Psychology and post graduation in Psychology HRDM from Christ University, Bangalore. She worked as an HR Recruiter for 2 years in Bangalore till last year. Her father is an Executive Engineer (Civil) in the Public Health and Engineering Department and mother is an Associate Professor in Sanskrit and Associate NCC officer(Major) in a Govt. College. She has an elder sister who is a corporate employee and a freelance Graphic Designer. And also have a grandmother at home. Hope this conversation will benefit the defence aspirants in their preparation.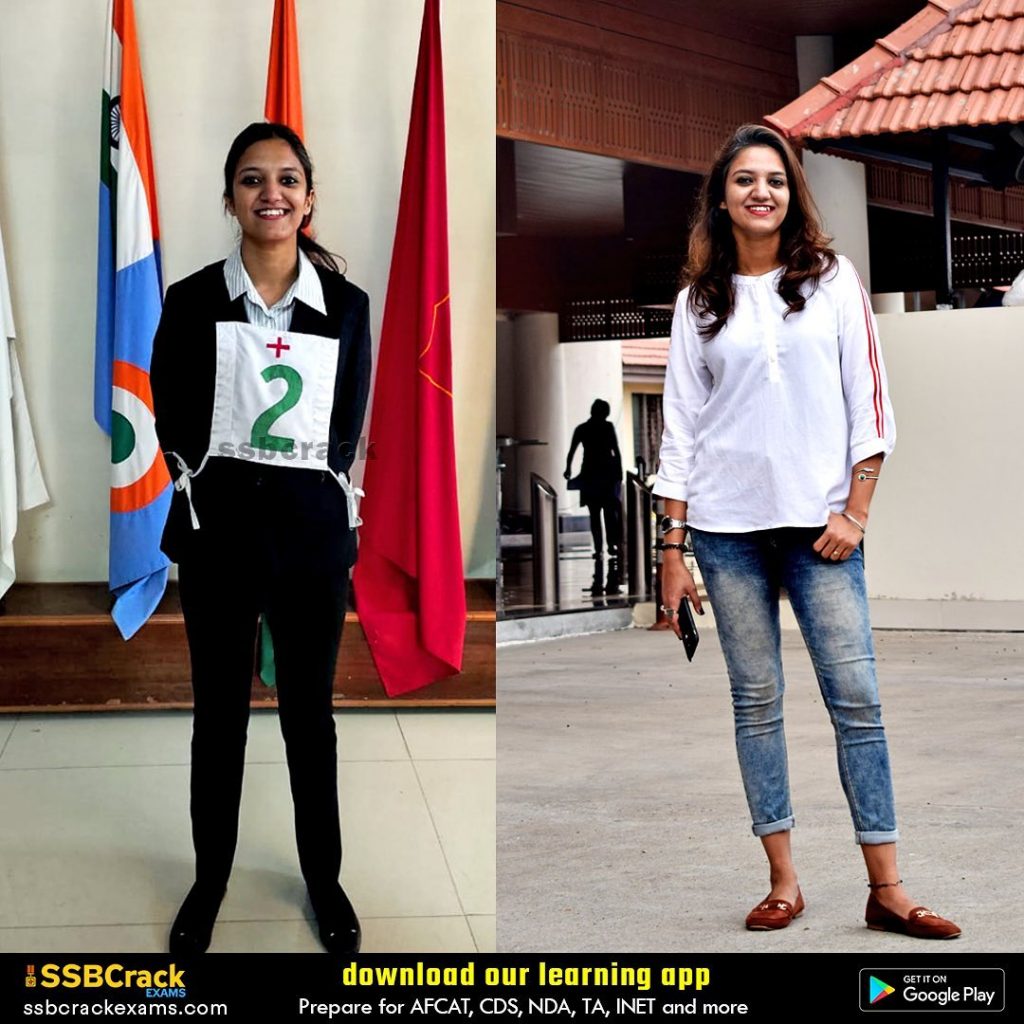 Q1. How does it feel to clear the NCC Special entry with AIR-3. Were you expecting to achieve this rank?
Maulshree: I feel really blessed that I achieved this rank. I had this dream since my childhood and I am happy to fulfil it. I am the happiest to make my parents proud. I had visualized myself getting in the top 4 of the merit. I had promised myself to clear it this time and I started my preparations with that promise and vision. I was just focused on my goal and there were no second thoughts or doubt about this. I believe in the law of attraction so more than expected it is something that I attracted – the SECRET 😉

Q2. What motivated you to join the NCC?
Maulshree: My mother is an NCC officer so as a kid I used to go for parade sessions with her. I used to get so excited seeing all girl cadets doing the parade that I would start doing it with them. The zeal, uniform, parade and that discipline motivated me to join the NCC. I remember asking my mother to enroll me as a cadet when I was in class 5th and her telling me to wait till class 8th to get enrolled in the junior wing.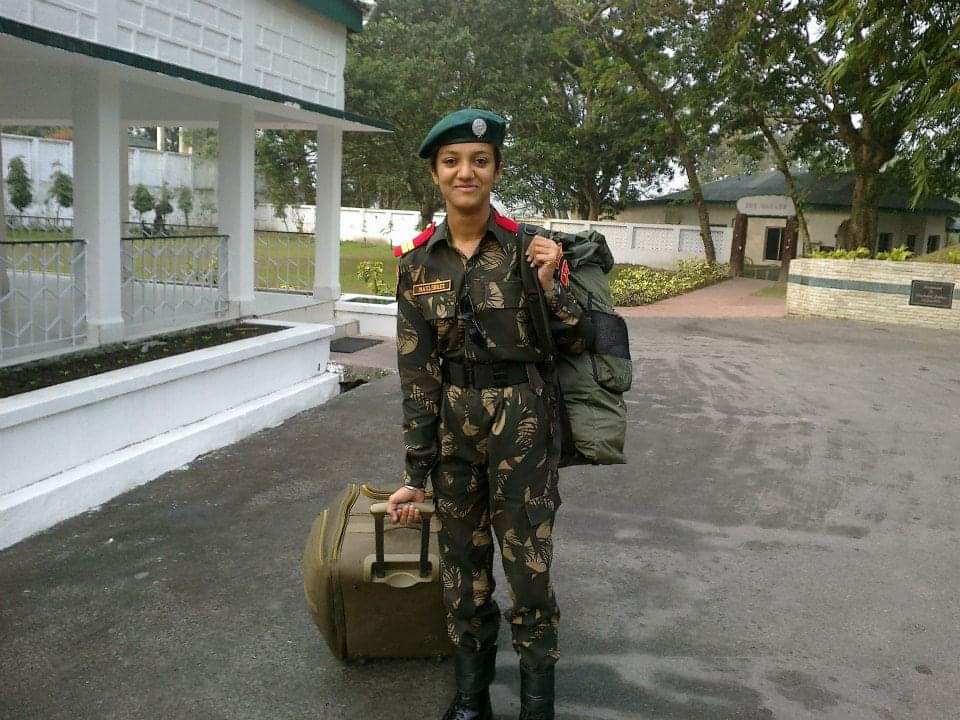 Q3. What motivated you to join the Armed forces?
Maulshree: My mother is my biggest motivation. It is because of her that I got introduced to the world of Army. As an NCC officer she holds the rank which inspired me to become an officer and get the rank before my name. As people say doctor ki beti doctor banegi, engineer ki beti engineer banegi- I had this dream ki Major ki beti Major banegi.
Q4. How did you prepare for the SSB interview?
Maulshree: This was my 3rd attempt for the NCC entry. I appeared for my 1st attempt in 2016 before which I had taken the coaching from Olive Greens, Chandigarh. This time I prepared on my own. I had previous attempts' experience and some coaching helping material. I prepared on all current affairs issues- national and international. I regularly read current news and referred to different articles to understand the issues from different perspectives and then worked on framing my perspective on the same. I practiced psychology tests and visualised all Ground tasks in my head. With regards to interview I was confident in terms of talking about myself. I would like to mention that Self analysis and introspection is must. It is important to know about oneself more that anything else. Knowing one's strength and weakness is essential. I was constantly working on my thought process, my approach in terms of dealing with sitautions and my personality. I would sit quietly everyday and visualize myself doing my preparations well and doing all my tasks during the selection process properly. Visualization is important before actually doing things.

Q5. What was the most memorable moment in your SSB interview?
Maulshree: The overall experience was memorable. The interview helped me realize more about myself. One memorable thing was my command task where I got the solution quite early but the GTO kept increasing the difficulty level till I could find all solutions. I felt good that I could come up with solutions. It was memorable because in my last attempt I couldn't think of a simple solution because of stress and anxiety. So it was memorable this time because I learnt that we can think better when our mind is calm.
Q6. What message you would like to give to the defence aspirants?
Maulshree: I would like to tell all the defence aspirants to work on their personality and thinking. It is important to focus on one's personality, thinking and behavior in different situations. The assessors see what a candidate thinks at unconscious and conscious level , how a candidate behaves at individual level and in a group. How you are in your real life will be reflected in your performance so it is always better to be yourself than to pretend in order to impress the assessors. Emotional balance and mental strength is more important than physical strength. So I would like to advice to constantly work on oneself at personal level. Say and do what you believe. Do not try saying things that you are not confident about.
Apart from that be up to date with all the relevant issues. Read about the issues in detail and then form your opinions. Also, be prepared with your subject knowledge.
A) screening – you can write a simple story, it can be based on some situation from your life- the story doesn't have to be very fancy. Write to the point. In the group discussion, do not indulge in arguments. Even if your story is not selected for final narration it is okay if you help the group decide on one story. It could be anyone's story. The idea is not to show off your story but to help the group land on one idea.
B) Psychology tests – stories can be from your life as well. No matter what you write your natural self will be reflected through that. Sentences for word association test should be what comes to your mind first after seeing the word. For situation reaction write logical solutions.
C) GT- group tasks are meant for group work. The idea is to be with the group and not to show off your skills and go against the group. How you deal with teammates is very important. You should have supportive behaviour. For GD- it is always about discussion and not arguments. Share your opinions but do not disregard others' opinions. Your points should be logical and back them with some facts. Individual tasks are for you to show your skills and reasoning and situation handling- do that with confidence.
D) Interview – Be yourself. Know yourself. Say what you do and believe in. Be confident about what you say. Your interview will be based on what you will mention in the form. Whatever you mention be able to talk about that with confidence. Do not say things just to impress the interviewer.
Overall, stay calm and be confident about yourself. You know yourself better. Be positive. You get what you attract so attract the best.

Q7. Thank you for talking to SSBCrack.
Maulshree: All the best to all defence aspirants. Jai hind 🙂