Current Affairs April 2019 questions and notes PDF For CDS 1 2019, CDS 2 2019, NDA 1 2019, NDA 2 2019, AFCAT 1 2019, AFCAT 2 2019 and SSB Interview  2019. Download the current affairs questions with answers and current affairs ebook for April 2019 with around 1600 questions and detailed answers. Download the best current affairs books from ssbcrack shop. Current Affairs ebook PDF covering all the latest current affairs in April 2019 happened around India and the World. The Capsule includes Awards & Recognitions, Science & Technology, Sports related updates, Indian and International Affairs, and Environment related news. Current Affairs PDF will definitely help those who are preparing for competitive exams like NDA, CDS, AFCAT, TA, UPSC, SSC, Railways, Postal, State level exams and all kinds of Bank exams (IBPS, SBI, RRB, RBI, Defence & Intelligence). Download Current Affairs April 2019 eBook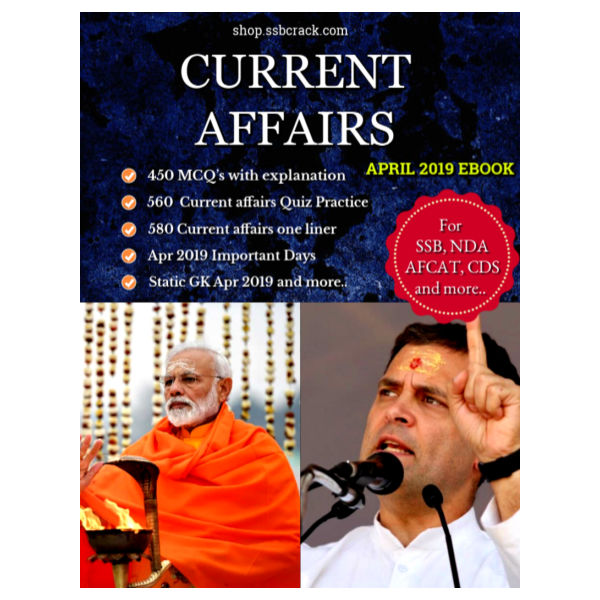 MAJOR NEWS AND EVENTS: APRIL 2019
01 April 2019
The Indian Space Research Organization, ISRO, launched India's latest satellite EMISAT and 28 other smaller satellites of international customers. The national space agency's workhorse launch vehiclePSLV-C45, carrying the payloads on board, lifted off from its spaceport, SatishDhawan Space Centre, Sriharikota.
Bank of Baroda (BoB) became the second largest state-owned lender after merging Dena Bank and Vijaya Bank into it as part of the first three-way amalgamation.
India has won the ICC Test championship mace for the third successive year.
02 April 2019
Today is the World Autism Awareness Day. This year the theme of the Day is Assistive Technologies, Active Participation.
India have retained the ICC Test Championship Mace and won the purse of USD 1 million for a third successive year on April 1, 2019. India won this award after finishing at the top of the MRF Tyres ICC Test Team Rankings on the cut-off date of April 1, while New Zealand have ensured second place.
03 April 2019
Today is the World Autism Awareness Day. This year the theme of the Day is Assistive Technologies, Active Participation.
The United States has approved the sale of 24 multi-role MH-60 'Romeo' Seahawk helicopters to India at an estimated cost of 2.4 billion US dollars. The announcement was made by the US State Department on April 2, 2019.
04 April 2019
The United Arab Emirates has conferred the prestigious Zayed Medal on Prime Minister Narendra Modi, the highest decoration awarded to kings, presidents and heads of states.
05 April 2019
Vikram Kirloskar took charge as the new President of the Confederation of Indian Industry (CII).
FIFA has released world football rankings on April, 04 2019. India rose two points and gets 101st rank while Belgium tops the list. FIFA said in its report, there were 150 games played across the globe during the international period, things remain tight at the top of the FIFA World Ranking as the top three remained unchanged.
06 April 2019
Kanishak Kataria, a B. Tech graduate from IIT Bombay has topped the UPSC civil services final exam. 759 candidates, comprising 577 men and 182 women, have been recommended for appointment to Indian Administrative Service, Indian Foreign Service, Indian Police Service and Central Services, Group 'A' and Group 'B'.
All India Football Federation President Praful Patel has become the first Indian to be elected as a member of the FIFA Executive Council. He got 38 out of 46 votes.
06 April 2019
Kanishak Kataria, a B. Tech graduate from IIT Bombay has topped the UPSC civil services final exam. 759 candidates, comprising 577 men and 182 women, have been recommended for appointment to Indian Administrative Service, Indian Foreign Service, Indian Police Service and Central Services, Group 'A' and Group 'B'.
All India Football Federation President Praful Patel has become the first Indian to be elected as a member of the FIFA Executive Council. He got 38 out of 46 votes.
07 April 2019
World Health Day observed today with the theme "Universal health coverage".
Senior US Treasury official David Malpass has been selected as President of the World Bank. The World Bank's executive board unanimously selected 63-year-old Malpass as the bank's 13th President for a five-year term.
08 April 2019
The Indian Institute of Technology Madras tops the list of higher education institutes released today by the Ministry of Human Resource Development. The Indian Institute of Science (IISc), Bangalore, is at the second spot; while IIT Delhi is at the third spot.
Maldives President Ibrahim Mohamed Solih's Maldivian Democratic Party (MDP) wins the parliamentary election in Maldives. 
China shuttler and two-time Olympic winner Lin Dan wins the men's singles final in Malaysian Open by defeating Chen Long 9-21, 21-17, 21-11.
09 April 2019
BJP MLA Bhima Mandavi and four security personnel were killed in a massive Maoist attack in Dantewada district of Chhattisgarh.
President Ram Nath Kovind today paid homage to the martyrs at National Police Memorial in New Delhi on the occasion of 54th Valour Day of Central Reserve Police Force, CRPF.
The first vote for the upcoming Lok Sabha elections was cast in Arunachal Pradesh by service voters from a remote Indo-Tibetan Border Police (ITBP) unit located in the eastern tip of the state of Arunachal Pradesh.
10 April 2019
Astronomers unveiled the first photo of a black hole. 
Israeli Prime Minister Benjamin Netanyahu secured a fifth term in office after win in the general election.
11 April 2019
Polling held today for the first phase of the general election to 91 Parliamentary constituencies, spread over 18 states and two Union Territories. Simultaneously the people also voted to 175-member Andhra Pradesh Assembly, 32-seat Sikkim Assembly, 60-member Arunachal Pradesh Assembly and for 28 of 147 Assembly seats in Odisha.
Wikileaks co-founder Julian Assange arrested at the Ecuadorian embassy in London. Assange took refuge in the embassy seven years ago to avoid extradition to Sweden.
The UK and the European Union have agreed to extend Brexit until October 31. The decision was taken at an emergency meeting in Brussels.
Sudan's armed forces have overthrown and arrested President Omar al-Bashir after months of protests against his nearly 30-year rule.
Hong Kong's equity market surpasses Japan as world's third largest in value, behind only the U.S. and mainland China.
12 April 2019
Russia announced its decision to confer the Order of St Andrew the Apostle – the highest state decoration of the country on Prime Minister Narendra Modi, for promoting a special and privileged strategic partnership between Russian and India.
13  April 2019
The nation is paying homage to the martyrs of the Jallianwala Bagh massacre on the centenary of the incident.
Baisakhi is being celebrated in the northern part of the country today. The festival of harvest is celebrated with much fanfare in Punjab, Haryana and Chandigarh. Ram Navami is also being celebrated in different parts of the country.
14 April 2019
Nation pays tributes to Dr Bhimrao Ambedkar on his 128th birth anniversary.
The world's largest aircraft, developed by aerospace venture Stratolaunch, completed its first flight test.
Meena Kumari Maisnam from India clinches gold in Boxing World Cup which concluded at Cologne, Germany.
15 April 2019
India announced their 15-man squad for the ICC World Cup 2019. The squad includes Virat Kohli (captain), Rohit Sharma (vice-captain), Shikhar Dhawan, KL Rahul, Vijay Shankar, MSD (wk), Kedar Jadhav, Dinesh Karthik, Yuzvendra Chahal, Kuldeep Yadav, Bhuvneshwar Kumar, Jasprit Bumrah, Hardik Pandya, Ravindra Jadeja and Mohammed Shami.
Rongali Bihu is celebrated in Assam.
India successfully test-fired its first indigenously designed and developed long-range sub-sonic cruise missile "Nirbhay" from a test range in Odisha.
The Election Commission barred Uttar Pradesh Chief Minister Yogi Adityanath and BSP chief Mayawati from election campaigning for violating Model Code of Conduct by making objectionable statements in speeches.
UAE is set to host the world's foremost Artificial Intelligence,AI Summit to empower global dialogue on the future of government, business and society. The inaugural 'AI Everything', AIE will take place at the Dubai World Trade Centre, between 30th of this month and 1st of next month.
Mohammed Ishtaye was sworn in as the new Palestinian Prime Minister.
Tiger Woods won the 83rd Masters. This is his 15th major title.
16 April 2019
Paris's famous Notre Dame engulfed by a massive fire and sustained significant damage, including the destruction of the spire and two-thirds of the roof.
18 April 2019
Polling in 95 Parliamentary constituencies, spread over 11 States and one Union Territory was held on Thursday under the second phase of the general election.
World Heritage Day observed today.
19 April 2019
The Reporters without Borders (RSF) on April 18, 2019 released the World Press Freedom Index 2019, reflecting growing animosity towards journalists. India's rank in the World Press Freedom Index 2019 dropped down to 140th from 138th in 2018, two points below the previous year.
The UN Mission in South Sudan (UNMISS) on April 15, 2019 honoured 150 Indian peacekeepers, serving the mission, with Medals of Honour for their supreme dedication and sacrifices in Malakal, South Sudan.
NASA's first female astronaut candidate, pilot Jerrie Cobb, has recently died. Cobb died in Florida at age 88 last month. News of her death came on April 18, 2019 from journalist Miles O'Brien, serving as a family spokesman.
21 April 2019
Easter is being celebrated across the globe today.
In Sri Lanka, at least 207 people were killed and more than 400 injured in a series of bomb blasts targeting churches and five-star hotels during Easter services today.
The Indian Navy launched guided missile destroyer Imphal at Mazagon Dock Shipbuilders in Mumbai.
The Services lifted the Santosh Trophy after beating Punjab 1-0 in the final at Ludhiana.
22 April 2019
Earth Day 2019 observed today to marks the 49th annual Earth Day.
Sri Lankan Government will enforce a nationwide state of emergency from the midnight on April 22, 2019 following the suicide bomb blasts at churches and luxury hotels on the occasion of Easter, which killed over 290 people and wounded more than 500.
23 April 2019
Voting is conducted in 116 Parliamentary constituencies in the third phase of Lok Sabha elections. The constituencies are spread over 13 States and two Union Territories.
Shiva Thapa became the first Indian boxer to be assured of a fourth successive medal at the Asian Championships by advancing to the semi-finals in Bangkok. Thapa won a gold in 2013, a bronze in 2015 and a silver in the 2017 edition of the marquee continental event.
24 April 2019
Former cricketer Gautam Gambhir was fielded by the Bharatiya Janata Party as its candidate from the East Delhi constituency on April 22, 2019. Gambhir would be replacing Maheish Girri, BJP's sitting Member of Parliament from the constituency. He would be pitted against former Delhi Pradesh Congress Committee President Arvinder Singh Lovely and Aam Aadmi Party's Atishi Marlena.
25 April 2019
Russia's Vladimir Putin and North Korea's Kim Jong Un met face-to-face for the first time.
Microsoft hit the trillion-dollar value mark for the first time, becoming the third technology giant to reach the symbolic milestone.
26 April 2019
The Indian Council of Medical Research (ICMR) on April 25, 2019 launched the 'Malaria Elimination Research Alliance (MERA) India', a gathering of partners working together to plan and scale up research to eliminate Malaria from India by 2030.
Chinese President Xi Jinping on April 26, 2019 defended his ambitious 'Belt and Road Initiative' (BRI), vowing to prevent debt risks and saying that his global infrastructure project is not an exclusive club.
According to a new report, the Chinese Government's ban on the import of foreign plastic waste has thrown the world recycling sector into chaos. The ban forced countries like the US and UK to find new ways to deal with their own trash, which has resulted in huge pile-ups of plastic waste in Southeast Asian nations.
27 April 2019
Australia's Claire Polosak will create history as the first woman umpire ever to stand in a men's One-Day International when she takes the field in the final of the ICC World Cricket League Division 2 today.
Abhishek Verma secured India's fifth Olympic quota place by winning the 10m air pistol gold medal at the ISSF World Cup at Beijing, China.
India ends with 13 medals, including two gold, four silver and seven bronze at the Asian Boxing Championships in Bangkok.
28 April 2019
The Board of Control for Cricket in India (BCCI) on April 27, 2019 recommended India pacers Mohammad Shami and Jasprit Bumrah, all-rounder Ravindra Jadeja and women's team spinner Poonam Yadav for the prestigious Arjuna award.
Sri Lankan President Maithripala Sirisena on April 28, 2019 announced a ban on covering of the face with burqa, veil or in any manner that prevents identification of the person.
Around 135 flights of Air India were delayed on April 28, 2019 due to the ripple effect of the shutdown of its software.
29 April 2019
Over 64 per cent polling recorded in 4th phase of Lok Sabha polls. Seventy-one Parliamentary constituencies, spread across nine states went to polls in this phase.
The National Testing Agency (NTA) has released the Joint Entrance Examination (JEE) Main 2019 result.
India's Bajrang Punia is first Indian wrestler to be invited by American wrestling body for a special fight at iconic Madison Square Garden in New York.
30 April 2019
The National Investigation Agency (NIA) has arrested a man on the charge of conspiring to carry out a suicide attack in Kerala. An NIA spokesperson said, 29-year-old Riyas A, also known as Riyas Aboobacker or Abu Dujana, a resident of Palakkad was picked up in connection with the Islamic State terror module case.
Sri Lankan President Maithripala Sirisena has said, the country's intelligence services believe the Easter Sunday suicide bombers had very clear links to the Islamic State terror group.
Defence Minister Nirmala Sitharaman attended the Shanghai Co-operation Organisation (SCO) Defence Ministers' conclave at Bishkek in Kyrgyzstan on 29 Apr 2019.