On 8th Sep 2019, CDS 2 2019 written exam was conducted by the UPSC across the country, candidates who are waiting for the CDS 2 2019 answer keys for Maths, GK and English can look this post for more updates. The written exam of CDS-2-2019 was conducted by UPSC on 08th Sep 2019. Candidates who attempted the written exam of CDSE 2 2019 are waiting for CDS 2 2019 answer keys and cut off marks.
Through CDS 2 2019 exam, candidates will join the course commencing in July 2020 at IMA, AFA, NA, and OTA for admission to the Army, Air Force wings and  Navy. Courses like IMA 149 Course, SSC 112th, 24tj OTA, 208th Flying Course, and Naval Academy. Candidates looking for CDS 2 2019 Key and cut off marks, Paper solution sheet, CDS key 2019,  CDS 2 2019 Cut Off Marks / answer sheet of CDS-2 2019 can check it on SSBCrack. Aspirants can look at the answer keys for their CDS written exam, here of paper-1st and paper-2nd with set-a, set-b, set-c, set-d. We are going to publish the CDS 2 2019 answer keys from the reputed academies like Minerva, Baalnoi, Cavalier etc. Candidates are advised not to check the answer keys which are released soon after the examination as most of them are wrong. In case you have doubts in CDS 2 2019 answer keys, do double-check it from other sources.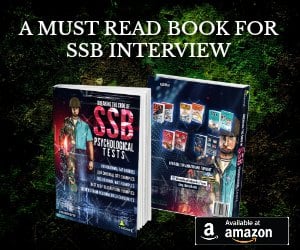 CDSE 2 2019 includes three different papers i.e English, Maths and General Knowledge for IMA, AFA, and NA. For OTA candidates, there were only two papers i.e. English and General Knowledge. CDSE is conducted by UPSC twice every year. If you are sure about clearing CDS 2 2019, then this is the right time for you to start the SSB interview preparations with full speed, SSB is more than just clearing a written exam, so the more time you put in building your personality for the CDS SSB interview, it will be much easier for you to clear it. For candidates who think they have not done their best, do not feel low about it, life is full of opportunities and you must prepare for what is next in front of you, also wait for the results. SSBCrack is updating the CDS 2 2019 answer keys, we request aspirants to bookmark the page and visit it back in few hours.
CDS 2 2019 Original Question Paper – Updated
English: The questions asked for CDS 2 2019 English paper required sound grammatical knowledge and a good stock of words to begin with. The questions on Reading Comprehension were easy to solve as were those on Spotting Errors, Antonyms & Synonyms. The challenging part was the Idioms & Phrases, where an advanced vocabulary was needed to answer the questions. Also, the questions asked for Ordering of Sentences in a paragraph were tricky to some extent and would demand a proper understanding of the theme of the extract and a logical connection among the sentence sequence. However, the Ordering of Words in a Sentence, Identifying parts of speech & Cloze comprehension were the easiest of the sections in the paper. No questions were asked from Sentence Improvement section & neither from Active-Passive Voice or Reported speech.
For Admission to Indian Military Academy, Indian Naval Academy and Air Force Academy:
| | | |
| --- | --- | --- |
| Subject | Duration | Maximum Marks |
| English | 2 Hours | 100 |
| General Knowledge | 2 Hours | 100 |
| Elementary Mathematics | 2 Hours | 100 |
For Admission to Officers' Training Academy:
| | | |
| --- | --- | --- |
| Subject | Duration | Maximum Marks |
| English | 2 Hours | 100 |
| General Knowledge | 2 Hours | 100 |
SSBCrack CDS-2 2019 Examination Answer Key – UPDATING – Corrected
CDS 2 2019 Question Paper with Answer
Also Check: CDS 2 2019 Cut Off [Expected]
CDS 2 2019 Question Papers PDF – UPDATED
CDS 2 2019 Answer Keys PDF – UPDATING
CDS 2 2019 SSB Interview Procedure
Candidates who will clear the CDS 2 2019 written exam will get a call letter for SSB interview
You will get the SSB interview call based on your preference i.e. IMA, OTA, NA, AFA
Even if you clear the exam for more than one preference, you will get only one SSB call based on your top preference
You can prepare for SSB interview with these books