Operation Ganga is an ongoing operation by the Government of India to provide humanitarian services to Indian citizens. It is aimed to evacuate Indian citizens from Ukraine amidst the 2022 Russian invasion of Ukraine. This includes assisting people who have transited into neighbouring nations like Romania, Hungary, Poland, Moldova, and Slovakia.
The Indian Air Force has been given this responsibility to evacuate from March 1, 2022. Three Indian Air Force (IAF) aircraft have been pressed in service since Wednesday morning for evacuation of the stranded Indians in Ukraine amid tension with Russia.
Two IAF aircraft have taken off from Hindon airbase for Hungary and Romania, while one C-17 Globemaster took off at 4 am earlier today for Romania under 'Operation Ganga'.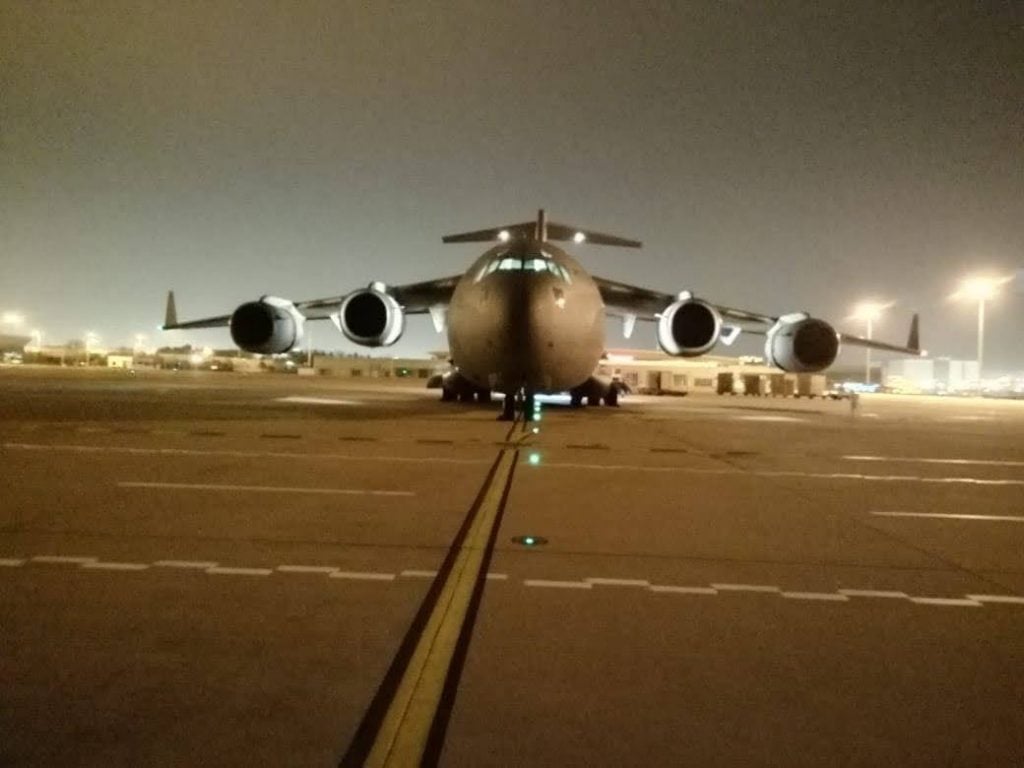 These aircraft are carrying tents, blankets and other humanitarian aid and will also be bringing back Indians stranded in Ukraine. Another IAF aircraft is scheduled to fly to Poland to facilitate the evacuation of stranded Indians.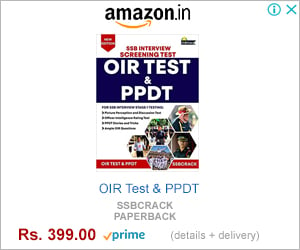 This comes after Prime Minister Narendra Modi chaired a high-level meeting on Tuesday to review the efforts to bring back Indians stranded in Ukraine and asked the Indian Air Force to join the evacuation efforts under 'Operation Ganga'.
Sources said that leveraging the capacities of the Air Force will ensure that more people can be evacuated in a shorter time frame and it will also help to deliver humanitarian aid more efficiently.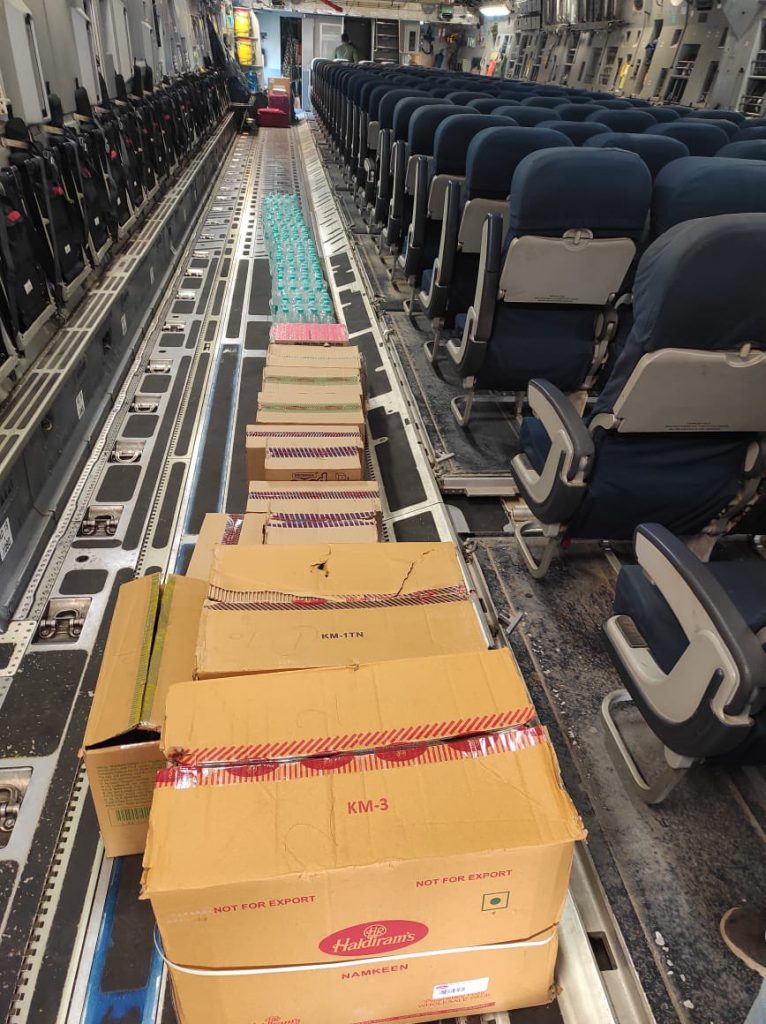 Air India, AI Express, IndiGo, and SpiceJet will be the Indian carriers, and they will operate mainly between Burachest to Budapest. Indian Air Force C-17 Globe Master will fly out of Delhi on 2 March 2022.
Reason to start the operation Ganga
The statistics presented by the Ukrainian government show that there are around 20,000 Indian students. Hotspots for Indian students in Ukraine included the Taras Shevchenko National University of Kyiv, Bogomolets National Medical University, and Kyiv Medical University of UAFM. To evacuate the Indian National, the Indian government started Operation Ganga.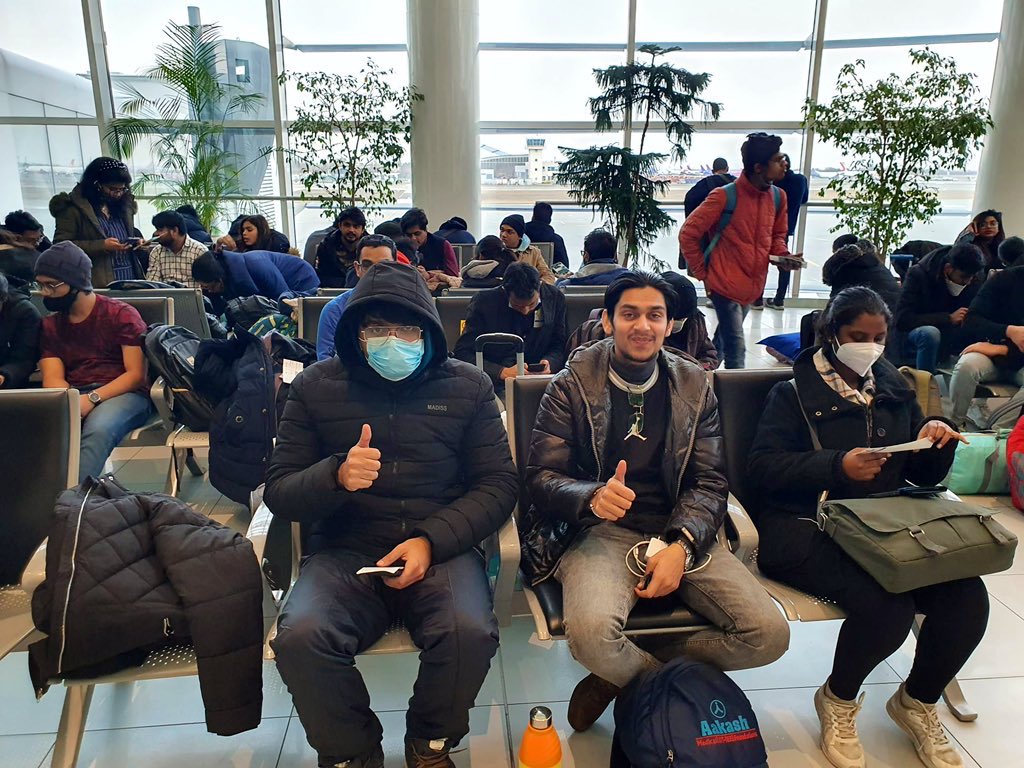 Series of events
Before the violence, the Indian government sent advice through its embassy in Kyiv's communication channels. It got a mixed reaction. On the morning of February 24, over 4000 Indian nationals departed Ukraine before the shutdown of airspace over the impacted areas.
On February 15, the Indian government issued the initial alert, which was followed by tougher advisories.
As it became increasingly impossible to give help to the expanding number of students, the Embassy encouraged students on February 26 not to travel to border crossings without prior coordination with the embassy.
On February 28, the MEA recommended all Indian citizens in Ukraine relocate to and seek refuge in western Ukrainian cities, and to go across the border only after consulting with Indian officials.
According to the reports, the first flight took place on 26 February 2022 from Bucharest in Romania and reached Delhi on 27 February at 2:55 am (IST). Till the Day 3 of the operation Ganga, on 27 February 2022, around 469 students were safely evacuated with the proper covid protocols.
To ease the evacuation process, Prime minister Narendra Modi has sent four special envoys, the cabinet ministers, to look out for the evacuation process. The ministers of civil aviation, transport, law, petroleum and natural gas. Jyotiraditya Scindia would assist coordination from Romania and Moldova, Kiren Rijiju from Slovakia, Hardeep Singh Puri from Hungary, and General V. K. Singh from Poland.
PM Modi briefed the President of India Ram Nath Kovind on the situation on 1 March 2022.
Current situation
Ukraine
In Ukraine, educational hostels and bunkers in buildings are giving protection for people who are unable to go to evacuation locations. Students encountered difficulties withdrawing and exchanging money.
Borders
Some Indian students stated on social media that they had difficulty crossing the Ukraine-Poland border. Poland's Ambassador to India stated that it was a humanitarian emergency, and Poland would simplify border crossings and give food and shelter to all nationalities.
Russia
The Russian passage has been sought on the eastern front of Ukraine to evacuate through Russia. Even though Russia appears to be returning to routine, some Indian students in Russia have begun to prepare for the worst. The current scenario threatens to exacerbate the impact of the COVID-19 epidemic on schooling since 2020.
Routes
Ukraine Land routes to the bordering states are being used to transport the students. From the neighbouring states, the Indian Air Force is flying the Indian Nationals back to India.
Criticism
Several Indian students who have become stuck in Ukraine have questioned the Indian government's rescue attempts. They've also shared a lot of films on social media to show their situation in Ukraine. Numerous Indian lawmakers and residents have also attacked the government's actions, accusing it of failing to do enough to help the kids. They also requested that the government increase its efforts to rescue the stranded Indian students. On February 28, an anonymous Indian student stopped Gaurav Sawant, an Indian journalist, and stated that there is no support and no representative to assist them. In addition, Naveen, a student from the Indian state of Karnataka, was killed in the shelling attack in Ukraine. The opposition criticized the government and asked for speedy evacuation.
Latest Update
As per GOI, OpGanga Helpline @opgangaOfficial account of Operation Ganga – to assist in the evacuation of Indian nationals from Ukraine has been created and are in constant touch with the concerned authorities for the safe evacuation of Indian nationals.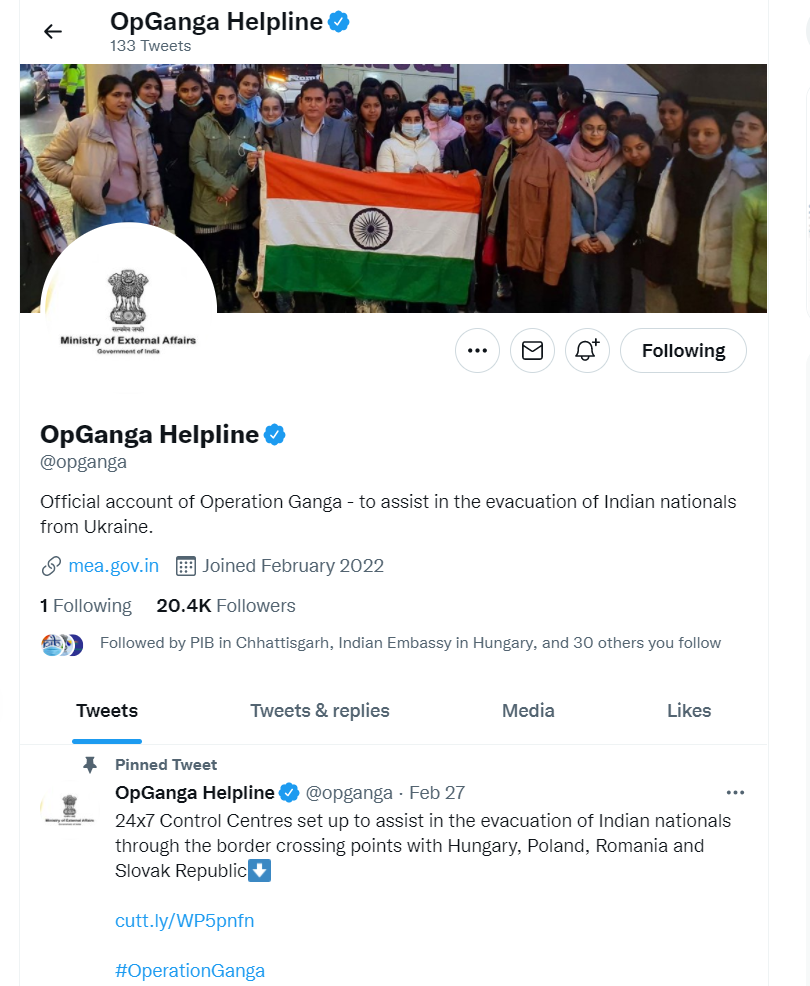 As many as 31 evacuation flights will be operated to neighbouring countries of crisis-hit Ukraine and will bring back more than 6,300 Indians stranded in the eastern European nation, according to official sources.
External affairs minister S Jaishankar on Wednesday said that six flights carrying 1,377 Indian nationals stranded in Ukraine have departed for India in the last 24 hours under 'Operation Ganga'.
"Operation Ganga developments. Six flights have now departed for India in the last 24 hours. Includes the first flights from Poland. Carried back 1377 more Indian nationals from Ukraine," Jaishankar tweeted.
Meanwhile, the government has deployed 'special envoys' to four neighbouring countries bordering Ukraine to coordinate and oversee the evacuation process of Indian nationals. Union minister for petroleum and natural gas Hardeep Singh Puri will oversee evacuation efforts in Hungary, Union minister for law and justice Kiren Rijiju in Slovakia, civil aviation minister Jyotiraditya Scindia in Romania while Gen (Retd) VK Singh in Poland.
Book Your SSB Interview Class Now – Click Here