Siddharth Atmaram has cleared the NDA 2 2021 SSB interview with flying colors and now looking forward to joining the prestigious National Defence Academy. He scored 434 marks in his written exam and 434 marks in his NDA SSB interview. In an interview with SSBCrackExams, he shared his experiences during the preparation and also shared valuable tips for the NDA Aspirants.
Hey defence aspirants, I'm Siddharth Atmaram from Bangalore and I've been recommended for NDA-148 from 33 SSB Bhopal. I'm writing this article with the intention to help those who've been facing the SSB Interview. I guess my journey has been an absolute roller coaster ride which I hope will inspire and motivate others to persevere in attaining their goals in life.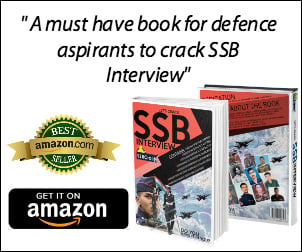 My passion for the armed forces stemmed from reading a lot about World Wars, especially WW II and the middle eastern crisis. When it comes to the Indian armed forces, I give credit to that one long talk I had with my father that changed my goals in life. I'm a Karnataka state swimmer and I've always been very active in multiple sports. So I have always wanted a job where I can follow this passion and enthusiasm in something that was dynamic and one where I can lead and inspire people. My blind love and passion for the most glorious organisation of the nation can also be traced to the books about the Indian forces that I've read. I think every defence aspirant, just like me would have an instant smile of awe and respect when they see the uniform and that's the same for me. My motive is to encourage people to introspect as to why they want to join, what's that driving force that keeps you awake dreaming about joining, and analyze the major difference between a career as an engineer or a doctor and one in the armed forces. Think within as it will help you realize what you want from life and why you relate to the forces.
I then cleared the NDA 146 written exam and went for my SSB in Bhopal. I was fairly confident that I'd do well. I wrote a story in my PPDT regarding a world war 2 story that involved the Nazi Gestapo and other World War II events. But unfortunately, I got screened out on my first attempt and I left for Bangalore.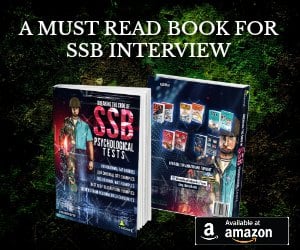 Again this paragraph pertains to those warriors who have been screened out or God forbid, to the ones who may. 'Don't give up or get disheartened' – yes this is what everyone says and it's true. Keep your chest up and work on the areas that could've gone wrong which could be your story perception, narration, or group discussion. Repetitive practise is the key. Giving up would only mean low mental tenacity and that you can't take failure positively.
I then gave my NDA 147 written exam and cleared it again and my SSB was again in Bhopal.
This time I gained knowledge by consulting a colonel in Bangalore and wrote a story that was mellow and realistic, my narration as always was great and my GD went well too.
And luckily I was screened this time. But the job was not yet over. I had the next 4 days to face. My psychology and interview went well. But my GTO was average. Nevertheless, I had hopes of getting through. But the result was otherwise. Now I felt really bad that all my efforts were in vain. And when you get rejected people say you must introspect. I tried and blamed my rejection on my performance in the GTO not being great in the practical tasks and I didn't work too hard thinking about why I got rejected as a candidate.
Refer to this paragraph once you're done with the next. I then had the tough TES SSB in Kapurthala and to my surprise, I got screened. I was elated as it was a big deal. I then went along the 4 days just like the previous attempt and this time I was a little more confident. I knew I had slightly more knowledge than the others but it wasn't used in the right way. I overpowered people and this didn't help my cause I was eventually rejected again.
Now, this got me thinking. Where am I going wrong? And when a friend of mine told me to think on the basis of a personality or introspect myself as a person I realised introspection required a certain direction.
(This paragraph is I feel the most important for the freshers or the repeaters)
Introspection isn't a superficial task where you blame your rejection on the task done badly, it isn't something that you can do and improve in a few hours.
Introspection takes a certain degree of maturity to realise where you're going wrong as a person, as a personality, and work on it. Use the tasks as a reference to know how you reacted and how others perceived your performance in the group activities. Think deeply and ask yourself a few questions and the main thing I'm reiterating, be truthful to yourself.
I thought within and realised I was overly competitive which made me others down to make myself look like the best and the fact that I'm competitive always made me feel like every task there was a winner which isn't true.
The other is that I wasn't receptive enough and felt I was always correct in my perspective and though not deliberately, didn't respect the others' opinions.
I also felt I was very critical of myself in the tasks and became my own assessor.
I felt insecure about others not acknowledging my knowledge.
I knew I had to work on these and I did. I changed certain aspects of myself to be acceptable to others.
The people you around make you the person that you are.
I felt my friends in my apartment complex, the friends I made along this journey shaped me.
They are literally like my brothers, they helped me know who I am, helped me identify the best in me and the worst too.
I cleared the 148 written the third and went for my SSB in Bhopal.
This time I went with a very open mind. I consciously decided to be a team person and be with my teammates.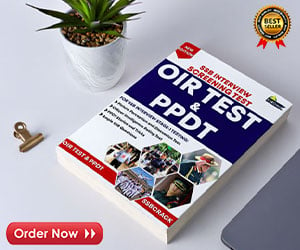 My psychology went very well and my interview was the most different.
The officer asked me a lot of questions based on current affairs. He then asked me some questions my ability of reasoning. After the interview, he said he had enjoyed the brilliant interview with me. That's when I felt I'd done well and also suggested points to crack the GTO, for he wanted me to clear this attempt. He advised me to be a team man and not to be overcompetitive. I had actually delivered witty and humorous answers in the interview which had impressed the officer.
Here is another tip from the above article. BE THE PERSON THAT YOU ARE, answer in the interview the way you would react in real life, be truthful and don't force a false personality and be relaxed. Give your answers in a positive manner and one that shows your personality in its true colors. Show that you're dynamic and congenial.
My GTO went superb.
Unlike the previous attempts, I fully led the team along with another in the Pgt and other practical tasks and during the command task interview, the GTO praised my oratory skills.
I have another suggestion here. Candidates say we should be cooperative and give everyone a chance. Here I disagree slightly. I think the SSB requires a good balance between you being cooperative and not losing sight of your aim.
The conference day finally came and before the result was declared, I began crying because it hit me hard that it was my last attempt and I felt terrible.
Then the officer came and finally called out my chest number and I felt something that can't be put into words, an inexplicable experience. It was like my journey had come a full circle and was completed finally. That phone to my parents saying that I was recommended can't be matched, the happiness I felt was on another level, and the fact that I could feel their happiness was absolutely mad.
And gentlemen, I'd like to end by saying 'Be a person that suits the most glorious organisation in this world'!
THANK YOU!
To crack the SSB Interview, You can join our SSB interview live classes batch and we recommend you to Enroll SSB INTERVIEW ONLINE COURSE. Trusted by thousands of defence aspirants.
Read more: