"Hara Vahi jo Lada Nahi", these were the lines told to me by my mom which kept me motivated to clear the ssb after getting rejected 7 times. I was screened out 4 times, conference out 3 times and finally got recommended in my 8th attempt from 21SSB Bhopal.
My name is Sartaj Sk and I work in a software mnc as a senior analyst in Bangalore. I'm also a passionate musician and regularly play live at various national locations with my band. I started giving ssb at the age of 21 which comprised of UES, TGC, SSC-T and various other naval entries but never got recommended through any of them. I believe that one cannot fail at the ssb as those 5 days are the most amazing ones and teach us a variety of things which one cannot learn in a normal day to day routine in the civil life.
Things I started doing after my 7th attempt-
Improved my Psych test by practicing 7-10 stories everyday along with a stopwatch, practiced TAT a lot as it is the fastest test in Psych and one needs to do good in it as it serves as a confirmatory test for the TAT and the SD. Chalked out the SD by giving genuine points may it be my strengths or weaknesses. Discussed SRTs with parents and friends to enhance my perception on how to deal with problems.
Bought a chart sized world map and a political map of India and stuck it on the walls of my room. Thoroughly traced the entire map of India in my mind along with states, uts, capitals and water bodies.
Read the newspaper regularly, watched debates on Times Now. One would say that Arnab Goswami is loud, but man !! I love the way he brought up points which kept me glued to the screen and made the topic for discussion interesting. I made notes on various topics like

India's Relationships with other countries
ISRO
DRDO
South China Sea
US Presidential Elections
GST Bill
Brexit
Demonitization
Indian Army Organization and Structure
Weapons and their Ranges
Basic Computer Science Questions news related to it. These are some of the topics frequently asked at ssb. There are some more which you can go through depending on the events happening inside the nation and abroad.

Became more self aware and tried to inculcate the 15 OLQs which is the most essential part of the ssb.
Exercised for 45 mins a day which included 20 mins of running and rest to develop upper body strength comprising of pushups, pull-ups, and rope climbing ( yes my dad helped me with rope climbing by tying a rope from the balcony to the ground floor).
Lastly, I made sure to try and use the OLQs in my day to day life, be it in the office with my manager or at the parties with my friends.
Now that I had been practicing the above mentioned points regularly, I was confident that given a chance one more time, I would clear my ssb. On March 27th I received my call-up letter for ssc tech -49 saying that I had to report at the selection centre on 20th April, 2017 at 06:00 hrs. I was pretty excited as this was going to be the show time and I would get to perform all that I had practiced for months.
Also Download Helpful eBooks:
Day 1.
All of us gathered at selection centre Bhopal and started filling up the various forms. I had a sugary breakfast as the Intelligence test was to be conducted right after the breakfast and sugar keeps the mind hyperactive for a good period of time. In the non verbal test I solved 60 questions in 30 mins and in the verbal, I solved 75 questions in 35 mins. This was the toughest intelligence test I had given comparing all my previous ssbs but yeah, I was high on sugar so it didn't really matter. During the PPDT we were shown a picture of 3 soldiers, 2 of which were submerged in sludge while one was barely visible. I put my points forward in the GD and was finally nominated to present the conclusion by my group. I was quite confident that I will clear the screening after the GD. Results were announced after the lunch and 30 candidates out of 200 cleared the screening round. We were assigned our rooms and were made to fill up the PIQ forms. This procedure lasted till 7:30 pm in the evening followed by dinner. Around 8:30 I quickly revised my SD, and practiced other parts of psych test with my room mates which also helped me in bonding with them. The lights were off at 10:00 pm and everyone slept early as we were exhausted since morning.
Day 2.
After a sound sleep of 6 hours we woke up at 04:00 am in the morning and by 06:45 reported at the testing hall for the psychology tests to begin. I was excited as this was the test I had practiced the most for. Finally the test started and I could write good stories which comprised of more actions rather than words and direct mention of qualities. All my stories were basic, nothing extra ordinary but were well structured and had a theme to them. WAT was good this time as I had achieved speed after the first 10 words and I attempted all the 60 words with meaningful responses(SSB Crack offers a wide list of words and I had practiced all of them before going for this ssb including all the negative words which frequently appear and most of the words were from the list which SSB crack offers).I attempted 55 SRTs and didn't give extra time to any of the situation but I did not skip any situation too. Finally I wrote the SD which I had previously practiced and could complete it within the given time.
I was satisfied with my performance in the psych test an was in a very relaxed mood when we got notified that the first 4 repeaters will be having the interview on the same day and I was the second one to be interviewed. Here I did not get the time to brush up on the current affairs but since I was revising it on a daily basis, I was pretty confident that I would be able to handle the questions based on GK/CA. Finally I entered the President's room and observed it from left-right, top-bottom while he was going through my PIQ. My interview started with the basic rapid fire questions consisting of all the details in my PIQ. I was asked about my hobbies, music and the interviewer referred to me as "Artist". I was pretty confident during the interview as I was just being myself and did not try to impress the interviewer at any step. I told all my strengths and weaknesses genuinely and did not mask my personality a bit. I feel that the key to clear the interview is to be self aware and have the will to improve yourself. Don't regret your past and always have the alacrity to improve your present. The interview lasted for about 1 hour 20 mins and I finished the glass of water next to me as I was speaking continuously.
After this I went back to my room, discussed the interview with my friends then we had lunch and went for basketball in the evening following by dinner.
Day 3.
This is the day when the tests start early. We gathered at the main gate in our PT dresses and jogged to the testing area. The GTO series started with 2 group discussions followed by the group planning exercise. During the group discussion I was calm, composed, a good listener and gave around 3-4 points in both the gds. While the group planning exercise was easy and I was nominated by the group to present the group plan to the GTO. Then we had the PGT during which I was moderate and concentrated more on giving ideas rather than unnecessarily shouting "make a cantilever" all the time. I was active during the pgt and tried to focus on the obstacle forgetting that the gto was even present there. Then we had the Snake Race which is the most fun part of the GTO series and we came second in the race.
This was followed by the HGT which was quite easy and the lecturette round where I spoke on the topic "Impact of globalisation on Indian society" for which I spoke confidently for 3 mins while giving a nice Intro, some advantages and disadvantages and a 30 sec conclusion.
We were tired after coming back to the centre and hogged the lunch like anything in the mess.Then we had our game of basketball and at night we were taken for a movie in the army open air theatre which was one of the best experiences of those 5 days. This gave us a chance to bond with each other and I made really good friends who I know will remain in touch for the rest of our lives. Then we were taken back to our barracks and we slept at around 11:30 that night as we all had countless gossips to do.
Day 4
Just 3 more tasks were left for the GTO. We reported early morning at the ground and our test started with the individual obstacles. I could manage to pull off 9 obstacles and got stuck at the zig zag for over 30 secs but I kept trying till the time ran out. For the command task, I was called by 3 of the candidates as a subordinate and during my command task, I just took 10 mins to complete it as it was quiet easy and approachable in more than one way. Finally after the full group task, we took a sigh of relief and continued our gossips and basketball after coming back.
All of us washed our chest numbers and prepared our dresses for the conference on the next day and talked for endless hours at the night.
Day 5
"It's the conference day".
We slept till 06:00 am in the morning as the conference generally starts a little late than the previous 4 days. Everyone was smartly dressed up an all ready for the conference. After reporting to the informed location, we were shown the conference room from inside and given instructions on how to approach the conference hall and all the other activities that followed. The opening address was inspiring for all of us and filled up with a lot of josh early in the morning. I was chest no.22, after chest no.21 exited the conference hall, there was a long discussion on me for the next 10-12 mins. Finally I was called inside the conference hall and wished the president of the board, he wished me back and asked me to sit. Then the deputy president asked me some questions from my personal life, gave me 6-7 Srts mostly involving the "lost in jungle" situations to which I answered cleverly and cleared all the situations in a pragmatic way. I was asked to rate my performance in all the 3 tasks and some questions related to my education. Then they asked me the other formal questions comprising of my stay, friends I made and the improvements I would like to make.
It lasted for 8-10 minutes and I was sure that I was going to be recommended as this had never happened before in any of my conferences.
After the conference the entire batch gathered at the eathopia canteen and had a good chat session along with all the fast food from the canteen.We were then asked to report to the testing hall where the results were going to be announced. Our chest numbers were taken back and the phones were given to us. After a period of 15-20 mins, an officer entered the room and announced the result. The first chest number was 5 and I was pretty confident that I would be the next one. Then he calls out chest no.22 and closes his file. All our friends were clapping for us, I had goosebumps and my entire journey of ssb, all my hard work of 3 years and previous attempts came in front of my eyes. I stood still along with chest number 5, we were taken to the president where he congratulated us and handed us over the recommendation letter. That moment I promised the president who had previously also taken my interview that "Sir, I'll make you proud" to which he smiled and shook hands with me.
Then I called my parents and broke out the news to them. They got emotional over the phone and congratulated me for getting recommended.
We were then assigned barracks in another corner of the military area for the medicals and after a span of 4 days, I was declared medically fit to join the academy.
Friends, it's a myth that repeaters do not get recommended or the freshers have a better chance at getting recommended. I believe that if you work hard, be true to yourself and mostly importantly if you believe in yourself and your training, everything is achievable. Currently, I'm waiting for the merit list to come and will be joining OTA Chennai in October 2017 after making it in the merit list.
Lastly, a quote that a very good friend of mine shared with me during one of the naval ssbs in Bangalore-
"Girte hain shahsavar hi maidan-e-jung mei, vo tifl kya girega jo ghutno ke bal chale"
So keep trying, never give up, work hard for your dream as each of us is a soldier, we just need to find him within us and fight our battles.
JAI HIND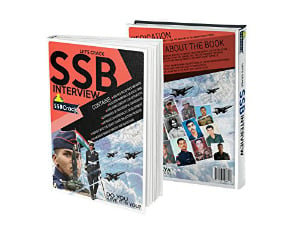 To crack SSB and AFSB Interview get "Let's Crack SSB Interview" Book from Flipkart. Trusted by thousands of defence aspirants
Also Download Helpful eBooks: