The National Defence Academy (NDA) is the Joint Services academy of the Indian Armed Forces, where cadets of the three services, the Army, the Navy and the Air Force train together before they go on to pre-commissioning training in their respective service academies. The NDA is located in Khadakwasla near Pune, Maharashtra.
How to join national defence academy NDA
To join National Defence Academy a candidate must appear in the entrance exam conducted by Union Public Service Commission, twice a year, normally in month of March and August. Candidate must be a unmarried male. To join NDA one must pass written followed by SSB, medicals and finally to be in merit list.
Eligibility Criteria

Age between

16 ½ to 19½ yrs as of first day of the month in which course is due to commence

Qualification

12th Class of 10+2 System of Education/Equivalent for Army and with Physics and Maths for AF/Navy

Marital Status

Un Married

Application to be Received by

As per  UPSC notification

Likely SSB Date

Sep to Oct and Jan to Apr

Date Commencement of Training

Jan and Jul

Training Academy

NDA , Khadakwasla, Pune

Duration of Training

3 Yrs at NDA and 1 Yrs at IMA(For Army cadets)/

 3 Yrs at NDA and 1 Yrs at Naval Academy( for Naval cadets)/

3 Yrs at NDA and 1 & 1/2 Yrs at AFA Hyderabad (For AF cadets)
Written Examination Scheme
Written exam consists of 2 papers 1st mathematics(300) and 2nd is  of general ability test(600=200+400).mathematics paper consists of topics from  11th and 12th standard mathematics while 2nd paper have English(200) and G.K.(400) as its part A and part B.
Paper I   MATHEMATICS

Topics are: Algebra, Matrices and Determinants, Trigonometry, Analytical Geometry of two and three dimensions, Differential Calculus, Integral Calculus and Differential equations, Vector Algebra, Statistics and Probability.

Paper II   GENERAL ABILITY TEST

Part A – ENGLISH :-The question paper in English will be designed to test the candidates understanding of English and workman like use of words. The syllabus covers various aspects like Grammar and usage, vocabulary, comprehension and cohesion in extended text to test the candidate's proficiency in English.
Part B – GENERAL KNOWLEDGE:-The question paper on General Knowledge will broadly cover the subjects Physics, Chemistry, General Science, Social Studies, Geography and Current Events.

NDA Cadets
Service Selection Board
Candidates declared successful in written by UPSC, appear before AFSB or SSB according to his choice of Service here a 2 stage testing is conducted. Stage 1 is conducted on 1st day and candidates who clear stage 1 are further tested in stage 2. For details of the SSB procedure follow the www.ssbcrack.comarticles on SSB procedure.
Medical Exam
A candidate recommended by the Services Selection Board undergo a medical examination by a Board of Service Medical Officers. Only those candidates are admitted to the academy who are declared fit by the Medical Board. However the candidates declared unfit are intimated by the President of the Medical Board and the procedure for request for an Appeal Medical Board also intimated to the candidate. Candidates declared unfit during Appeal Medical Board are intimated about the provision of Review Medical Board.
At last merit list is issued according to the vacancies available. and candidates who make it join the prestigious academy.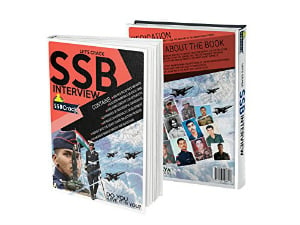 To crack SSB and AFSB Interview get "Let's Crack SSB Interview" Book from Flipkart. Trusted by thousands of defence aspirants
Also Download Helpful eBooks: