Dikshant Pandey is pursuing B.Tech in CSE from Amity University Jaipur. He knew one day would come when he would be writing this thing, but never knew would have to wait for one whole year. He is a repeater candidate, got recommended in his third attempt. We had a small talk with Dikshant Pandey and asked him about his SSB interview experience and dream of joining the Indian Air Force.
In Conversation with Dikshant Pandey, Recommended for Indian Air Force
1. Congratulation Dikshant, how does it feel clearing SSB interview in the 3rd attempt?
Dikshant: Thank you. Well, obviously I'm elated because being a pilot has always been my dream. And when you achieve that with your hard work, you obviously feel good. And I'm glad I made it this time. And, as they say, 'mehnat ka fal meetha hota hai'.
2. Why Indian Air Force, what about your Engineering course?
Dikshant: Indian Air Force has always been my dream. I grew up in that background, my dad being a part of IAF. That uniform has always attracted me; it has a certain charm associated with it. There's a coolness that comes with the uniform when the pilots come out in their overalls with Ray-Ban aviators, that thing is a class apart. And who can deny the royalties one gets, so many facilities you have. Defense is a way of life and not a job. I want to live the life king style, and Air Force provides me an opportunity for that. And being obsessed about the uniform, well like the bournville ad, you have to earn it to understand it. And about the engineering part, I took it up as a backup. If by any chance I couldn't make it to NDA, I would've tried after graduation. Being a part of IAF is the only thing I can think about. Nothing else mattered to me. I always had in mind, 'one day I'll touch the sky with glory'.
3. What was the reason for trying again and again and not giving up? Why does it is so important for you to serve in the Indian Air Force as an officer?
Dikshant: 'koshish karne walo ki kabhi haar nhi hoti.' I follow this principle everywhere in life. And you must've got a little hint from my previous answer, I'm obsessed with that uniform. Not many people understand the style and charisma that sticks with the men in uniform. Believe me, there is nothing more appealing than a smart officer turned up in a crisp uniform. I've always dreamt of flying a fighter plane and leading my country in a war. I won't say that I would die for my country, rather I would give others an opportunity to die for theirs. There are multiple reasons, making my parents proud is one of them. I feel my country can benefit from me, I being a very patriotic person. And since it was my childhood dream, I would go to any limit to achieve it.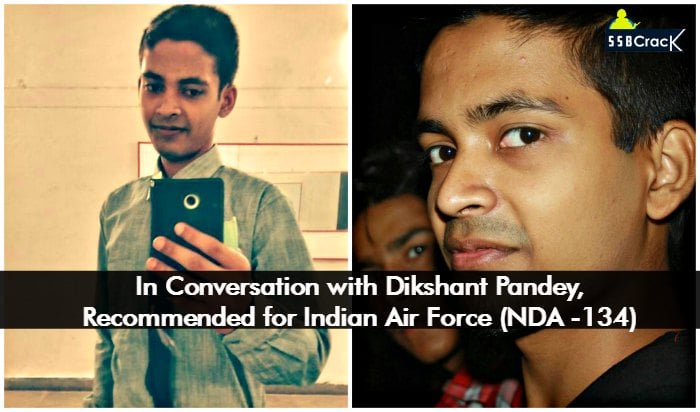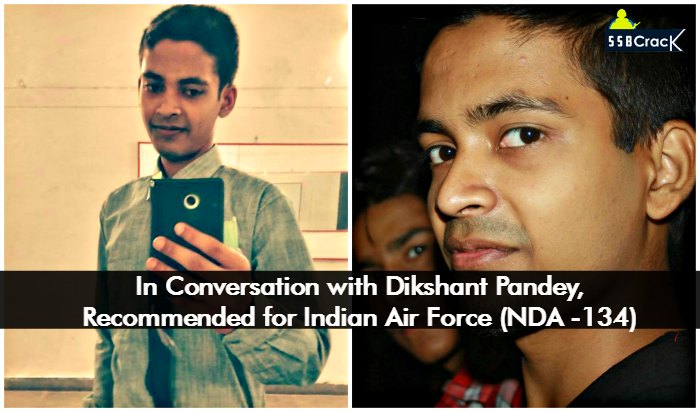 4. What went wrong in first two attempts and how did you overcome it?
Dikshant: My first SSB was at 14SSB Allahabad. It was for TES-32. I had gone there just to experience SSB as to what it is and why people aren't able to make it. So I wasn't prepared very well. I took it lightly, to be precise. That's what went wrong in the first SSB. The GTO tasks, the fatta-balli ones were tough enough for me. I did give ideas, but wasn't very sure of them my selves. And the command task went bad.
Then the second one was for NDA-133. This time I had experience, and I had to make it. I did hard work, but my interview went bad, maybe I was over knowledgeable there. The IO was asking me in-depth questions regarding SU-30 and I was answering them all like a nerd.
What's past is past. We learn from our experiences only. I didn't give up, me being a very stubborn kid since my birth. I was like, let's see how many times can you reject me. And they couldn't do it anymore, so yeah here I'm.
5. How did you prepare for NDA written exam and SSB interview?
Dikshant: Many people ask me this question, and I recommend them the book pathfinder. Well in my 11th-12th standard I was very poor in mathematics, I never managed, even a single time to score over 40% in any exam. I never failed though. Then in the month of feb, I felt that this won't do me good. If this thing continues, I won't be able to clear my written exam and fare poorly in boards too, which would result in no tech entry SSB for me. I then daily put in 10-12 hours for a month, and managed 95 in 12th boards in mathematics. And due to all that hard work, I didn't need to study an inch for NDA written, both times I cleared the exam without any preparation.
Coming to the SSB part, I had with me arihant's and upkar's SSB book, and www.ssbcrack.com and www.gomilitary.in and a lot of determination. I worked hard. This is how I planned things.
Firstly the pysch part. I practiced a lot, writing those things in the stipulated time. Then scrutiny of the written part. What I've written portrays my qualities or not. And if they don't, how can I write them in a better way.
The interview part, well I've always felt that this thing is the most important part. So I took up my PIQ form, filled it up neatly and made notes of the things I should know about. E.g. I've lived the maximum time in Agra. So I made notes on the history of Agra, and then cross questions on it. In the similar manner, I had a complete set of interview question that he could ask me, and cross questions on top of it. But you can never be sure, what he'll ask. Though he asked most of the questions from my question bank only. And also I prepared a good SD of me, which was completely honest. There were some false pretenses in my PIQ form, but I was advised by a retd. Colonel to do so if I could support those things, and I could. Being honest helps, they can always see through you. I was completely honest with myself, and self-introspected to know my strengths and weaknesses. I then worked upon my weaknesses. If you know yourself completely, you'll get recommended, that's for sure.
And for the GTO part, I read current affairs a bit and common topics for GD and all. I didn't put in many efforts for GTO because being an active debater at school, taking part in declamation and all helped me a lot. This is how I prepared, and it gave me desired results. 'karam karte jaa, samay aane par fal zarur milega'.
6. Why Indian air force flying through NDA, why not Indian Army or Navy?
Dikshant: As I've already mentioned, I always wanted to fly a fighter, and since my dad is there in IAF, we'll both serve together, which would make him and me both proud. Though I'm obsessed with the uniform more, so I would join army or navy too for that matter, but given a choice, AF it is.
7. Do you think joining NDA would change your life, don't you think life in a private sector is much more appealing than defense?
Dikshant: Obviously. NDA would groom me from a kid to a sensible man, who knows how life works, and how things are to be done. NDA is the biggest achievement of my life, and this thing would change me completely, make me a gentleman through and through.
Maybe for some the private sector would be more appealing, for me it isn't. And if everyone joins the private sector, you won't be able to sleep a peaceful sleep. It's the soldiers at the border who sacrifice their sleep, that's why people can sleep peacefully at their homes. And a desk job, 9-5 with no thrills in it, I would die of boredom. Rather I would land on the expressway and capture the minds of many.
8. What do you want to suggest other candidates writing NDA exam?
Dikshant: You find this written everywhere you go, "do you have it in you?" And you would never be able to know what that it is. According to me that 'it' is the 'sanak' to join forces. So I would advise all to work hard, don't lose hope. Because if you lose hope here only, what would you do at the border?
And people, life begins when you come out of your comfort zone. Work hard, play hard and be a warrior.
9. Any memorable incident during your SSB interview?
Dikshant: There were many memorable incidents out of which one was very funny. In my group there was a guy who was very heavy. And getting him up on top of that wall was a tough job. Another one from my group went up and started pulling him. But this guy was so heavy, he pulled the other one down and the poor man went flying and fell straight in the feet of GTO. Not to worry, both were recommended with me.
10.  We wish you luck for merit list and training.
Dikshant: Thank you sir/ma'am. And yeah, keep up the good work, your site helps a lot. It helped me at least. I got many mails from people, and I tried resolving the query of each one. I would do so in future too, if anyone mails me for help. Regards.