Indian armed forces have made itself prepared in all aspects and going beyond its capabilities and muscles. Defense news and blogs are filled with the news of INS Kochi. This warship has made India more strong and bold in its defense state. INS Kochi has gathered enough fame in a short span of its commissioning.
Introduction
The keel of INS Kochi was laid in 2005 and was launched in 2009. It is 10th destroyer in the Indian's destroyers list. Its Moto is "Jahi Shatrun Mahabaho" which means 'Armed to conquer the enemy'. The stealth guided missile destroyer belongs to Project 15-A. 164 meters long and 17 meters in width, displaces 7,500 tons. It can attain a Speed up to 30 knots or 56 km/hr. The ship is powered by four gas turbine generators and one diesel alternator, producing 4.5 MW
The ship has got stealth features which were achieved by shaping the hull and radar transparent deck fitting. The bow mounted sonar dome is introduced to enhance the sonar acoustic performance.
What's Special About it?
It is the largest warship made by India itself. Directorate on naval design has designed it, which is an organization under the Indian navy and was built by Mazagon Dock Ship builders' Ltd in Mumbai. The ship is second in Indian navy and is among the few that has Multi-Function Surveillance and Threat Alert Radar (MF-STAR) that will help Long Range Surface to Air Missiles (LR-SAM) in targeting their prey. MF-STAR and LR-SAM are jointly developed by India's DRDO and Israel Aerospace Industries Ltd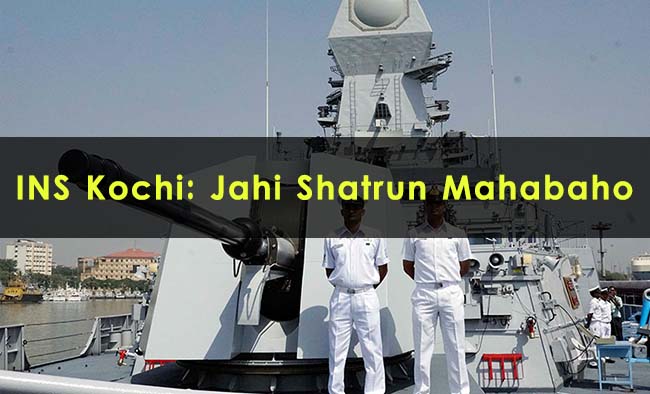 Weapon System
The warship has some special weapon system with elite targeting and sensory system. It includes Brahmos surface to surface missile, Anti-sub torpedoes and rockets, 76mm and 30 mm guns (for a median and short range airborne or surface threats can be neutralized by these guns) and long range surface to air missile system. The feature of MF-STAR is only installed on Kolkata class ships. The warship can operate two Chetak or Seaking helicopters.
Same of its kind
INS Kolkata of the same class was commissioned in august last year and next warship INS Chennai is expected to be commissioned by the end of 2016.it belongs to Project 15-A. All ships of this project are named after famous ports
Other Warheads in Indian Navy
India's vikramaditya and indigenously developed INS Vikrant are the two aircraft carriers in the Indian Navy. INS Komorata, recently commissioned, is an anti-submarine warfare corvette is also a matter of pride for India. Shiwalik class multirole frigates, first made in India stealth warships is a star on India's collar.
Indian navy comes in top 10 navies of the world and is all set to go head in the list. With the commissioning of INS Kochi, India is ready to dominate the seas. As per the global scenario, where India's close neighbors, Pakistan and china, are accelerating their defense modernization, Indian is also required to do so with much fast pace. China's activities in South China Sea are enough for India to predict their aim and goals. INS Kochi is a step to make India stronger but India need more such steps to get over others.