Most of us have seen the colourful ribbons (ribands) and medals on soldiers uniform which they proudly wear on their chest, but most of us don't know the meaning of these colour codes and what they indicate, in this article you can find the meaning behind each and every colour and ribbon from our armed forces.
The Armed Forces of India are eligible for a myriad of military decorations. Decorations are awarded for extraordinary bravery and courage, as well as distinguished service during times of war and peace. Service and campaign medals have been awarded throughout the history of India as an independent state.
Mention in Dispatches
Mention in Dispatches has been used since 1947, in order to recognize distinguished and meritorious service in operational areas and acts of gallantry which are not of a sufficiently high order to warrant the grant of gallantry awards.
Eligible personnel include all Army, Navy and Air Force personnel including personnel of the Reserve Forces, Territorial Army, Militia and other lawfully constituted Armed Forces, members of the Nursing Service and Civilians working under or with the Armed Forces.
Personnel can be mentioned in dispatches posthumously and multiple awards are also possible. A recipient of a Mention in a Despatch is entitled to wear an emblem, in the form of a lotus leaf on the ribbon of the relevant Campaign Medal. They are also issued with an official certificate from the Ministry of Defence.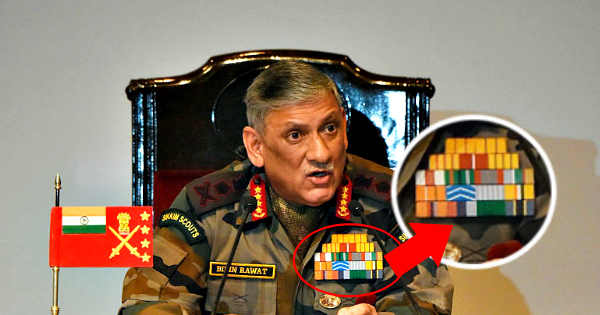 Commendation Card
All three branches of the military issue Commendation Cards, which are badges awarded for "individual acts of gallantry or distinguished service or devotion to duty performed either in operation or non-operational areas which are not of a sufficiently high order to qualify for a higher gallantry award or for which the higher award is inappropriate. The award will be for a specific act of bravery or distinguished service or special service. The award will not be made posthumously."
All three branches issue Commendations Cards at the level of the highest officer (Chief of the Army Staff, Chief of the Naval Staff and Chief of the Air Staff). The awards at lower levels seem to vary between services.
Ribbons of India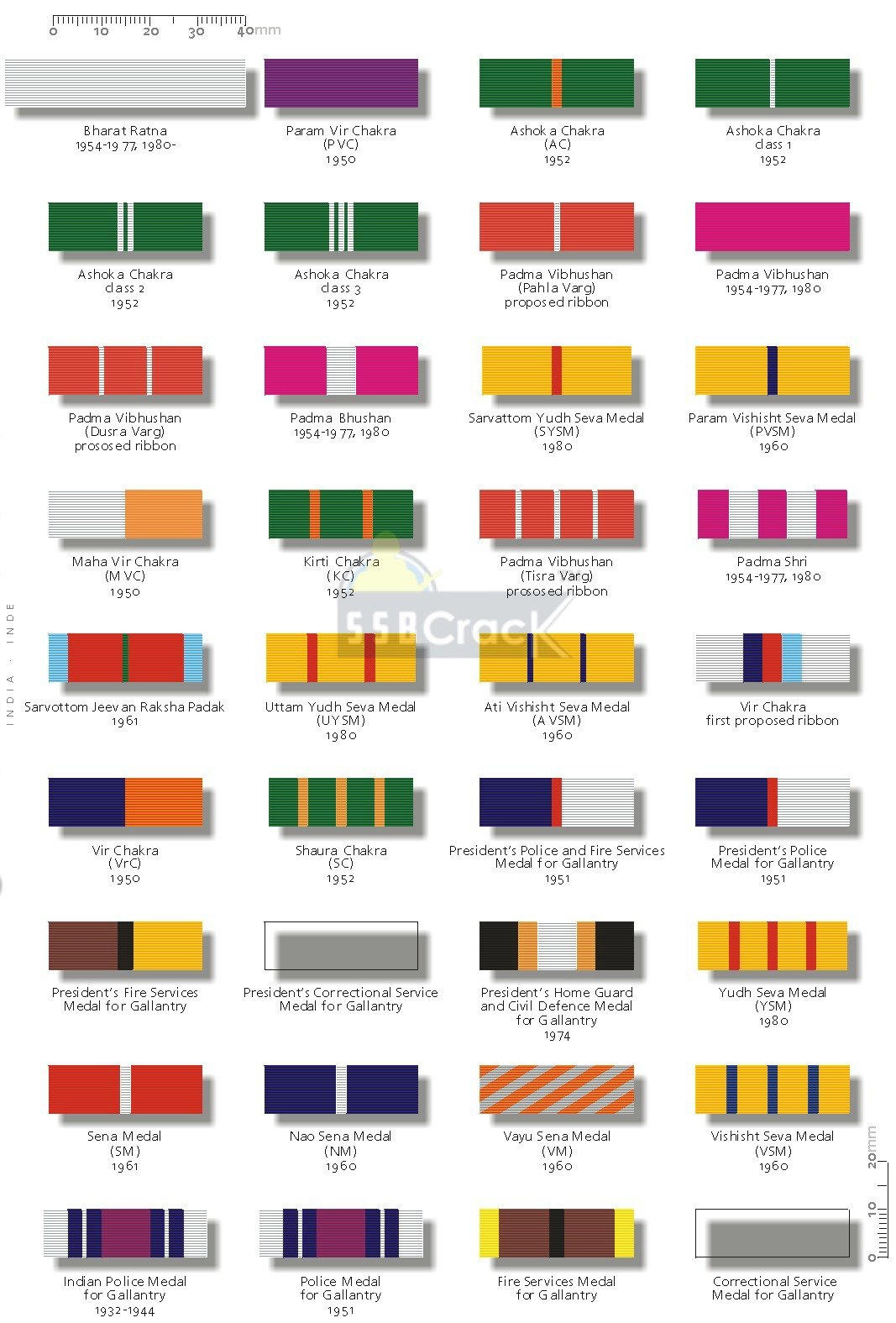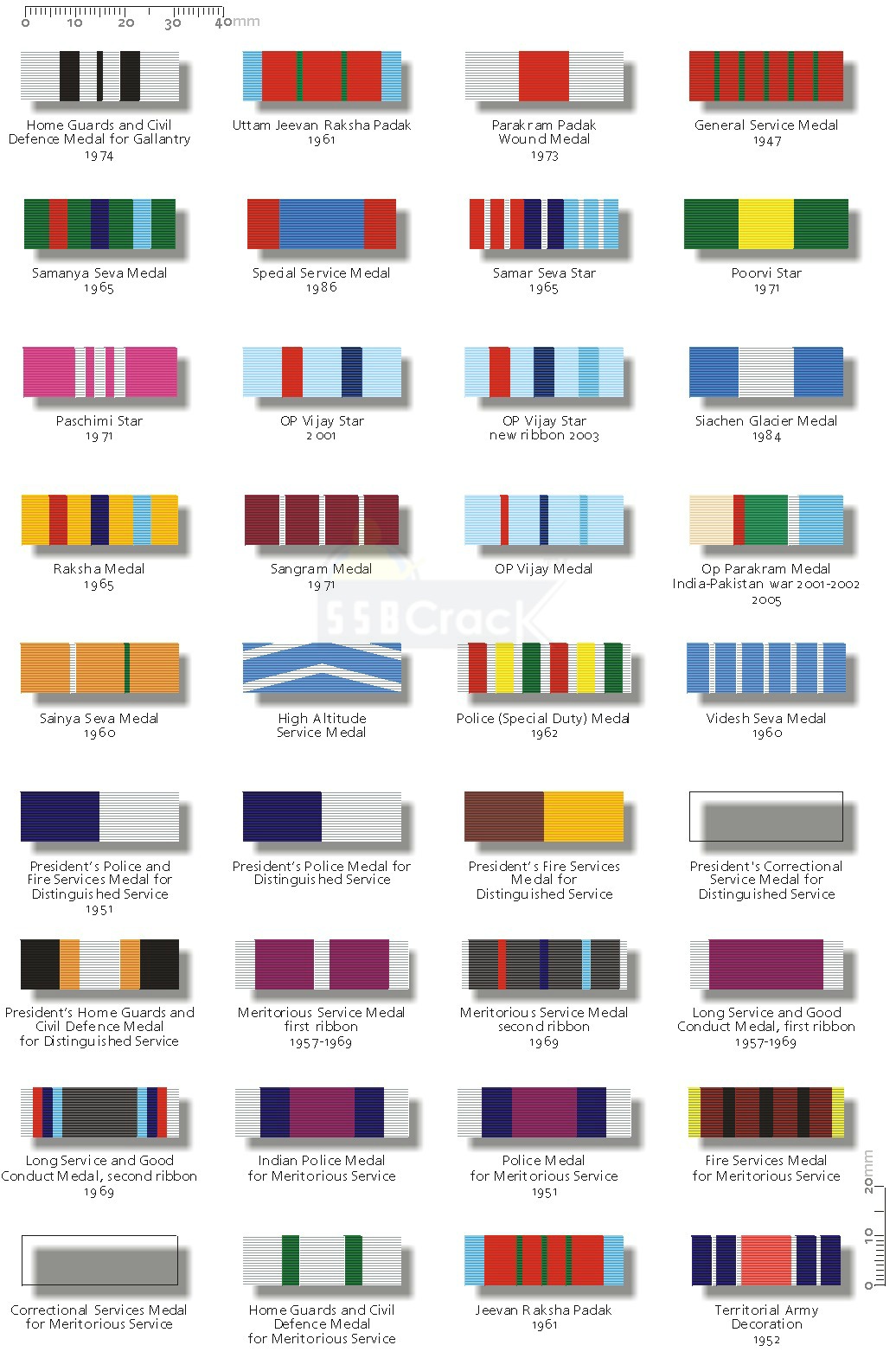 Order of wear
The various decorations and medals are worn in the following order:
| Precedence | Award Name |
| --- | --- |
| 1 | Bharat Ratna |
| 2 | Param Veer Chakra |
| 3 | Ashoka Chakra |
| 4 | Padma Vibhushan |
| 5 | Padma Bhushan |
| 6 | Sarvottam Yudh Seva Medal |
| 7 | Param Vishisht Seva Medal |
| 8 | Maha Vir Chakra |
| 9 | Kirti Chakra |
| 10 | Padma Shri |
| 11 | Sarvottam Jeevan Raksha Padak |
| 12 | Uttam Yudh Seva Medal |
| 13 | Ati Vishisht Seva Medal |
| 14 | Vir Chakra |
| 15 | Shaurya Chakra |
| 16 | President's Police and Fire Services Medal for Gallantry |
| 17 | President's Police Medal for Gallantry |
| 18 | President's Fire Services Medal for Gallantry |
| 19 | President's Correctional Service Medal for Gallantry |
| 20 | President's Home Guards and Civil Defence Medal for Gallantry |
| 21 | Yudh Seva Medal |
| 22 | Sena Medal / Nao Sena Medal / Vayu Sena Medal |
| 23 | Vishisht Seva Medal |
| 24 | Police Medal for Gallantry |
| 25 | Fire Services Medal for Gallantry |
| 26 | Correctional Service Medal for Gallantry |
| 27 | Home Guards and Civil Defence Medal for Gallantry |
| 28 | Uttam Jeevan Raksha Padak |
| 29 | Parakram Padak |
| 30 | General Service Medal – 1947 |
| 31 | Samanya Seva Medal – 1965 |
| 32 | Special Service Medal |
| 33 | Samar Seva Star-1965 |
| 34 | Poorvi Star |
| 35 | Paschimi Star |
| 36 | Operation Vijay Star Medal |
| 37 | Siachen Glacier Medal |
| 38 | Raksha Medal – 1965 |
| 39 | Sangram Medal |
| 40 | Operation Vijay Medal |
| 41 | Operation Parakram Medal |
| 42 | Sainya Seva Medal |
| 43 | High Altitude Medal |
| 44 | Police (Special Duty) Medal – 1962 |
| 45 | Videsh Seva Medal |
| 46 | President's Police and Fire Services Medal for Distinguished Service |
| 47 | President's Police Medal for Distinguished Service |
| 48 | President's Fire Services Medal for Distinguished Service |
| 49 | President's Correctional Service Medal for Distinguished Service |
| 50 | President's Home Guards and Civil Defence for Distinguished Service |
| 51 | Meritorious Service Medal |
| 52 | Long Service and Good Conduct Medal |
| 53 | Police Medal for Meritorious Service |
| 54 | Fire Services Medal for Meritorious Service |
| 55 | Correction Service Medal for Meritorious Service |
| 56 | Home Guards and Civil Defence Medal for Meritorious Service |
| 57 | Jeevan Raksha Padak |
| 58 | Territorial Army Decoration |
| 59 | Territorial Army Medal |
| 60 | Indian Independence Medal-1947 |
| 61 | Independence Medal – 1950 |
| 62 | 50th Anniversary of Independence Medal |
| 63 | 25th Independence Anniversary Medal |
| 64 | 30 Years Long Service Medal |
| 65 | 20 Years Long Service Medal |
| 66 | 9 Years Long Service Medal |
| 67 | Commonwealth Awards |
| 68 | Other Awards |
source: WIKI
Ever Observed Number Plates Of Military Vehicles? Here's What They Mean
Here Are 9 Berets Worn In Indian Military And What Their Colour Means