All NCC aspirants are hereby informed that Indian Army calls NCC cadets for NCC 43 Special Entry Scheme. Applications are invited from UNMARRIED/MARRIED male and UNMARRIED female and also from the Wards of Battle Causalities of Army Personnel, for grant of Short Service Commission in the Indian Army.
NCC 43 Vacancies
NCC MEN- 50 (45 for General Category and 05 for Wards of Battle Casualties of Army personnel only).
NCC Women- 04 (03 for Women general category and 01 for Wards of Battle Casualties of Army personnel only).
Eligibility
The candidate should maintain the following requirements
A citizen of India.
A subject of Bhutan, Nepal or a Tibetan refugee, who came to India before 1962 for permanently settling in India.
A person of Indian origin, who has migrated from Pakistan, Burma, Sri Lanka and East African countries of Kenya, Uganda, the United Republic of Tanzania, Zambia, Malawi, Zaire and Ethiopia and Vietnam with the intention of permanently settling in India
For the persons belonging to category 2 and 3, there must be a certificate issued by the Government of India.
Candidates who are Gorkha subject of Nepal don't need to produce and certificate.
The candidate, who has been withdrawn for IMA, OTA, NDA or any service training academy, will not be eligible for it.
Age limit – For NCC candidates (including wards of Battle Casualties) 19 to 25 years (born not earlier than 02 Jan 93 and not later than 01 Jan 99).
Education Qualification –
Candidates must have graduation degree form recognized university with 50% marks aggregate in all years of respective degree.
Final year candidates can also apply for the entry. They must have scored minimum 50% marks aggregate in all their previous years. They must score minimum 50% in their entire degree and they have to complete their degree before the commencement of the course.
The candidate must have served minimum 2 academic years in a senior division/ wing of NCC.
The candidate must have a minimum B Grade in C certificate exam of NCC.
NCC 43 Special Entry Scheme How to apply: All eligible candidates are required to apply online at joinindianarmy.nic.in, read the notification for full details.
The following points will be considered deeply
Date of birth as mentioned in 10th certificate.
The degree or provisional certificate issued by a recognized university by AIU.
The candidate must have scored minimum 50% aggregate in his graduation. A final year student must have scored aggregate 50% in his previous years.
The NCC certificate must have a minimum B grade.
– The shortlisting of candidates will be done by Directorate General of Recruiting (Rtg 'A'), Integrated Headquarters of Ministry of Defense (Army) on the basis of the NCC certificate grading and graduation percentage.
NCC 43 Special Entry Scheme Selection Procedure
Shortlisting of Applications. Integrated HQ of MoD (Army) reserves the right to shortlist applications and to fix cutoff percentage of marks without assigning any reason. After shortlisting of applications, the Centre allotment will be intimated to the candidate via their email. After allotment of Selection Centre, candidates will have to log in to the website and select their SSB dates on a first come first served basis, through the link forwarded via email.
Only shortlisted eligible candidates depending on the cutoff percentage will undergo SSB at Selection Centres, Allahabad(UP), Bhopal(MP), Bangalore (Karnataka) and Kapurthala (PB) by a psychologist, Group Testing Officer and Interviewing Officer. Call up letter for SSB interview will be issued by respective Selection Centre on candidates registered e-mail id and SMS only. Allotment of Selection Centre is at the discretion of DG Rtg, IHQ of MoD (Army) and NO request for changes are entertained in this regard.
Candidates will be put through two stage selection procedure. Those who clear Stage I will go to Stage II. Those who fail in stage I will be returned on the same day. Duration of SSB interviews is five days and details of the same are available at official website of Rtg Dte www.joinindianrmy.nin.in. This will be followed by a medical examination for the candidates who get recommended after Stage II.
Candidates recommended by the SSB and declared medically fit, will be issued joining letter for training in the order of merit depending on the number of vacancies available.
Opening And Closing Dates Of Application Forms – the candidates can apply for it in between 25 Jul 2017 – 23 Aug 2017.
Important points: Candidates appearing/ appeared for the interview of CDS entry that is SSC 107 (NT) or SSC W 21 (NT) will not be eligible for NCC 43 entry.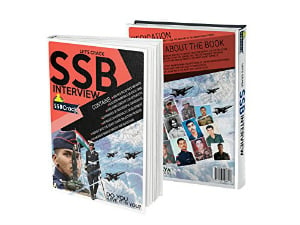 To crack SSB and AFSB Interview get "Let's Crack SSB Interview" Book from Flipkart. Trusted by thousands of defence aspirants
Also Download Helpful eBooks: