Applications are invited from Indian citizens both male and female, who have passed their final MBBS (Part-I & II) examination in not more than two attempts or who have appeared or will be appearing (first or second time only) in the Final MBBS (Part II) examination up to 30th Jun 2018. Grant of Short Service Commission, however, will be subject to the candidate passing the Final MBBS Examination and meeting the other eligibility criteria including possession of provisional registration certificate issued by the Medical Council of India or State Medical Council before issuing of Appointment Letter.
Candidates who have not completed their internship will have to undergo internship/remaining period of internship in AFMS hospitals. Successful completion of internship and obtaining Permanent Registration issued by the Medical Council of India or State Medical Council thereafter is a necessary condition for grant of the rank of captain and retention in service.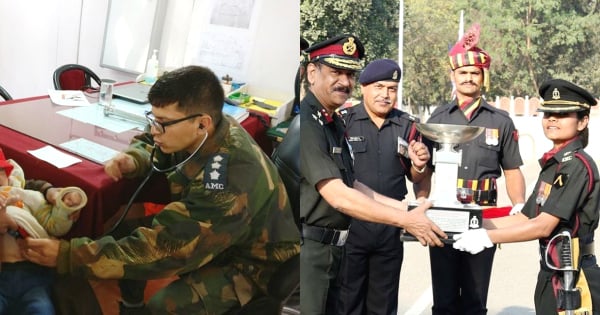 QUALIFICATION: The applicant must possess medical qualification included in First/Second Schedule or Part II of the Third Schedule of IMC Act 1956 or should complete the MBBS Final (Part-II) examination by 30 Jun 2018. Those who have finally passed MBBS must have permanent/provisional registration from any State Medical Council/MCI. Postgraduate Degree/Diploma holders recognized by State Medical Council/MCI/NBE may also apply.
AGE LIMIT: The candidate must not have attained 45 years of age as on 31 Dec 2018.
PLACE OF INTERVIEW: BENGALURU
FEE: Rs. 200/- (Rupees Two Hundred only) Payable online only.
CALL LETTER FOR INTERVIEW: Call letters for interview shall be made available online only after the successful submission of online application.
DETAILED NOTIFICATION: Available on the website www.amcsscentry.gov.in from 31 Mar 2018 onwards.
IMPORTANT INSTRUCTIONS:
THE REGISTRATION NUMBER AND ONLINE PAYMENT TRANSACTION NUMBER ARE REQUIRED TO BE SAVED FOR QUOTING IN FUTURE ENQUIRIES / CORRESPONDENCE.
CANDIDATES SHOULD CHECK THE WEBSITE AND THEIR REGISTERED EMAIL REGULARLY FOR UPDATES REGARDING INTERVIEW DATES AND OTHER RELEVANT DETAILS.
PLEASE CARRY THE ORIGINAL AND FOUR ATTESTED PHOTOCOPIES OF ALL THE DOCUMENTS AS MENTIONED IN THE WEBSITE AT THE TIME OF INTERVIEW FOR VERIFICATION.
ANY VARIATION IN THE DETAILS PROVIDED AND DOCUMENTS SUBMITTED ONLINE WILL LEAD TO REJECTION OF THE CANDIDATURE.
SSB Interview Preparation Material [ 100% Recommended]