The all women Naval mountaineering team led by Lt Cdr Kokila Sajwan summited Mount Deotibba an 10 Jun 2018. The team would attempt to scale many more challenging peaks in the near future. Mount Deotibba provided excellent opportunity to the team in honing their mountaineering skills.
The expedition was flagged off by Vice Admiral AK Chawla, AVSM, NM, VSM, Chief Of Personnel on 28 May 18 from New Delhi.
About Mt Deotibba
Mt Deotibba is the second highest peak (6001M) in the Pir-Panjal range in Himachal Pradesh. It is considered to be a difficult peak to summit.
The team started the trek from the road head (Bara Hazari) to the base camp at an altitude of 4250 mtrs through Chikka and Seri. They advanced towards the Summit through advance base camp at 4700 mtrs and the Summit camp at 5250 mtrs. Displaying exemplary courage and esprit de corps, the team battled extreme weather conditions including white outs and heavy snowfall accompanied by strong winds. After a strenuous push of about 12 hrs of climbing, the team summited the peak at 1300 hrs on 10 Jun 2018.
The Team
The team comprised of 13 members and was led by Lt Cdr Kokila Sajwan. It includes Lt Cdr Nanadini Dam Roy, Lt Cdr Seema Chaudhary, Lt Cdr Pooja Sharma, Lt Cdr Rekha Shree, Lt Cdr Rashu Tyagi, Lt Saino Wilson, Lt Chamm Kumari, Surg Lt Himwant Kaur, Lt Surbhi Sharma, Lt Shristi Thakur, Lt Vipasha Sharma, Lt Kritika Sharma as other team members.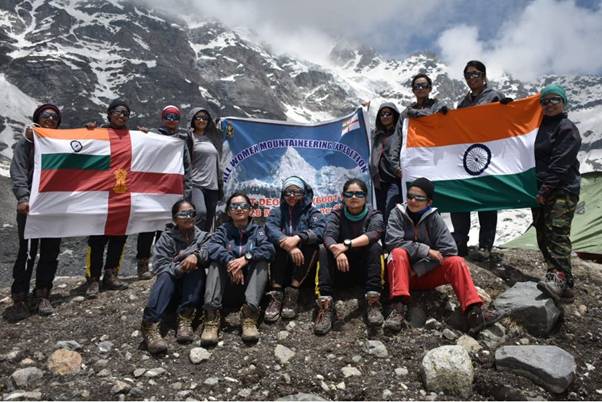 Previous Summit by Naval Personnel
Mt Everest
Indian Navy had summitted Mt Everest in May 2017. The Service had previously launched the first successful expedition to Everest in 1965 and has been to the South & North poles in 2006 and 2008 respectively.
In 2017, five members from Team B successfully summited Mt Everest. The five member team pushed up to the summit of 'Sagarmatha' and the Naval Ensign was once again unfurled atop the world within a week's span.
Navika Sagar Parikrama
Last month, in May, Indian Naval Sailing Vessel Tarini (INSV Tarini) entered Goa harbour and came alongside the INS Mandovi jetty on completion of a historic global circumnavigation voyage on 21 May 18. The all-women crew of Tarini was received at the jetty by DM Nirmala Sitharaman along with Adm Sunil Lanba, V Adm AR Karve, senior officers and enthusiastic members from the naval community.