SSC 52 and SSCW 23 Tech Eligible Branch, Vacancies, Cut Off, SSB Date, Merit List: Indian army has published the notification of SSC 52 and SSCW 23 Tech Entry for engineering graduates. Unmarried male and female engineering graduates can apply for the SSC Tech entry for which the course is going to commence in April 2019 at OTA Chennai. This is a direct SSB interview entry where you are not required to clear any written exam, candidates are shortlisted based on their engineering degree aggregate percentage till the pre-final year.
SSC Tech Entry Indian Army:
Engineering graduates can apply.
Final year students can apply if they able to complete engineering before April 2019.
Candidates will be shortlisted for SSB interview based on their engineering percentage.
SSC Tech cut off marks and shortlisted candidates will be published by Indian army.
Only shortlisted candidates will get the call letter for SSB interview, they are required to apply through join Indian army portal.
SSC 52 and SSCW 23 Tech Eligible Branches and Vacancies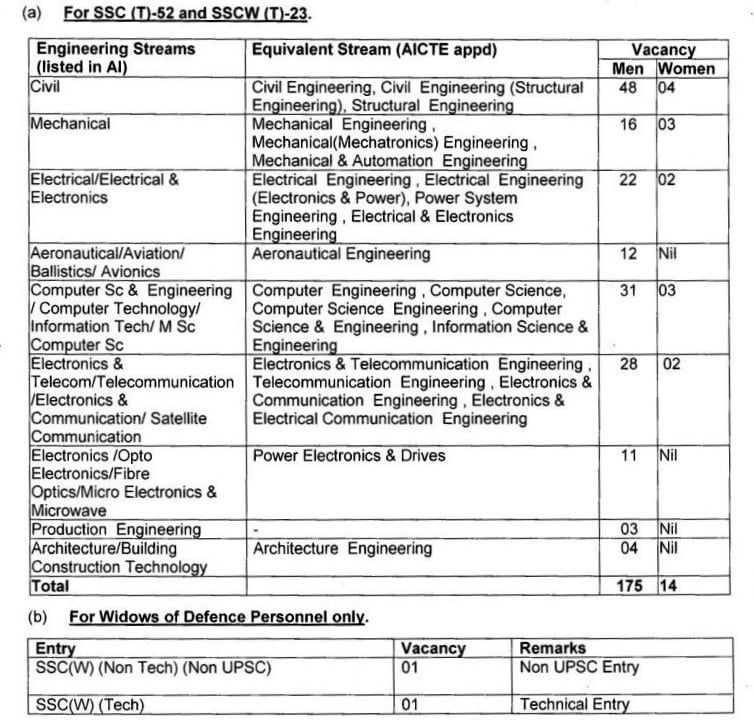 SSC 52 Tech SSCW 23 Tech

Events
Date
SSC 52 Tech SSCW 23 Tech Notification Date
12 July 2018
SSC 52 Tech SSCW 23 Tech Last Date
09 Aug 2018
SSC 52 Tech SSCW 23 Cut Off Date
Oct 2018
SSC 52 Tech SSCW 23 Tech SSB Date
From Oct 2018
SSC 52 Tech SSCW 23 Tech Merit List
Feb 2019
SSC 52 and SSCW 23 Tech Cut Off marks: The cut of marks for SSC 52 and SSCW 23 Tech will be published by the Indian army later, but there won't be much fluctuation in the cut off and it will be similar to SSC 51 and SSCW 22 Tech cut off marks. Below are details of last cut off marks
SSC Tech 51 Cut Off Marks
Least cut off marks 50%
Highest cut off marks 68% Mechanical Engineering.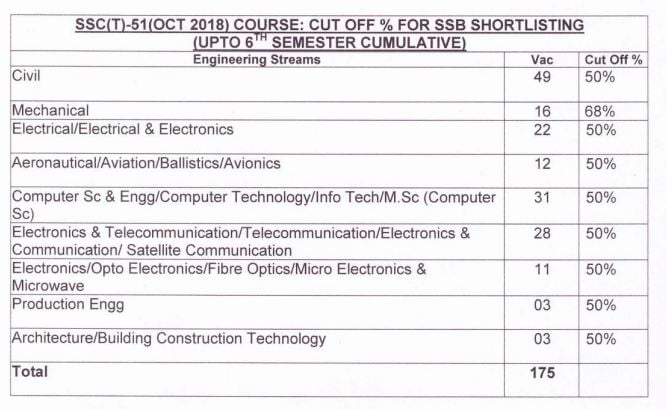 SSCW Tech 22 Cut Off Marks
Least cut off marks 73%
Highest cut off marks 85%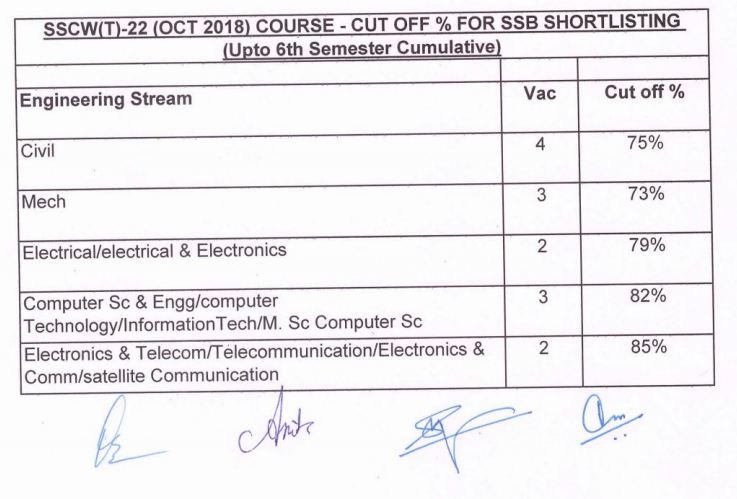 Note:
If you are shortlisted then you are required to select the SSB interview date on join indian army website.
Candidates studying in final year of engineering must complete all the formalities including written, practicals, projects, backlogs, viva voce, etc, for the award of qualifying BE/B.Tech degree before 01 April 2019 failing which their candidature is liable to be canceled.
SSC 52 and SSCW 23 Tech Interview Dates:
Indian army will shortlist the candidates based on their engineering percentage.
Shortlisted candidates will be alloted with SSB veune.
Shortlisted candidates are required to login to join indian army portal and select their SSB interview date.
All such updates will come on join indian army portal.
SSC 52 Tech SSCW 23 SELECTION PROCEDURE:
Short listing of Applications. Integrated HQ of MoD(Army) reserves the right to shortlist applications and to fix cutoff percentage of marks for each engineering discipline without assigning any reason.
Only shortlisted eligible candidates depending on the cutoff percentage will be interviewed at Selection Centres, Allahabad (UP), Bhopal (MP), Bangalore (Karnataka) and Kapurthala (Punjab) by Psychologist, Group Testing Officer and Interviewing Officer. Call Up letter for SSB interview will be issued only through candidate's registered e-mail id and through SMS. Candidates will not be interviewed locally. Allotment of Selection Centre is at the discretion of Dte Gen of Rtg, IHQ MoD (Army) and NO request for changes are entertained in this regard.
Shortlisted candidates will have to log in on the website www.joinindianarmy.nic.in using their username and password and select the SSB dates as available on the website.
Interviews will be held from Oct/Nov 2018 onwards.
Candidates will put through two stage selection procedure. Those who clear Stage I will go to Stage II. Those who fail in Stage I will be returned on the same day. Duration of SSB interviews is five days excluding day of arrival and details of the same are available at official website of Rtg Dte www.joinindianarmy.nic.in
SSC 52 Tech SSCW 23 MERIT LIST: IT IS TO BE NOTED THAT MERE QUALIFYING AT THE SSB INTERVIEW DOES NOT CONFIRM FINAL SELECTION. A MERIT LIST WILL BE PREPARED ENGINEERING STREAM WISE ON THE BASIS OF THE MARKS OBTAINED BY THE CANDIDATE AT SSB INTERVIEW AND AS SUCH HIGHER EDUCATIONAL QUALIFICATIONS, PREVIOUS PERFORMANCES; NCC BACKGROUND, ETC, HAVE NO ROLE TO PLAY. THOSE HIGH IN THE MERIT LIST AND WHO COME WITHIN THE STIPULATED VACANCIES, AND ARE MEDICALLY FIT ARE ISSUED JOINING LETTER FOR PRE-COMMISSIONING TRAINING.
ONLINE APPLICATION WILL OPEN ON 12 JULY 2018 AT 1000 HRS AND WILL BE CLOSED ON 09 AUG 2018 AT 1000 HRS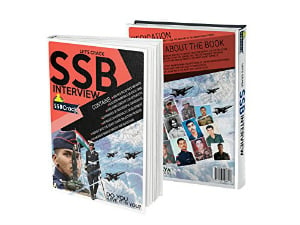 To crack SSB and AFSB Interview get "Let's Crack SSB Interview" Book from Flipkart. Trusted by thousands of defence aspirants
Also Download Helpful eBooks: