I am Sayak Bhattacharya from Kolkata, West Bengal. I recently got recommended for TES 46 course from 32 SSB Kapurthala. I was the only candidate to get recommended despite the fact that around 285 candidates reported on the day of screening. The art of being distinguishable in the rat race not only requires tremendous hardwork but also utilisation of mind. The age-old saying "Fortune favours the brave" became true in my case. I'm from a pure civil background and I'll be the first generation from my family to serve in the Indian Armed Forces.
I started my SSB preparations since May 2021 after our board exams were supposedly canceled. I practised the OIR tests on a regular basis for about 2 hours. Then I started with my psychology test preparations. Within a period of 3-4 months, I practised over 6.5K and 7K SRTs & WATs respectively. SSBCrack courses played a vital role in it. Consistency at work will give such desirous results. Then I found that I was having too much of stage fear to be active in PPDT, GD and lecturette. My shy and introverted nature and restricted social life to social media were acting as a hindrance. Henceforth, the only way to overcome it was to be active, interactive, and bust the social fears. At the same time, to master oratory, I started giving speeches on several lecturette topics in front of the camera for about an hour or two daily in a proper setup and background (more like a YouTuber). This helped me develop speaking habits, confidence, voice modulation, gestures and I ended up preparing for about 50 lecturette topics within 2 months. My first and NDA SSB was at 22 SSB Bhopal at the end of September 2021. Unfortunately, I got conferenced out and that shattered me, because joining the Army was my spite and I starved to live the life of a warrior. Over the past months, I underwent a severe change in my mentality, attitude, outlook, perspectives, etc and it gave me jitters and terrified me when I went to college in an environment completely contrary to what I desired. The only solution for me was to study there for three years and prepare for CDS Exam. But 3 years is a long time.
Immediately after coming back from Bhopal, I tried to analyse what could be the possible mistakes I committed. I found that I was giving pre-conceived ideas in psychology tests and it happened due to over-practise. In the GD I was having good amount of knowledge but I was readily countering the points being given by other candidates and hence acting as a hurdle from the rising of a common group idea. I also did not have many ideas in PGT, HGT and FGT.
I never expected that I would be shortlisted for TES 46 SSB as I didn't score well on boards or JEE. But, with the grace of God it happened and immediately I started working on my previous flaws. I started giving my original ideas for WATs n SRTs and analysed the OLQs in tabular form in the TAT stories I used to do for practice. This acted as a 'Ram-Baan' at the psychology test. I gave a couple of psychology tests at a coaching institute and got approval on my tactics and performance. For the GD and GPE, I completely focussed on tactics and endorsements of others' views and added my contemporary opinion and ideas. This acted well out there. My interview went for a long time for about 1 hr 15 mins. I expected too many technical questions as it was a technical entry but I found that it is the candidate himself who can control the direction of the interview based on the replies, interests and hobbies. Many current affairs, international relations, defence related questions were asked. I realised that my PGT performance would subsequently affect my HGT, Command Task and FGT. In the first PGT obstacle, I analysed the performance of others and used my practical intelligence to surpass them. I became much active, started handling the rope by myself and it acted as 'Brahmastra' as I could draw the GTOs attention when I was handling the rope to negotiate with the obstacles by myself and this made others call me frequently in the CT. Finally, I had to wait for about 15 minutes outside the hall and my conference went on for around 10 minutes. Ultimately, I became the only candidate to get recommended from amongst 23 candidates.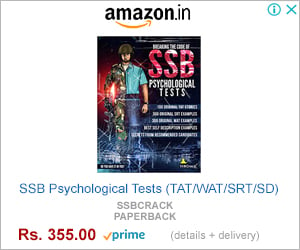 It requires tremendous mental preparation to clear the toughest interview in India and become an officer of this prestigious organisation. When I reported for screening, I got a bit nervous about seeing almost 300 candidates ready to compete with me. Soon, I calmed myself and realised that it was a 1 vs 1 war and not a 1 vs 285 because majority of the tasks are based upon individual performances, and so I only have to give my best performance. Neither the presence of so many previously recommended candidates nor IIT students could instill fear in my mind as Bhagavad Gita 6:5 says "the mind can be the friend and also the enemy of the self".
Jai Hind, Vande Mataram