A lot of candidates have a lot of doubts as to what questions might be asked in the interview, and how they should respond to them. The interview has no specified syllabus, yet if you pay attention you'll understand that the questions asked in the interview are in some or the other way related to you. They might be directly from your PIQ form, or they might be on general awareness, but in both ways, they are related to you.
Sometimes the interview can get as personal as possible and yet at other times it'll leave you cracking your brains about the general knowledge questions asked in it. Here I am focusing on the major 5 questions which are generally asked in the interview. The questions may be framed in some other form, but they mean the same thing more or less. Of course, there will be other questions as well. Try to answer personal questions with the things you have exactly written in your PIQ.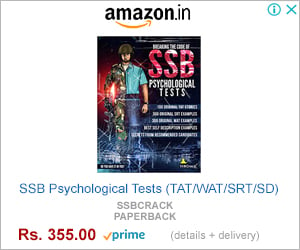 Five Most Probable Questions in SSB Interview And How To Deal With Them
Comprehensive question about you: This question is a long question and covers the major area of your life. It'll ask you about yourself, your place, your achievements, your education, sports, etc. Sometimes this question might be a one-liner, where the interviewer may only ask "tell me about you". How to deal: To answer this you need to know about yourself. Prepare in-depth about yourself, on the mentioned things. Answer in a sequence, like either from recent to old or the other way, do not jumble up the things. If you forget the question don't panic, move on with whatever you remember.
The question about the people in your life: This is again something that deals with your personal life. They ask you about your parents, siblings, and friends. They ask you how close they are to you, what qualities they like/dislike in you and what you like/dislike in them. They might also ask you to prove the statements by examples, as in an instance when you liked that quality or if you say they find you helpful, how you helped them. How to deal: Note down these things, like the positives and negatives about the people in your life and what they find in you. It'll be difficult to make up things there, better if you speak the truth.
Strengths Weakness etc.: Here they ask you about your strengths and weaknesses. They might also ask you about the strengths and weaknesses of the people in your life. You'll be also asked to substantiate your answers with proof. How to deal: Just like the second question, you need to prepare for it in well advance.
News: You'll be asked in all possible conditions about some news. It'll be international, national or sports news or all of them. There might be questions that follow your answer, so he'll most probably counter-question you and try to drag it to a point where you are clueless about the answer, just to stress you. The number of news may vary from 2 to 5. How to deal: Prepare at least five pieces of current news in advance, and out of them also, prepare at least three in full depth, so you may answer almost all questions related to that.
Why you want to join that service: This will be asked of you in the interview or in the conference. This question seems simple but will be followed up with counter questions on your answers. How to deal: You need to think about the real reason why you want to join. Do not give fake reasons which you think might impress them. They are looking for honesty.
There might be some interviews in which none of these questions are asked, but the given questions are based on the general interviews for the majority of people.