Safe recovery of a Russian-origin MiG-27 fighter jet despite sustaining critical injuries after a canopy burst while cruising at near supersonic speed at an altitude of 9,500 feet has earned Indian Air Force (IAF) pilot Flight Lieutenant Manish Arora a Shaurya Chakra, the nation's third highest peacetime gallantry medal.
Flight Lieutenant Manish Arora was on an air test practice sortie on the MiG-27 that took off from Kalaikunda in West Bengal when the accident took place while being airborne.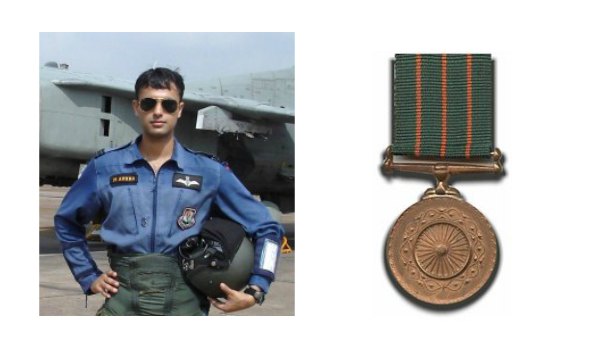 Despite excruciating pain in the right ear, even as his mask was flooded with blood, the young fighter pilot withstood the wind blast and loss of pressure, which severely restricted his mobility.
Flight Lieutenant Manish Arora also overcame the lack of frontal cockpit visibility affected by blood stains and made a safe landing of the aircraft, thus saving the fighting machine and his life.
For his act of grit and determination, President Prathiba Patil named Arora to receive the Shaurya Charka.