The interview plays a crucial role in your recommendation in SSB. It is said to carry the maximum number of marks and is taken by an officer of fairly high rank. Therefore Interview is like that one star-marked question that can change the course of things and fetch you the highest marks on the Test. Obviously, there are a lot of things associated with interviews. Your conduct and your behavior in the interview play a vital role in deciding the course of your interview. And the most important thing in any interview is the questions asked in it. SSB interview, being no different, has certain questions which decide your selection in the SSB. Obviously, these questions alone won't get you selected, and you need to work on other things as well, in order to clear it.
So here are few questions that are not specific to our textbook knowledge, these questions are based on your personality, social relationship, surroundings, family background, your day to day activities, intellectualism, and reasoning abilities, in fact, these questions hold more importance than current affairs questions. Your replies to such questions hold more importance than answering current affairs questions, so, you must always prepare about yourself and things around you. Having self-knowledge and of our surroundings is of utmost importance to excel in life.
SSB Interview Questions That Decide Your Selection
Tell me something about yourself: The answer to this one question can speak volumes about you, your life and your personality. If you answer this question well, you create a good impact for yourself. You need to speak in detail about your personality. What a person speaks about himself, in such a short notice tells a lot about that person. Basically, you have to sell your personality in this question in a subtle way.
The comprehensive question: This is a long question, and candidates fear it a lot of times. They forget the questions in between and think that they have messed up their interview doing that. The most important thing about the comprehensive question is the quality with which your answer. Cover all the points. The simple trick is that these questions follow a pattern and can be connected easily. Your confidence in this is very important.
Why you want to join: People think that this is a light question, and like every other private organization interview they attend; they just have to answer it for the sake of answering it. Others go on and say made up things about passion, patriotism, and other stuff which are idealistic. In this question you have to give practical answers, which are related to you, and not something you have read or heard somewhere. You have to be a pragmatist.
Why did you fail/ How is this attempt different from previous: This is an important question for repeaters. Again here you need to answer practically, and the truth. Analyze your mistakes and prepare in a better way. Introspect yourself, and your attempt, then only you'll be able to answer this question properly.
In relation to your near and dear ones: If you can't answer questions related to your family or friends properly, this goes on to show how unaware you are of your surroundings. And officers have to be aware of their surroundings. So prepare well about the qualities and work of your friends and family.
Situational questions: In the interview, you are slowly and very smartly pitched in a situation reaction test. The interviewing officer will ask you in a very friendly way that what will you do if your parents won't let you marry the person you want. Or if you are forced by your parents to not join the Armed Forces, or how did you organize a match of football in your college ( if you have mentioned about playing football) or any other such situation. The key here is not to deny the situation and accept it, and answer in a mature way, corresponding to your personality.
Self-awareness question: Knowing oneself is the toughest task. We can analyze others, comment on them, but very rarely do we know fully about ourselves. Many times you'll be asked questions which demand an insight into your own personality. Maybe he'll ask you to back your answers about your hobbies, your routine, as you might have mentioned in the PIQ.
The questions which you don't have an answer for: Interviews are not meant to check how much you know. They are meant to examine how you deal with the questions you don't know. The key to this is not beating about the bush and being honest and upfront, yet calm and composed and saying that you don't have much knowledge about the subject to answer it.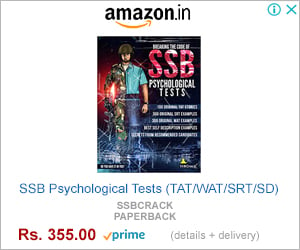 People think that their knowledge and GK help them in getting recommended, however, they are not as important as the above questions.