If you are preparing for the SSB interview for Army, Navy and Airforce, do not forget to read "Let's Crack SSB interview" and "Breaking the Code Of SSB Psychology".
Karan Singh Negi has topped the TES 48 Entry through SSB Interview, he has secured the All-India Rank of 81 in the TES 48 Course. Karan is from a defence background and comes from Uttarakhand. Karan got recommended on his third attempt from 31 SSB Kapurthala and is now going to join the Indian Army at one of the cadet training wings (CTW) after completing his training at OTA Gaya.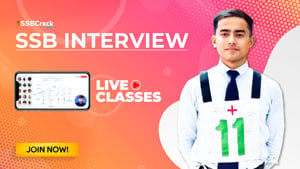 He is going to talk about his experience related to the TES Entry SSB Interview Preparation and SSB interview Process over the course of five days in this SSBCrack Talks interview. The Indian army has released the TES 48 Merit List, which is a Technical Entry Scheme for 10+2 students. At the TES 48 SSB interview, 151 candidates cleared the SSB Interview and got recommended and Karan has secured the AIR-81 with flying colors. Karan got recommended in his third attempt and will be joining TES 48 Course. In this interview, Karan Singh Negi TES 48 Entry Topper AIR 81 is sharing his SSB interview experience.