General Bipin Rawat has been named the country's 1st Chief of Defence Staff CDS. The CDS will be a four-star General, the principal military advisor to the defence minister, and head the new Department of Military Affairs to ensure jointness in training, logistics and procurement of the three services.
Government has decided to appoint General Bipin Rawat, as the Chief of Defence Staff (CDS) with effect from December 31, 2019 and until further orders and extension in service of General Bipin Rawat with December 31, 2019 and till such period he holds the office of CDS. General Bipin Rawat was commissioned into the Indian Army in December 1978 and is currently serving as Chief of the Army Staff since January 01, 2017. The officer is decorated with PVSM, UYSM, AVSM, YSM, SM, VSM and ADC to the Supreme Commander.
About General Bipin Rawat:
General Bipin Rawat, PVSM, UYSM, AVSM, YSM, SM, VSM, ADC is the 27th Chief of Army Staff of the Indian Army. He assumed office on 31 December 2016 after the retirement of General Dalbir Singh. He is also the Chairman of the Chiefs of Staff Committee and now India's first Cheif of Defence Staff (CDS).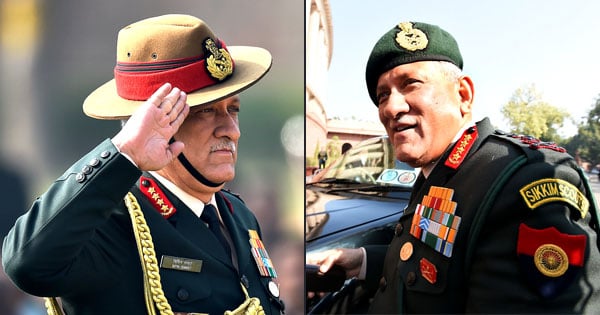 What is Chief of Defence Staff (CDS)
Chief of the Defence Staff (CDS) is a proposed position for the combined chief of the Indian Army, Air Force and Navy. It was first officially suggested in 1999 following the Kargil War through the recommendations of the Kargil Review Committee. Although a long-talked-about position in India, the official call was made public by Prime Minister Narendra Modi during his Independence Day speech on 15 August 2019 at Red Fort, New Delhi.

As proposed, the CDS would be a four-star officer selected from among the serving senior flag officers of the Indian Armed Forces and would serve for either two or three years; retired officers would not be appointed. Sources said appointing the senior-most serving chief would mean the officer could serve till the age of 64. While being "first among equals" among the service chiefs, the CDS would be a single-point military advisor whose advice would be binding on the service chiefs and who would have the authority to direct them, along with authority to create theatre commands as needed. The holder of the post would also be the head of all tri-service command structures, assisted by a deputy, the Vice Chief of Defence Staff to replace the former post of Chief of Integrated Defence Staff.
The CDS will come under the Right to Information Act.